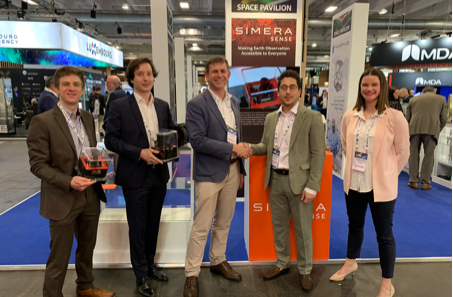 London, October 4th – Exobotics and Simera Sense are collaborating to engineer and integrate a cutting-edge hyperspectral imager into one of their nano-satellite platforms, due to be launched into low-Earth orbit later this year.
The hyperspectral imager will perform high resolution imaging, at less than 5 metres per pixel in the 450nm to 900nm range, allowing for the collection of a variety of space related data which can be utilised across sectors both within and beyond the space industry.
Exobotics has developed a bespoke payload support system to enable the image to work with a wide range high-speed radios in S, X and Ka bands to improve performance and flexibility in space. 
Potential use cases for the hyperspectral imaging technology include monitoring and forecasting crop health, measuring the emissions of pollutants, object detection, and more.  
The manufacturing of the hyperspectral image is part of a wider collaboration which will later focus on turn-key integrated satellite platforms in order to improve accessibility to space for customers.
Nadeem Gabbani, Founder of Exobotics, commented:
"We are delighted to be working with Simera to produce and integrate the hyperspectral imaging payload which will provide high-resolution imagery for a variety of use cases for our customers.
"Reducing the barriers to entry for space is vital for the growth of the wider economy, and many sectors, such as FinTech, mining and agriculture, need to be made aware of the benefits space can bring at an affordable cost. Access to space needs to be cost effective, easy and fast, which is why we oversee the end-to-end design, manufacturing and testing phases for payloads and nano-satellite platforms, which can be achieved in 9 to 12 months through our fast track programme."
Ana-Mia Louw, General Manager at Simera Sense, said:
"Simera and Exobotics have great synergy, and by working collaboratively, exciting solutions are in the pipeline. We look forward to a successful hyperspectral mission launching later this year, and future collaboration with Exobotics, continuously making leading earth observations missions effortless for our clients."
About Exobotics
Exobotics is a start-up company with offices in London, Cambridge and Cornwall, that uses the latest advancements in robotics, materials, structures and artificial intelligence to enable rapid, innovate space flight for missions to LEO and beyond.
With a diverse and experienced team, Exobotics develop software and hardware that is scalable, modular and tuned for the challenges of operation in harsh environments.
About Simera Sense
Simera Sense produces Earth Observation Optical Payloads for the NewSpace Market. Our xScape range of payloads are built on flight proven modular technology cores, optimised for standard CubeSat bus size, power and data interfaces. With a wide range of available sensor configurations, we allow our clients to effortlessly implement class leading solutions, for the ever-expanding NewSpace earth observation market.