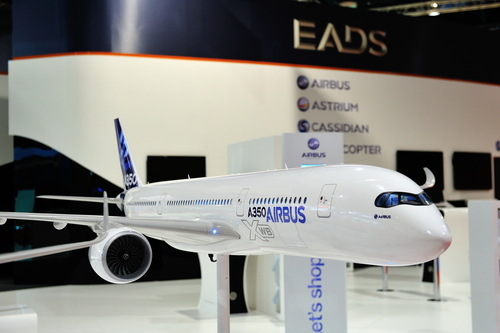 The order for 31 of the aircraft, valued at nearly $9.5 billion at list price, marks the aircraft manufacturer's first deal with the Japanese carrier. According to the deal, JAL also has an option to purchase an additional 25 planes.
"This is Airbus' largest order for the A350 so far this year and is the largest ever order we have received from a Japanese airline," said Fabrice Bregier, chief executive of Airbus. "I must say that achieving this breakthrough order and entering a traditional competitor market was one of my personal goals."
Airbus, which says the A350 will use about 25 percent less fuel than previous generation wide-bodied aircraft, has had 725 orders for the plane prior to securing the JAL deal. The company hopes to start delivering the first A350s to customers by the end of 2014.
Yoshiharu Ueki, president of Japan Airlines, said the new planes would offer "high level of operational efficiency and product competitiveness" and help the airline to cater to "new business opportunities after slots at airports in Tokyo are increased."