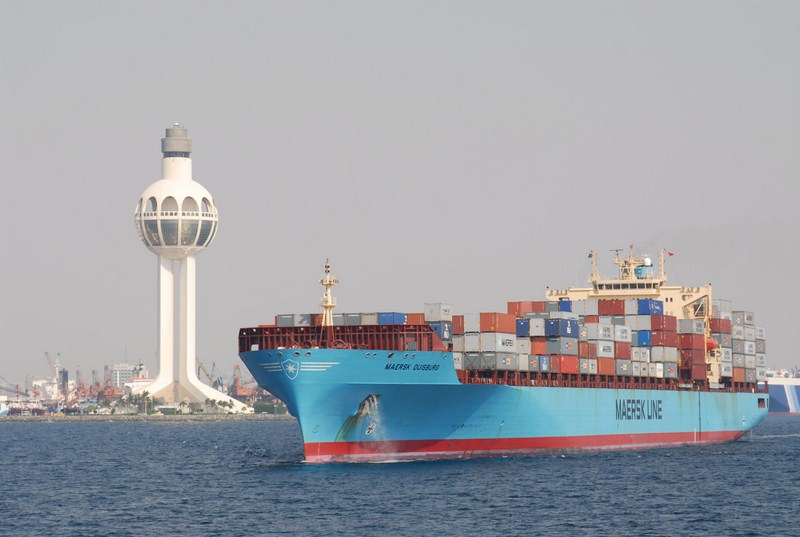 Ajwa Port Services is investing 200 million Saudi riyal in a programme of expansion at the port of Yanbu on the Red Sea. Saleh Al Fadhli talks to Gay Sutton about the company's plans to become a major regional port services player.
The port of Yanbu occupies a strategic position on the Saudi Arabian shores of the Red Sea, some 300 kilometres north of Jeddah and 550 kilometres south of the Gulf of Suez. The port has a fascinating history dating back at least 2,500 years to a time when it was a staging point on the spice and incense route from Yemen to Egypt and the Mediterranean. But the real promise of Yanbu lies in the modern day, with growing industrialisation, the export of oil and the discovery of key minerals in the region.
Yanbu Commercial Port is operated and managed by Ajwa Port Services (APS), a company which began as the logistics arm of Ajwa Group, a major Saudi Arabian processor and supplier of food products with a division specialising in grain, rice and edible oils. Now a fully fledged division of Ajwa Group in its own right, APS not only manages Yanbu Commercial Port but is also contracted to operate part of the much bigger Jeddah Islamic Port.
Our role at Yanbu was reinforced in November 2008, when its contract to operate and manage the commercial port was extended for another 10 years. We will now be committing about 200 million riyal over the next 10 years to develop the existing port, says general manager Saleh Al Fadhli. There will also be expansion. An island that is part of the port complex will be transformed into a free zone port, in a long-term project spearheaded by the port authority. 

The port currently has seven berths dealing with a wide range of general cargo, from project cargos and steel billets through to grain and chemicals. Two new deep-draught berths are to be constructed over the next three years. We will also be dredging the existing berths and the channel into the port, extending the draught from 11 metres to 14 metres, and enabling us to receive super Panamax vessels, Al Fadhli explains. Dredging, which is due to begin shortly, should be completed within a year and will be carried out in phases so there will always be six berths in full operation at any one time. To complement this, APS is also investing in the latest port handling equipment such as 100-ton harbour cranes, grain unloaders and ship loaders for raw materials.

The investments are certainly well timed. Since renewing the contract nine months ago, volumes of cargo at Yanbu have grown by 30 per cent, Al Fadhli says. This growth can largely be attributed to two new developments. A recently constructed steel plant in Yanbu has been importing steel billets; and the port has successfully attracted a larger percentage of the seven million tons of barley imported into the kingdom each year.

Industrialisation has been going on in the Yanbu region for some 25 years, and today, Yanbu Industrial City is one of two extensive manufacturing centres in the kingdom. The port has also been stimulating growth by actively encouraging industrial plants to locate within its grounds. One area has recently been allocated for a company from Sharjah in the UAE to build a vegetable oil processing plant, and the poultry industry is also setting up a facility at the port for grain for feed, he continues.

Another boost to activity at the port has been the recent exploitation of rich new deposits of zinc and copper, discovered in the region in the 80s. We expect to be exporting up to 500,000 tons per year of raw material over the next two years, Al Fadhli says.
Yanbu is very well connected. It is linked by super highways to Jeddah in the south, Medina 150 kilometres to the east and from Medina to the agricultural region of Qasseem and from there to Riyadh. A railway land-bridge linking the east with the west of the kingdom is being planned, which should make internal transport much cheaper. For cargo coming from the north through the Suez Canal in particular, it will be quicker and more cost effective to unload the cargo at Yanbu and deliver it to Riyadh, Dammam or even to the Gulf States, rather than transport it for another week by ship. I foresee Yanbu becoming a major port in the long term.
Saudi Arabia has recently begun to import wheat, and Al Fadhli sees a great opportunity there. In the next two years, imports of wheat are likely to reach three million tons, and this could rise to ten million tons by 2015, so we will be gearing Yanbu to receive at least 20 per cent of this. We are looking very closely at investing in storage warehouses and silos, and very fast ship unloaders linked to conveyors which will unload the wheat directly to the silos.

One of the secrets of APS's success is that it has targeted a niche market sector and gained considerable experience in that area. Our expertise is in general cargo and bulk, Al Fadhli says. But we will also look for opportunities to expand into the containers market, and that is where the mega projects are.
APS is currently tendering for the east terminal in Dammam in the Arabian Gulf, which currently handles iron ore, raw materials and roll on/roll off.
The vision, though, is to become what Al Fadhli calls a regional player, and to develop complete shipping agency services, handling every element of a job from cargo inspection, through unloading and clearing through customs, to storage and delivery to the final destination. We already have our shipping agency licence and will be investing in storage facilities and vehicles.

Al Fadhli is currently exploring opportunities further afield in the port of Aqaba, and in Damietta, Egypt. Damietta is about 40 kilometres west of Port Said, close to the Suez Canal and with access to Upper Egypt via the Nile. Meanwhile, he is also considering possibilities in Iraq and may even extend his scope to include India and Pakistan.

So it's an exciting time for the company, he concludes. We are in a competitive business, and there are some major players in the market. But we are operating in a niche, and we have developed considerable experience over many years.