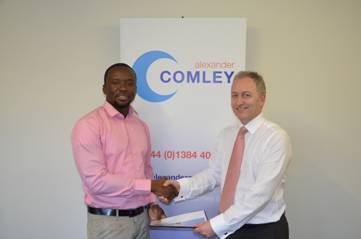 Alexander Comley has signed a partnership agreement with Hydra Offshore, an indigenous oilfield services company, in developing products for Ghana's oil sector.
Under the agreement Alexander Comley will partner Hydra Offshore in the supply of customised flanges, pipe, tube, fittings, plate, machined / turned parts and associated pipeline supplies.
In addition, Hydra Offshore will also lead in the introduction and promotion of Alexander Comley's products and services in the oil and gas industry within Ghana.
The agreement is in response to the Petroleum Local Content Regulation, which began operating in February 2014.
Managing Director of Alexander Comley, Mr Chris Bourne-Hallett, commented "We are delighted to partner Hydra Offshore and look forward to a mutually-beneficial relationship with them in this exciting venture in Ghana's oil and gas sector."
Mr Andrew Johnson, Business Development Manager of Alexander Comley, who negotiated the partnership with Hydra Offshore, added "this is the first stage in our support of local content, and we are thrilled to have reached this agreement with Hydra Offshore, a pre-eminent business within Ghana."
Commenting on the agreement, the Chief Executive Officer of Hydra Offshore, Mr Delali Otchi said "we are excited about this opportunity to partner one of UK's biggest brands with a long history of success in customised stainless steel manufacturing."
He further added that this agreement sets the tone for local indigenous firms to partner with global suppliers to develop the country's oil and gas sector and Hydra Offshore is committed to growing local talents in support of Ghana's economic growth.
Miss Sonia Baiden, the Business Development Manager of Hydra Offshore also envisages that the partnership between Alexander Comley and Hydra Offshore will become a major name in Ghana's Oil and Gas industry and serve as a one-stop-shop for flanges, pipe, tube, fittings, plate, machined/turned parts and associated pipeline supplies for the Ghanaian national markets and beyond.