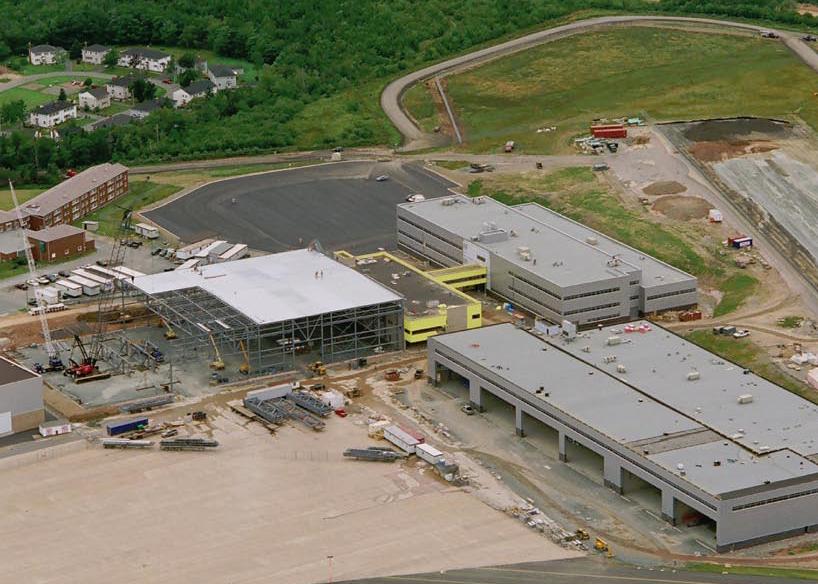 The aging Shearwater helicopter base at Halifax, Nova Scotia is getting a new lease on life with a fast-track design-build contract awarded to Bird Construction. John O'Hanlon gets the story from project manager Bill Zister.
Bird Construction, established over 80 years ago, serves most market sectors, but having established a niche in military construction projects during the Second World War, it retains a special foothold and expertise in projects for the Canadian Department of National Defence (DND). With operations across most of Canada as well as the northwestern United States, it had just one gap: Nova Scotia. However, in 2007, having landed the contract to build new facilities at the old Shearwater aerodrome at Halifax, the second-oldest airfield in Canada, Bird partnered with a local firm, Rideau Construction. In February 2008 Rideau was acquired by Bird.
Shearwater has been home to Canada's air squadrons for the past 80 years, though it reduced operations and became a heliport in 1994. With the anticipated arrival of new CH-148 Cyclone helicopters scheduled to replace the existing CH-124 Sea Kings, new facilities were required to support the training and coastal surveillance operations at Shearwater. The $100 million project was the single largest contract ever awarded in the 56-year history of Defence Construction Canada (DCC), the Crown agency that oversees all Canadian defense building, and Bird's direct customer.
The project comprises three buildings, explains project manager Bill Zister: an administration and warehouse facility, a workshop and maintenance hangar, and an operational hangarto accommodate the helicopters, replacing some that were as much as 50 years old.
The admin building was given priority. One intractable issue Zister has had to tackle is the difficulty of getting skilled labor in Nova Scotia, which has seen its workforce drain away to the rich oilfields of western Canada, so he was keen to close in that three-story administration building attached to a 10-meter-high single-story warehouse. "We had that building closed in for winter last year, and we're aiming to complete it by this Christmas so that we can focus on finishing the other two buildings."
He expects to hand the buildings over to DND in July 2009. This should have been April, but the additional time had to be factored in to accommodate a world first: the military installation of a sprinkler system sited in the floor rather than the ceiling. Traditionally, hangars use overhead foam deluge-type sprinklers that are highly caustic and often cause more damage than any fire. The DND had taken an interest in the Hi-Fog system developed by the Finnish company Marioff and decided to incorporate it at Shearwater after the original design had been completed.
This environmentally friendly water mist system was originally developed for ships, and has been used successfully in land applications but not until now in a hangar, so it was a challenge, says Zister. "We knew this was coming, so we put off installing the floor. Now that the materials have all been delivered, we're working out the most efficient way to incorporate it in the design."
If this were a LEED project, the Hi-Fog system would certainly be worth quite a few points. While DND does not customarily apply for certification, it directed that this project, as with others, be built to the LEED Silver standard.That's hard to do in a military environment, Zister points out. "The requirements in these buildings are beyond any normal building, and it's hard to maintain sustainability when they need so much energy." One LEED criterion is that you are supposed to reduce light pollution, he says, but a heliport has to be identifiable from the air at night, so that called for compromise.
Nevertheless, energy saving has been a priority, and a number of typical LEED elements have been incorporated, such as the rainwater harvesting system that collects runoff from the building where the helicopters are washed. Water is collected in a cistern beneath the building; once used for washing, it is treated and returned to the cistern. "LEED certification can be a prolonged process, but meeting the specification's environmental requirements was not that different from standard construction, with a few additional elements added in."
From DND's point of view, these facilities are essential both from an operational and a contractual point of view, hence the unique procurement process—featuring three buildings in the same tender—that compressed the total procurement time. Both cost and schedule control were helped because this was a design-build contract. "We contracted our major trades as early as possible and worked with them through the design, so they had the ability to mitigate their own costs as well," says Zister. "Even before we had any firm designs, we had the main contracts issued, so each of the major trades had the opportunity to work with us and our designers to come up with the most economical way to build these buildings."
The subcontractors had their own input, and the method delivered savings in materials. Bird Construction knows that raw material costs can be volatile. "In any project we try to secure our steel supply as early as possible. One of the first contracts we sign off on is the structural steel contract, to avoid the risk of any kind of volatility in the market." In addition, by working through the design with the contractor and structural engineer, he says that around 100 tonnes of steel were saved on the first estimates for Shearwater, representing about 2.5 percent of the total structural steel requirement.
On a design-build project you are responsible for unexpected costs and delays, so you manage it a bit differently than you do with a completed design, says Zister, who has managed four DND projects, covering a significant portion of his career. "On this project, I think it has taken our existing team approach a step further with DND, DCC and our subcontractors—it has powered through. With a finished design in a hard bid project there will always be mistakes, and putting them right will cost the owner money. With design-build you have much more control. It's our design, so any little tweaks and changes are our responsibility. We work with the trades through the design to make sure that what is on those drawings is something they can build."