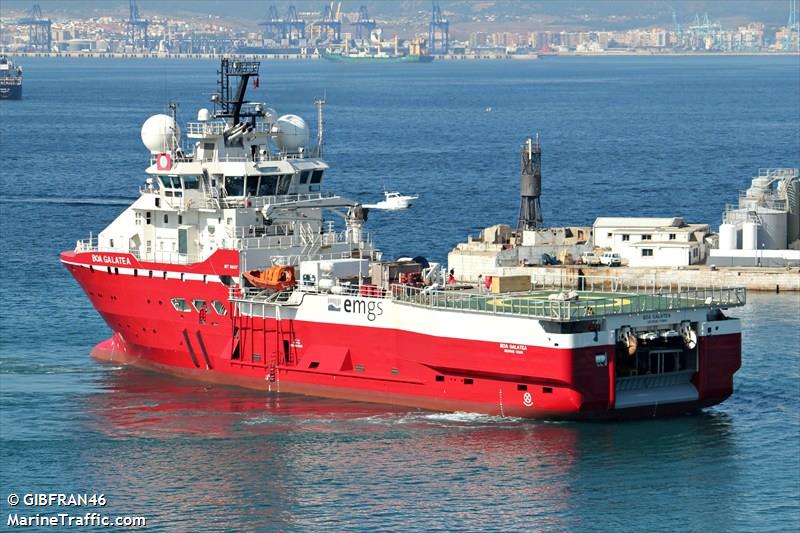 Boa Offshore specialises in the transport of large-scale support equipment for the offshore industries oil and gas in particular. Ruari McCallion takes a closer look at the company.
On 22 July 2009, a collection of seagoing vessels set sail from Shanghai on their way to Norway. Still tied together as they departed from the Chinese city, they may have looked as if they should really still be secured to the dockside, but that is the way that AHT Boa Mighty and Boa Barge 35 will make their progress halfway around the world. Boa Barge 35 is a semi-submersible barge carrying Boa Barge 31, Boa Barge 32, a MT6007 hull and four hopper barges.
 
BOA Group, which is carrying out the operation, knows that this is the most effective way for heavy-duty vessels to travel long distances. Headquartered in Trondheim, Norway, it is one of the world's leading providers of support services to the marine and offshore industries. A family-owned business, it can trace its history back to 1975, with the foundation of a company called Taubåtkompaniet; Boa Offshore dates back to the early 1980s. The company began as an operator of harbour towage and general services to the marine industry along the coast of Norway; it has since expanded to provide a range of services and has developed particular expertise in the heavy transportation, subsea services (including the provision of divers for underwater inspection and maintenance) and salvage operations, in addition to its ongoing harbour towage and terminal operations in the ports near its home, from Trondheim to Kirkenes.

Boa now has a fleet of about 40 vessels, made up of modern tugs, offshore construction, and support vessels; two modern custom-built seabed logging ships; two Ropax roll-on roll-off vessels; and both flat-top and semi-submersible barges. It has made a specialty of transporting and providing offshore modules, drill barges, rigs and other heavy floating objects that need transport by float-on float-off methods. It also provides load-out and launching of heavy objects; dry-docking of rigs; rig movements, subsea installation and construction; and salvage operations along the Norwegian coastline. Its experience has helped it grow into a skilled project management company, providing comprehensive transport and projects support with a combination of tugs and barges.

The company is a member of the International Salvage Union and, since 1975, has successfully completed more than 130 salvage operations, most on a ÔÇÿno cure, no payÔÇÖ basis. Its salvage tugs all have salvage pumps and it holds a complete supply of salvage equipment at its main storage building. By their nature, salvage operations tend to require rapid response; Boa gets rescuers, divers and project staff to the site of operations quickly by deploying helicopters owned by Helitrans, an affiliated company. It demonstrated its skills and expertise with the successful salvage of Anja, a 100-metre container vessel which ran aground at Rangsund├©ya in the north of Norway. Three tugsÔÇöBoa Siw, Tambur and BOA Harek successfully pulled the stranded ship off the beach in November 2007.
 
Though Boa Group is Norwegian, its subsidiaries can be found working all over the world. It is expanding its activities in North America, with the establishment of Boa Marine Services, based in Houston. It will also expand and complement the existing activities of Boa Offshore LLC, by providing construction and contracting services in connection with fixed and floating offshore platforms and subsea field developments. Its services will include transport and installation of modules, various structures and complete platforms; topside transport and installation, including float-over operations; jacket load-out, transport and launching; floater support, anchor handling and mooring operations; and its full range of subsea construction, inspection, maintenance, upgrade, towing and dry docking. In addition, it will be offering abandonment and decommissioning services, including subsea clean-up and dive support. It will have a full team on-site consisting of project managers and engineers, who will offer and provide design, procedures and equipment.
The company will also be extending its fleet in the near future. Its new building programme is adding nine barges, four tugs, and between six and 10 additional barges. Already at sea and at work is the Boa Galatea, which is only the second purpose-built EM (electromagnetic) survey vessel. It offers sheltered decks and workspaces, and a helicopter deck, which is pretty much essential in offshore work. Crew and project staff are catered for by a hospital ward, gym, conference facilities, and modern workstations. Broadband connection comes as standard, naturally. The ship was built for Boa by Bergen Group Fosen and has been chartered by EMGS (Electromagnetic Geoservices). It specializes in 3D surveying services, using its proprietary Clearplay electromagnetic exploration technology.

BOA Galatea joins BOA Thalassa at EMGS, which now has a unique pair of these purpose-built ships. Representing an investment of $50 million by Boa, they both have the capacity to carry up to 200 receivers, have extensive storage capacity and carry large fuel volumes. Their efficient fuel consumption means they will be able to stay at sea for long periods, making them possibly the most productive vessels of their type in the world.

In March 2008, Boa announced that it had secured a five-year contract with Ocean Mexicana, part of the Blue Marine Technology Group, for the provision of Boa Rover, part of the group's offshore construction fleet. Ocean Mexicana will use it to provide transportation, accommodation, supply, and subsea services including diving, ROV (remotely-operated vehicle) and 100-tonne craning services. The contract, which has options for a further two years, is a continuation of an existing arrangement between the two companies.

BOAs vessels are identifiable by their distinct red-painted hulls, which have become a common sight around the world. From the North Sea to the waters of Malaysia and across the Atlantic to the Gulf of Mexico, the company provides comprehensive and essential services to the offshore oil and gas industries.