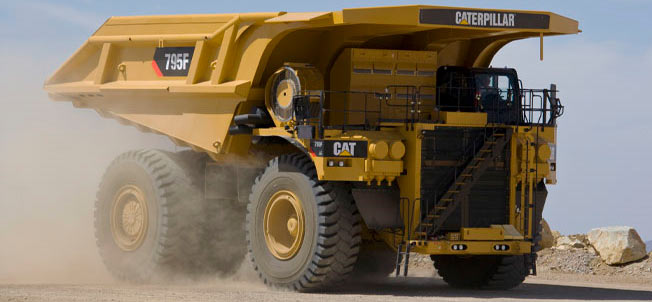 Peoria, Illinois-based Caterpillar, the world's largest maker of construction and mining equipment, said it plans to add a new mining shovel production line at its Aurora, Illinois plant as well as expanding truck production in Decatur, Illinois and Chennai, India.
The new mining shovels will range from 125 ton to 800 ton models. The 125 ton shovels are expected to be available from 2011, with larger models following in 2013 and 2014.
Around 300 jobs are expected to be created at the Aurora plant through 2014, with further jobs being added at the other plants as demand increases.
At its Dectaur plant, which produces Caterpillar's largest mining trucks, including its 400-ton model, the company said the expansions should increase truck production capacity by about 30 percent. Meanwhile, the truck capacity of the Indian plant will double, to help Caterpillar meet increasing demand in developing regions like Asia.
Commenting on the announcement, Caterpillar's chief executive officer Doug Oberhelman, said:  "In today's globally competitive environment, our customers are counting on that level of reliability, durability and support more than ever. This investment of nearly $700 million demonstrates our commitment to Caterpillar mining customers around the world."
Chris Curfman, president of Caterpillar Global Mining, added: "As we discuss solutions with our global mining customers, it's clear they want a complete line of Caterpillar shovels to best match the full range of Caterpillar trucks operating at their mines."
He went on to say: "The increased production in India and Decatur will better position the company to serve our mining customers in every region of the world, with a particular focus on the growing demand and customer base in the emerging markets of Asia and in Russia."
Mining equipment has been a stable market for equipment manufacturers in recent years, as production of iron ore, copper, coal and other commodities accelerates in response to increased demand from developing nations such as China.
More than 60 percent of the large mining equipment made at Caterpillar's Illinois facilities is sold outside the US. The company has begun to see demand for its machinery recover as the world's economies emerge from the recession.
Caterpillar has been in business for more than 85 years. With 2009 sales and revenues of $32 billion, the company is the world's leading manufacturer of construction and mining equipment, diesel and natural gas engines and industrial gas turbines.