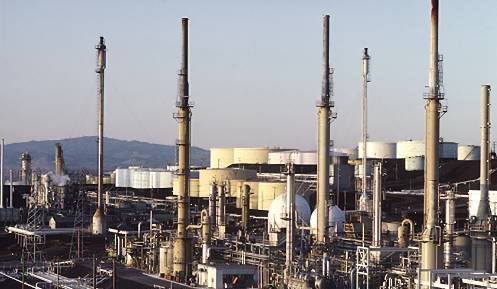 Nigeria's state-run oil firm NNPC has said that three new refineries will be on-stream by 2014, following a deal signed with China State Construction Engineering Corp (CSCEC).
The three refineries will have a combined capacity of 885,000 barrels per day and will cost $25 billion. This will triple Nigeria's refining capacity to 1.3 million barrels per day and bring it closer to its aim of eliminating its dependence on fuel imports within the next 10 years.
Despite vying with Angola as Africa's top oil producer, Nigeria imports around 85 per cent of its fuel needs due to the disrepair of its four state-owned refineries. Currently they are only running at 40 per cent of capacity.
The West African country, a member of OPEC, also relies on crude exports for more than 95 per cent of its foreign exchange earnings.
One of the new refineries is planned for the Lekki free trade zone of Lagos, Nigeria's biggest city. The other two are planned for Kogi and Bayelsa states. A separate fuel complex will also be built.
CSCEC will cover 80 per cent of the cost of the overall project and NNPC 20 per cent. The state of Lagos will provide the land and infrastructure required.
Lagos city, home to around 15 million people, regularly experiences power outages. The new Lagos facility will have the capacity to refine 300,000 barrels of oil per day and 500,000 metric tonnes of liquefied petroleum gas per year.
NNPC is also making plans for a separate refinery with India's state-run Oil and Natural Gas Corp and Mittal Group, for a site near Lagos.
One of Africa's biggest tie-ups with China thus far, the deal with Nigeria further highlights the Asian country's aggressive investment into Africa.
The deal to construct the refineries was first signed back in May.