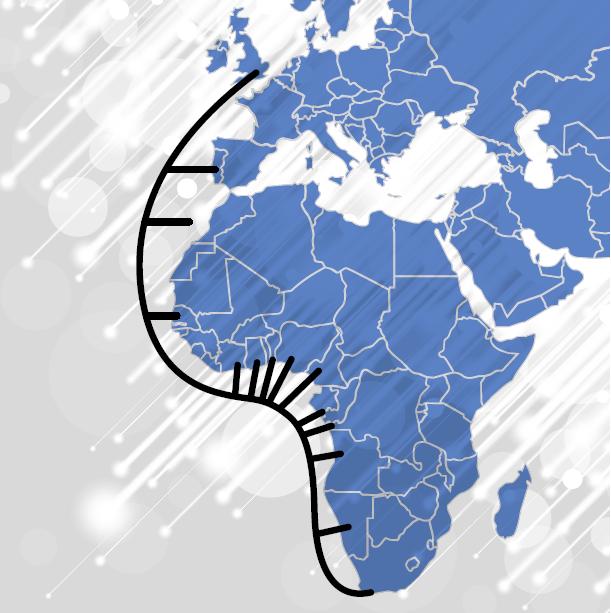 Submarine fibre-optic cables are helping Africa keep up with rapacious growth in consumer demand and fulfil the ambitions of the Connect Africa Summit.
Africa experienced an explosion in demand for mobile voice services in the first decade of the 21st century, but if broadband Internet access is to come of age in the second decade, it will require a considerable amount of investment in infrastructure.
While mobile penetration in some African countries has reached over 100 percent of the population, this is to some degree an anomaly of counting. In South Africa, for instance, according to World Wide Worx, 63 million SIM cards are in use, giving 126 percent SIM penetration (the definition used for cellular penetration by the International Telecommunications Union). However, the true user base is more like 40-million, with penetration for individual users at 80 percent, of which some 20 percent are accounted for by dual-SIM usage, switchboard systems, or GSM signals used to track fleets or livestock.
Nevertheless it is true that recent infrastructure investment on 3G networks has far outstripped that in fixed networks, to the extent that mobile operators have become the main providers of Internet services in Africa.
The Connect Africa Summit in Rwanda in October 2007 set out a number of ambitious objectives to improve the continent's ICT infrastructure, one of which was to interconnect all African capitals and major cities with ICT broadband infrastructure and strengthen connectivity to the rest of the world by 2012. There is some debate as to whether this achievement is fully attainable in the timescale, although it must be said that a great deal has been done.
Other objectives have target dates in 2015, but time marches on. One of these is to connect African villages to broadband ICT services by 2015 and implement shared-access initiatives such as community telecenters and village phones. Others relate to regulatory measures, skills straining and e-government services.
At the time of the summit in 2007 there was only one intercontinental submarine cable in operation in Africa – the SAT-3 cable along the west coast of the continent. There were no submarine cables at all on Africa's east coast, leaving Africans reliant on expensive satellite capacity for international connectivity. Several have become active in the intervening years, and more are in the pipeline, if you'll excuse the pun.
Much of Africa gained access to international fibre bandwidth for the first time via submarine cables launched in 2009 and 2010, leading to investment in terrestrial fibre backbone infrastructure to link population centres across borders in landlocked countries.
Africa's Internet and broadband sector will benefit the most from these developments. Prices have come down from levels based on satellite access, and broadband is rapidly replacing dial-up as the preferred access method, a process almost complete in the continent's more developed markets.
Most African countries now have commercial DSL services, but their growth is limited by the poor geographical reach of the fixed-line networks. Improvements in Internet access have therefore been more noticeable in major cities, but the rapid spread of mobile data and third-generation (3G) broadband services is now bringing Internet access to many areas outside of the main cities for the first time.
The submarine fibre-optic network infrastructure is an essential complement to terrestrial backbone networks, providing a high-bandwidth, low-cost alternative to satellites for carrying traffic to and from the Africa region. The development of this infrastructure is therefore crucial for the provision of affordable broadband services.
The South Atlantic 1 (SAT-1) cable (now decommissioned) was launched in 1967, connecting South Africa to Ascension Island, but it took until 1993 for SAT-2 to connect South Africa to Europe. In 2002, a new submarine cable system (the South Atlantic 3/West Africa Submarine Cable, more commonly known by its acronym SAT-3/WASC) entered service, connecting South Africa and countries along the west coast of Africa to Europe.
Until as recently as 2009, the only other countries with access to submarine cables were Cape Verde, Djibouti, and Mauritius. By 2010, however, sub-Saharan Africa had 12 operational cables, and another five were under construction.
Investment in submarine cables has significant implications. Satellites cost between $250 million and $650 million, depending on their size and payload, and although the next generation of satellites will have greater data transmission capacity than the older ones, they are still measured in gigabits per second. The SEACOM submarine cable, for example, which entered service in July 2009, cost approximately $650 million but has a design capacity of 1.28 terabits per second (Tbps). The Eastern Africa Submarine Cable System (EASSy), which entered service in July 2010, cost $235 million and has a maximum design capacity of 1.4 Tbps.
EASSy is a 10,000 kilometre cable system running from Mtunzini in South Africa to Port Sudan, with landing points in nine countries and connections to at least ten landlocked countries. It is the first to deliver direct connectivity between east Africa and Europe / North America and also interconnects with multiple international submarine cable networks for diverse, seamless onward connectivity to Europe, the Americas, the Middle East and Asia.
More recently, the 14,000 km West African Cable System (WACS) came into operation in May 2012, linking the Western Cape of South Africa to London in the UK, with 15 terminal stations along the western coast of Africa, the Canary Islands, and Portugal. The $650 million cable system was constructed by Alcatel-Lucent. The landings in Namibia, the DRC, the Republic of Congo and Togo will provide the first direct connections for these countries to the global submarine cable network.
The cable consists of four fibre pairs, one of which is a direct route from South Africa to Europe, a so-called express lane. The second and third fibre pairs are designed as a semi-express lane, one with two stops, from Europe to West Africa and West Africa to South Africa, and the other with three stops. The fourth fibre pair is an omnibus fibre that stops off at all landing ports en route.
WACS is operated by a consortium of 14 companies including Angola Cables, Broadband Infraco, Cable & Wireless, Congo Telecom, MTN, Neotel, Telecom Namibia, Internet Solutions (IS), Telkom SA, Togo Telecom and Vodacom. MTN is the largest single investor in WACS, with commitments in excess of US$100 million, including $10 million towards the construction of cable landing facilities in Cameroon, Ghana, Nigeria and Cote d'Ivoire.
WACS will effectively raise South Africa's current broadband capacity by more than 500 Gbps, a welcome boost for a country in which consumer demand for data quadrupled during 2011, and smartphone usage increased by 128 percent to 3.6 million users.
But capacity is not the only factor determining the impact of submarine cable infrastructure on the broadband market. The level of competition among cables is also a key factor, along with the extent of the terrestrial backbone networks that carry traffic to and from the submarine cable landing stations. Without extensive terrestrial backbone networks, the impact of the submarine cables on the broadband market might be limited. Satellites can deliver their lower capacity directly to the customer, so they are likely to play a significant role in Africa's broadband landscape for the foreseeable future.
Written by Martin Ashcroft