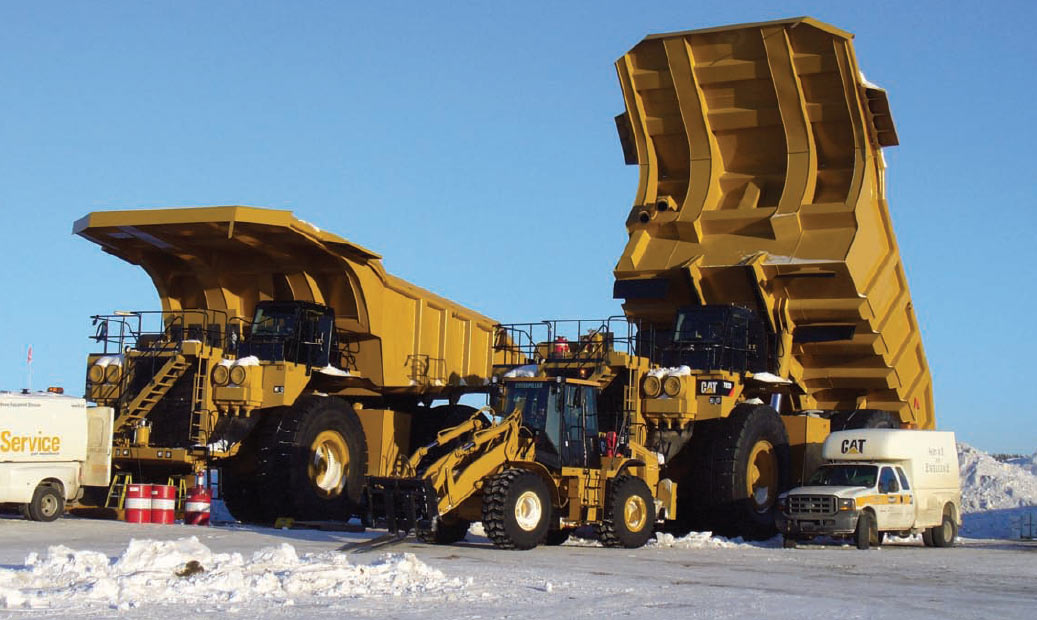 Economic optimists search constantly for so-called green shoots—subtle signs that the global economy is preparing to roar back to life. In the northern part of Quebec province, Consolidated Thompson Mines is at work on a project that suggests there may be reasons to be bullish about the prospects for solid growth in at least some parts of the world.
There is little that is subtle, however, about the Bloom Lake Iron Ore Project or about Consolidated Thompson Mines' approach to ensuring its financial success. Production at Bloom Lake is slated to begin late in the first quarter or early in the second quarter of 2010 at an annual rate of 8 millionmetric tons(tonnes) of iron ore concentrate. That's up from the original plan, crafted in 2006, for production of about 5 million tonnes. Already, Consolidated Thompson Mines is readying a plan to double production to 16 million metric tonnes annually.
Consolidated Thompson Mines, which trades on the Toronto Stock Exchange under the symbol CLM, acquired the Bloom Lake property in 2005 from a prospector who had done little work on the site, around the time that original investors brought aboard current president and first employee Richard Quesnel, who had just finished helping to bring Taseko's Gibraltar copper mine into production.
The Bloom Lake resource was especially attractive as an investment and future production site for several reasons, Quesnel says, including the fact that it sits in the midst of a larger active mining area, with extensive infrastructure such as rail lines, trucking roads, water and electricity already nearby. Unlike other nearby mines, however, which are utilizing technology from the 1960s and '70s to produce ore, Bloom Lake has been outfitted with the most modern mining equipment available and, thanks to a downturn in mining in general across Canada, with a solid team from the ground up, Quesnel adds.
"We were able to choose from the cream of the crop, and having that great team has helped us make the fast track nature of the project possible," says Quesnel, a 30-year veteran of the mining industry with companies such as Barrick Gold, Arcelor Mittal and Gibraltar Mines. "There was no better time to build a mine than in that part of the cycle, and we were able to take advantage of that and attract some of the best guys in the market. Those of us on the management and executive team have been in the market as engineers and finance people for most of our lives. We have a good idea of who to hire and who not to hire."
Building with the best started at the top of the executive team, which includes Glamis Gold Ltd. CEO Kevin McArthur, who brings operational excellence experience to the table, and executive chairman Brian Tobin, who has brought a number of mines into operation and has helped with soft issues such as permitting, community relations and interactions with government regulators. "We've been able to attract the right people at the management level, at the senior level, at the board level and at the operational level," says Quesnel.
The foundation of the mine's success is also built on a philosophy of investing in top-of-the-line modern equipment capable of large-scale production. From 240-ton trucks to a crusher capableof handling up to 6,000 tonnes of raw ore an hour, the mine is outfitted with state-of-the-artmachinery and technology. The 15,000-horsepower mill used to prepare material for gravity separation processing is the second-largest of its type in the world, capable of doing the work of six smaller mills such as those at nearby iron ore mines.
That approach even extends to the mill's maintenance, with a robotic arm system in place to inspect, maintain and change the liners, an approach that reduces costly down time. "It's important to consider that a machine like this is at the heart of the mine when you look at processing," Quesnel says. "It's generating about a million dollars a day of profit at today's current prices, so you obviously don't want the thing stopped more than it should be. With a resource as valuable as we have, you want to have the best recovery process in place so that you're gaining the most efficient operation as far as cost per unit produced. It's important for us to have the most qualified personnel and brand-new equipment."
Consolidated Thompson Mines—which also owns an interest in two other iron ore properties in Quebec that are still in the exploration and feasibility stages—also has a specific strategic thrust for selling the iron ore it will produce at Bloom Lake. From the outset, the company has targeted customers in the Far East. That decision insulates it somewhat from the recessionary conditions in North America and gives it access to growing markets that remain hungry for steel, and especially for high-grade iron ore to feed their mills.
"Our business model has focused on off-take contracts and partnerships with some of the best steel mills in the world with a focus on Asia, and that has helped us as mills in North America really slowed down," Quesnel notes. "The long-term contracts give us access to favorable pricing and also long-term demand stability that our investors appreciate. And because we're selling to developing economies, we're more likely to be in a growth trajectory."
One such key agreement calls for China's Wuhan Iron and Steel Corp. (WISCO) to accept as much as 50 percent of the mine's output at fair market value based on current pricing. That deal also involved a $240 million investment from WISCO that helped Consolidated Thompson keep work moving forward on the mine as it was being built. Likewise, CLM has inked an agreement with SK Networks Co., Ltd., part of Korea's third-largest industrial conglomerate, to ship a million tonnes of iron ore concentrate to Korea for each of the next ten years. "Those aregrowing markets," Quesnel points out. China actually had record steel production rates in 2009, for instance, and some analysts have predicted that ore prices in the region could rise 10 to 30 percent in 2010. "That's indicative of what's happening in that part of the world."
The Bloom Lake mine's favorable cost profile and ore quality combine to make the material especially competitive in Asia. Some underground Chinese mines with high production costs have been idled as prices have dropped in recent years, and the Canadian ore will be of higher quality by several key measures than material being shipped into Asia from places such as Australia. Quesnel says that some Australian ore used in China mills is typically around 58 percent iron content, while ore from North America is 66.5 percent. That translates into productivity gains for steel mills, which can use less ore to produce the same amount of steel. Likewise, the Canadian ore will be lower in impurities and contaminants such as phosphorus and aluminum oxide—a key consideration for mills that produce high-end stainless steel and related products for end users such as automakers back in the United States. "We have some of the lowest phosphorus and sulfur rates in the world, and that translates into less process and less waste for the producers."
The Asian market strategy and the long-term contracts have helped Consolidated Thompson succeed in lining up financing for its mine as well, as it has invested some C$875 million into the infrastructure construction, permitting and commissioning. The firm's initial public offering in 2006 brought in $40 million, and the rest of the funds have come through strategic partnerships and follow-on offerings. In January 2010, CLM announced that it had secured $100 million in private placement financing that will be used to operate the mine and to further efforts to expand output to the maximum level of 16 million tonnes, an effort that is awaiting the green lightfrom the company's board of directors. Because it acquired the property outright, Consolidated Thompson owes no royalty payments on the mine's output, helping to keep its per-tonne cost low by industry standards.
"To date, we've built this major mine with zero debt," Quesnel says. "We had the tremendous team, the financials all fit with quite a bit of margin to spare, and even though it all exists and is there, when you're dealing with a bulk commodity such a iron ore, where you have large volumes of material produced and major infrastructure requirements, you still need those off-take agreements to be able to raise the equity. It's kind of a vicious cycle. We've done this on a fast pace compared to any business model of building a mine of this size, with about three and a half years by the time we begin production. We were able to take it up in stages and show investors the accretive value of moving forward from a 5-million- to an 8-million-tonne-per-yearmine, and we've done so in a way that all the pieces are now in place to double the output."
Even if production were doubled, the mine's output would be spoken for by customers for at least the next decade, says Quesnel.
The mine's commissioning process was well under way as the calendar turned to 2010, with the operators planning to stockpile material early on to ensure steady production flow over time. Looking ahead, Consolidated Thompson will continue to work with customers as partners and to develop supply chain partnerships, especially on the freight and logistics side. One existing partner is also part owner in a port project that could give the firm access to docks capable of handling China Max-size ships—those capable of carrying loads of 320,000 tonnes at once. TheBloom Lake ore is already competitive on shipping costs with ore from Brazil and Australia, which typically have higher humidity rates. "We're dealing with the right partners to keep both our land-based and overseas freight costs as low as possible." CLM is also investing in the Port of Sept-Îles in Quebec, signing a long-term lease that will give it access to move as much as 16 million tonnes per year through the port.
Eventually, CLM will turn its attention to other properties it controls, including the 5,434-acre Peppler Lake iron ore deposit, which it acquired in 2008 when it purchased Quinto Mining Corp., and the nearby Lamalee iron ore deposit. CLM also holds a 100 percent interest in the 5,500-acre Mont Gueret North Graphite Project thanks to the Quinto acquisition. That deposit is regarded as extremely high quality, with assays showing up to 40 percent graphite, compared to typical levels of below 10 percent in graphite mines around the world.
For now, however, the focus remains squarely on Bloom Lake and the transformation of the mining company itself. CLM now has a market value of approximately C$1.7 billion. "We have kept the focus on de-risking the project at every step along the way," says Quesnel. "We keep looking to add value and attract new shareholders, and in the process we've created an incubator that has taken a junior mining company into the league of a high-profile operating mine. I think we've been able to do that in a way that investors supported us and saw that our strategy would carry us forward. It's exciting to be at this point where production is about to get under way, but we know a lot of work and a lot of exciting opportunities still lie ahead."