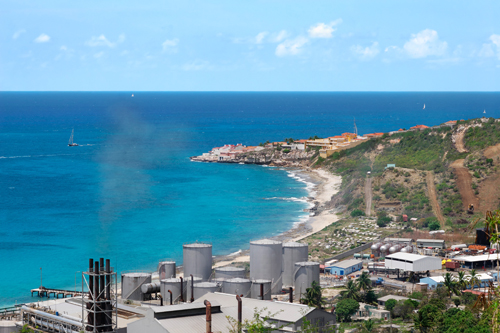 Desalination is an increasingly viable solution to providing potable water in places with limited fresh water on land but plenty of access to coastal water – almost a dictionary definition of a small island. The islands of the Caribbean are not traditionally thought of as arid but water supplies in the region are under stress as populations increase, and climate change is not helping the situation. Intense rains were reported in some Caribbean areas in 2013, but that doesn't always result in an increase in fresh water supply. Heavy rains mean there's not enough time for water to soak into the ground as it quickly runs off. In addition, the cost of water treatment increases, and many islands instead shut their systems to prevent contamination.
And climate change is causing concern. Parts of the Caribbean have experienced uncharacteristic drought. In August 2012, some islands reported extremely dry weather, including Grenada and Anguilla. By July of 2013, according to the Caribbean Institute for Meteorology & Hydrology those conditions had spread to Trinidad, Antigua, St. Vincent and Barbados. Jamaica, Trinidad and Barbados ordered rationing last year, with Barbados reducing pressure and intermittently cutting off supply to some areas. The island also began to recycle water, with officials collecting treated wastewater to operate airport toilets, for example.
Overuse of wells elsewhere has caused salt-water seepage and a deterioration of potable water underground. All this amounts to a serious problem that is not going to get any better without intervention. The best available option, well tried and tested over the world, is desalination, though the cost of plants is still high enough to deter many governments.
This is where Consolidated Water comes into its own. Consolidated Water is a company that designs, builds, operates seawater reverse osmosis (SWRO) desalination plants and water distribution systems in several Caribbean countries, where the supply of drinking water is scarce and the use SWRO is economically feasible. Consolidated Water has a diverse customer base, made up from government owned utilities, private bulk water customers and retail customers. It also provides engineering and management services through eight subsidiary and affiliate companies.
There are two principal methods of desalting: thermal distillation and membrane separation. Due to the lower energy costs required for membrane separation methods, it is the preferred technology globally. Specifically, reverse osmosis membrane separation is the mostly widely used technology used for brackish and seawater desalination. Reverse osmosis is a fluid separation process in which the saline water is pressurised, and fresh water is separated from the saline by passing through a semi-permeable membrane that rejects the salts. For some small island nations there is no choice but to liberate fresh water from the sea. Larger countries and coastal communities have or are considering augmenting their potable water supply with desalinated water in efforts to meet their populations growing needs and add a component of supply that is truly drought proof.
Founded originally in 1973 as a private water utility in Grand Cayman, the largest island in the Cayman Islands group, Consolidated Water obtained its first public utility license in the Cayman Islands in 1979. Over the years Consolidated Water has grown from a small Cayman Islands based utility business with revenues of less than $10 million dollars per year to a regional water provider with 2013 revenues in excess of $63 million dollars. Despite a slight reduction in the total sales of bulk water last year, probably attributable to some of its largest customers' water conservation measures consolidated gross profit increase by seven percent over the previous year reaching $23.5 million, to the satisfaction of CEO Rick McTaggart, whose reaction was: "This demonstrates our expertise in operating and maintaining seawater desalination plants and our ability to maximise the production of our facilities while controlling costs, which ultimately benefits our customers and shareholders."
Revenue comes from three sources, retail water operations, bulk water operations and engineering and management services. The retail business produces and supplies water to end-users, including residential, commercial and government customers in the Cayman Islands under an exclusive retail license issued by the government to provide water in two of the most populated and rapidly developing areas. Bulk water is supplied to government-owned distributors in the Cayman Islands, Belize and the Bahamas and engineering services, accounting for around 20 percent of turnover, are sold to desalination projects, including designing and constructing desalination plants, and managing and operating desalination plants owned by other companies.
In 2003, Consolidated Water completed several acquisitions which expanded its geographical coverage to the Bahamas, British Virgin Islands (BVI) and Barbados, and further expanded its business in the Cayman Islands, including a bulk water business, which serves the government-owned water utility outside of Consolidated Water's exclusive retail franchise area in Grand Cayman. In 2006, it completed its large Blue Hills desalination plant in Nassau, Bahamas, completing an expansion of that plant in November 2012 which brought the capacity up to 15 million gallons per day. The company was listed on the Nasdaq stock market in 1995 and today it operates 14 desalination plants of various capacities in five countries – the Cayman Islands, the Bahamas, Bermuda, the BVI and Belize. Consolidated Water installed its first SWRO plant in 1989 so now it has more than 25 years of design insight and operational experience with this technology under its belt.
From being purely a regional player, Consolidated Water is now expanding into other markets, with active projects in Bali, Indonesia, Mexico and Southern California. "Development activities involving our Rosarito desalination plant and conveyance pipeline project in northern Baja California, Mexico, continue to progress," observed McTaggart "Over the last three months, we have held technical and financial meetings with officials from the Government of Baja California and the public water utility in Tijuana, Mexico, Comisión Estatal de Servicios Públicos de Tijuana(CESPT), and we expect to reach certain important project milestones shortly. In addition, we continue to work closely with the Otay Water District in San Diego County, California, and expect to soon deploy additional water sampling and piloting programs in support of Otay's efforts to obtain necessary regulatory approvals in California."
He believes that the northern Baja California and southern California region, which has suffered extreme drought conditions, desperately needs new drinking water sources and that the Rosarito project provides an economical and practical solution to meet this need. An environmental assessment (EIA) has been submitted, and in October last year the company's Mexican subsidiary NSC Agua completed the first phase of the pilot plant testing program for the 379 million litres per day desalination plant: it has now started on detailed designs for construction of the plant and a pipeline to deliver water across the US border.
Written by John O'Hanlon, research by Robert Hodgson