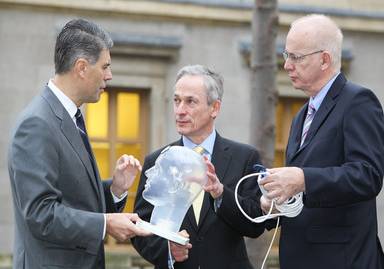 Healthcare products provider Covidien has announced it is to undertake six research and development projects in Ireland, representing an investment of €25 million.
The projects will be carried out in partnership with the company's facilities in Galway and Athlone, with the support of the Irish government's investment promotion agency, IDA.
Covidien manufactures, distributes and services a range of product lines across three segments: medical devices, pharmaceuticals and medical supplies.
The six projects involve the development of respiratory care products for ventilation and airway management. Two projects will be managed at Covidien's plants in Athlone and Galway, and the other four projects will be conducted at independent facilities in Ireland on behalf of Covidien. These include projects with BlueBridge Technologies, the Biomedical Diagnostic Institute of Dublin City University and the National University of Ireland Galway (NUI Galway).
José E. Almeida, president and chief executive officer of Covidien, said that Ireland's well-established record of fostering successful innovation was key to the decision to locate the projects in the country. "These advanced research and development projects represent a significant future pipeline of innovative products for Covidien. They also may produce important data to further patient health and safety.
"Innovation is and will remain a critical contributor to our company's strong competitive advantage in the medical devices market, to Ireland's business growth and high-technology job creation, and to the world's economic recovery."
Ireland's minister for Jobs, Enterprise and Innovation Richard Bruton commented: "This announcement is great news for Athlone and Galway, and represents evidence of Covidien's strong commitment to high-end activities in Ireland. It is a welcome endorsement of Ireland's record in research and development and represents a further boost for the vibrant medical devices sector here. With the right policies we can ensure that this announcement is replicated across the country in the coming years, and I am determined to make sure that happens."
IDA Ireland's head of Medical Technologies, Gus Jones, said: "The projects being announced today will reinforce Ireland's position as a global hub for medical technologies, employing the highest number of medical technologies personnel per capita in Europe. Nearly 60 per cent of the medical technology companies with operations in Ireland conduct R&D locally, which is important for the sector's continued growth and vitality."
The projects are the latest in a series of Irish research projects underwritten by Covidien. A year ago, Covidien announced that it was investing €900,000 with the IDA in two medical technologies research projects with NUI Galway. In 2010 the company also announced an €11 million investment in a state-of-the-art European Services Centre in Cherrywood, Dublin, which employs 200 people. Covidien now employs more than 1,500 people in Ireland.  
Covidien has 30 years of manufacturing history in Ireland, with production facilities in Athlone, Tullamore, Galway and Damastown, Dublin. Ireland is also home to Covidien's principal executive office, which is based in central Dublin.
With 2011 revenue of $11.6 billion, Covidien has 41,000 employees worldwide in more than 65 countries. Its products are sold in over 140 countries.