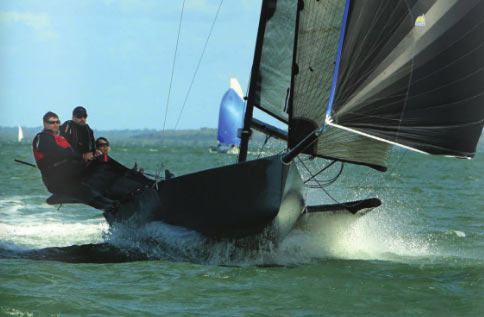 Something happened to Robbie Doyle on the way to medical school. He decided to take a six-month break after graduating from Harvard to work at Hood Sailmakers in Marblehead, Massachusetts. He never looked back. The intuitive grasp of the forces of wind and water that made Doyle a natural dinghy sailor as a youth and, years later, an applied physics major in college turned out to be invaluable assets in designing fast, light and powerful sails. Doyle, a former junior national champion who had never sailed anything longer than 30 feet, was suddenly plunged into the intense, high-stakes adventure of ocean racing. "It was a whole world I didn't know existed," Doyle recalls.
In 1974, under famed yachtsman and sailmaker Ted Hood's wing, Doyle designed the sails for Mariner, an experimental 12-meter America's Cup contender. Mariner's hull design was not successful, but many of her sails were used by Courageous, which went on to win the America's Cup that year. In 1977 Doyle designed all the sails for Ted Turner's successful America's Cup campaign aboard Courageous, where Doyle also served as mainsail trimmer. Doyle was in the right place at the right time, and his sailing reputation, brains and command of physics and engineering
marked him as a rising star. After Hood sold his company, Doyle decided it was time to go out on his own, and in August 1982 he started Doyle Sailmakers. "I already had an international reputation in sailing and sailmaking, and people urged me to start my own venture," he recalls. "I had nothing to lose and a willing wife. And a lot of top people from Hood chose to join me." Today, Doyle Sailmakers is a multimillion-dollar business with lofts in over 30 countries. Although you might call Doyle the "accidental sailmaker," there has been nothing accidental about the rise of his company. Timing is everything, and so is being ahead of the curve—and choosing the right business strategy. Doyle's goal was to produce better-engineered sails. At a time when the design potential of computers was just beyond the horizon, Doyle, with his background in engineering, aerodynamics and hydrodynamics, was poised to take advantage of it. "Sailmaking had been mostly arts and crafts up to that point, mostly trial and error," which limited its growth, he says. "We basically
introduced a scientific approach to sailmaking." From the beginning, the company's competitive differentiator and the key to its growth has been innovation, from its jib and mainsail furling systems to its unique methods for attaching corners, to the use of multiple fabrics and new cutting methods, and, of course, the most advanced computer technology. Today, sail design involves a very sophisticated analysis of loads, fabric strength and fibers, which enables designers to calculate wind stress on the mast and sails and, in turn, optimize sails for specific purposes, conditions and locations, Doyle says. "Our focus on solving problems has given us a competitive edge. Our strength continues to be dealing with different engineering challenges."
Doyle Sailmakers was one of the first sailmakers to use the laser cutter to cut panels and one of the first to design with 3-D CAD software. The company's technology edge grew sharper yet with the arrival of Robbie's son, Tyler, who became director of engineering in 2004 after earning a master's degree in mechanical engineering from Stanford University. Tyler's HPC (high-performance computing) work in applying computational fluid dynamics (CFD) with composite finite element modeling (FEM) takes sail optimization to a new level by simulating air flow at millions of points on the sail, often eliminating the need for wind-tunnel testing. Another key to Doyle's success has been choosing the right business strategy. Instead of going head-to-head against the larger and well-funded North Sails in the
highly demanding racing sector, Doyle decided to focus more on the cruising and superyacht market. "Being chosen for William Simon's round-the-world yacht Freedom in the mid-'90s gave us a lot of credibility," Doyle says. As the superyachts get bigger, people choose Doyle because of the company's commitment to solving cutting-edge engineering challenges with gear and sails that arise as yacht designers press the outer edge of technology.
Doyle continues to serve both the cruising and racing markets. This month's Newport-to-Bermuda Race will feature a good number of competitive boats sporting Doyle sail inventories. Doyle also makes competitive one-design sails, including several Olympic classes. In his spare time, Doyle sails a 33-foot performance daysailor, the e33, which is a boat of his own design. One of Doyle's major challenges has been trying to grow the company without capital, which has been especially daunting during several recessions, he says. Other major challenges are trying to run a global company, keeping a close watch on revenues versus expenses, integrating technological changes, and addressing cultural differences that inevitably occur with facilities in so many locations. "Each time we add a new loft, a lot of personal time is required in oversight and resolving potential conflicts."
Just after the start of the current recession, Doyle Sailmakers moved its headquarters out of its longtime Marblehead facilities to a much larger, custom-designed facility in neighboring Salem. The 32,000-square-foot loft is far more efficient and greatly increases the company's capabilities. "Despite the economic meltdown, we still have plenty of work and have stayed busy," Doyle says. "This was the best investment we ever made." An exciting adventure currently under way at Doyle Sailmakers is not about sailing. It's applying the sophisticated CFD technology Tyler used to design sails for the 289-foot Maltese Falcon, the world's largest private sailing yacht, to create green energy. Tyler's project involves building underwater turbines to harness natural energy from moving currents. "It's a bit down the road but definitely a game-changer if it works," Doyle says. "It could win out. It's the right effort," with a potential payout far greater than anything a sailmaker could generate.