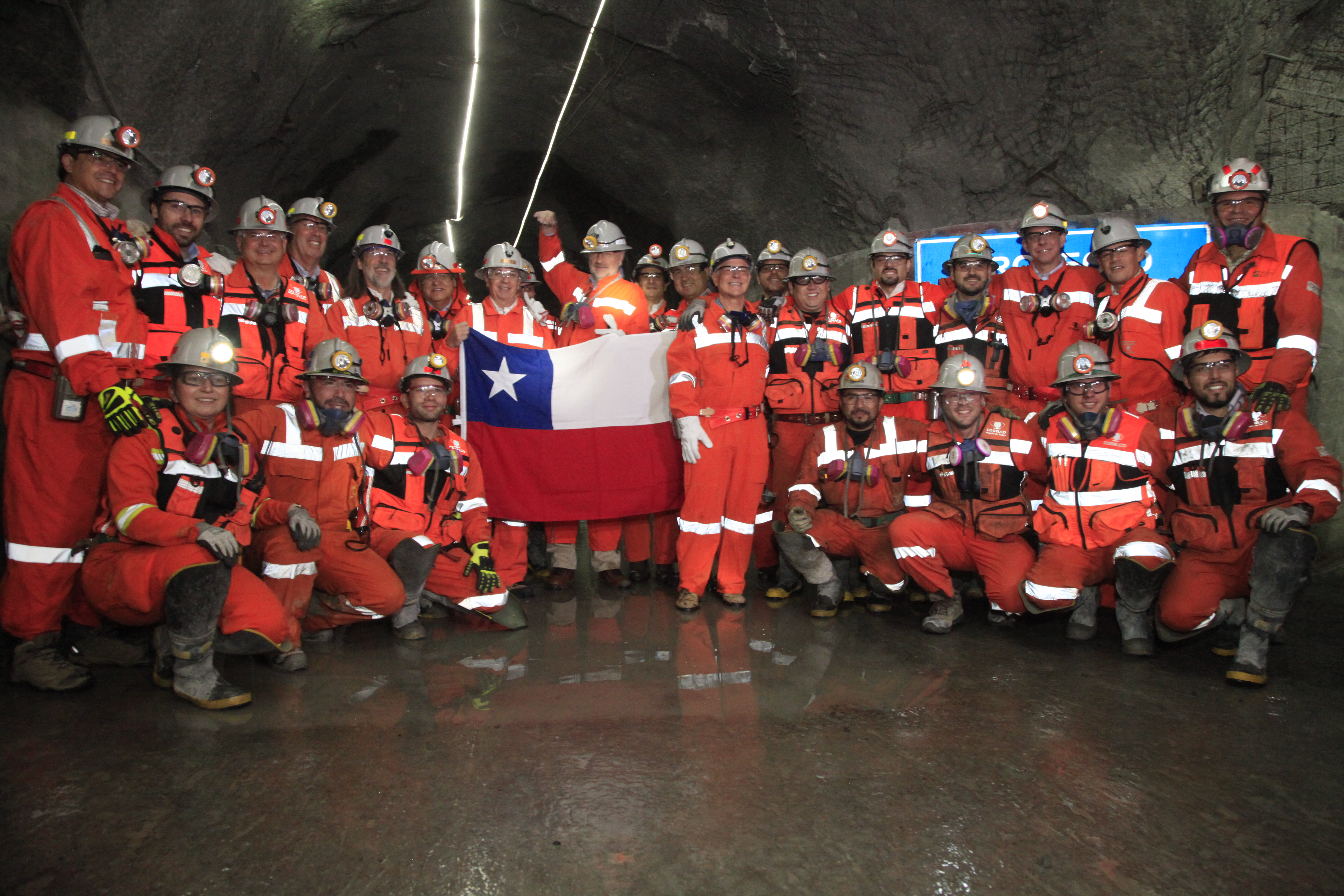 When Business Excellence last visited El Teniente in June 2019, global copper prices were hovering at around $6,000 per ton, in a year of price declines for all base metals. What a difference two years have made; in 2021, copper is trading at close to $10,000 per ton, and continues on a consistent upward trend that began in the first quarter of 2020 - just as Covid-19 was arriving in Latin America.
Business Excellence decided it was time to revisit the mine, which has already begun commercial production from the $759 million phase one expansion project at El Teniente mine, 15 months ahead of schedule. With ore reserves estimated at 157 million tonnes and a copper grade of 0.75%, the new section of El Teniente - Recursos Norte - represents yet another landmark for the world's largest copper producer.
 
Ongoing Developments
The arrival of Recursos Norte ahead of schedule allows Codelco to focus its efforts on the remaining phases of El Teniente: the Diamante and Andesite projects - both already under construction - and the future Andres Norte project. Combined, these components of the projects involve an investment of US $1,243 million - further evidence of the commitment of Codelco to El Teniente's future.
The overall $3.4 billion-expansion project, which is expected to extend its productive life by 50 years, is part of an ambitious, 10-year, $39 billion investment drive at Codelco to open new projects and overhaul older mines. When the expansion is finished in 2023, El Teniente's output of 500,000 tonnes of copper a year will make it one of the world's top five copper mines in terms of output.
As Juan Benavides, President of the Codelco board of directors, says: "This portfolio will allow the current ranges of surpluses of this division to increase, which are around US $ 1,100 million per year, because our commitment is to increase contributions to the State of Chile,"
 
Advanced Analytics
Advanced Analytics will form a central role at the mine, significantly improving its capacity to process materials. Artificial intelligence and ongoing analysis of the mine's output will allow each of the 12 mills in this operations center to increase its performance by four tons per hour. Codelco estimates that the additional operational data, when combined with AI and machine learning, has the potential to improve the ore processing of 12 mills by around 2%.
"This means that if a mill processes 210 tons per hour, it will have a profit of four tons. If we multiply it by 12 mills it is a significant number", says Daniela Campos, Superintendent of Conventional Processes at El Teniente, before adding: "Thanks to these data, the operators who are in the Integrated Operations Center (CIO), in Rancagua, capture opportunities and warn about operational movements to generate value".
Pushing Through The Pandemic
Thanks to the digitization of the mills at El Teniente and elsewhere within Codelco, the impact of Covid-19 on operations has been minimised. As Alvaro Garcia, Vice President of Technology and Business Process Automation points out: "We are a highly automated company, administratively and operationally. We've worked on developing the strictest sanitary measures in our work centers that include thermal cameras, and we've automated our health forms through our My Codelco App directly on each employee''s cell phone."
Furthermore, in the first wave of Covid-19, the El Teniente Stadium sports center became a field hospital for those infected of medium complexity and today, in the second onslaught of the virus, the enclosure became the main vaccination center in Rancagua and plans are afoot to expand it to make it the largest in the region, with more than 4,000 daily inoculations.
Corporate Responsibility
2020 also marked the sixth consecutive year that Codelco led the rankings of the national mining sector in terms of corporate social responsibility and corporate governance. It also ranked 19th among 100 companies globally. Speaking of the results, Renato Fernández, Codelco's Vice President of Corporate Affairs and Sustainability said: "We are proud to lead the industry ranking in what has been a challenging year, in which with responsibility and commitment we managed to generate the resources that our country so badly needs."
The ranking reflects the work that Codelco continues to do in the areas of CSR and corporate. A good case in point is its Coya Seguro plan, which delivered 1,700 security kits for the inhabitants of Coya. This made it possible for all households in the area to have at least 1 liter of liquid soap, alcohol gel and disposable masks. In addition, it distributed a special backpack for 400 students in local schools with all the elements so that they can safely go to class. Of these gestures, Mr. Renato Fernández says: "with this we want to give peace of mind to 100 percent of the inhabitants of Coya by having the basic elements to be able to carry out their activities safely during the pandemic.
Supply Partners
As was the case the last time Business Excellence spoke with Codelco, they are keen to emphasize the importance of their supply partners both to the upgrade at El Teniente, and their ongoing support in general. They include Sandvik, which provided an automated fleet for El Teniente, and Metso, which provides crushing and material handling equipment. Meanwhile, Strabag has also been centrally involved in the tunnelling works since 2014.
Elsewhere, Grupo OH is responsible for the construction of the wall reinforcement in the belt tunnel, Datapar S.A. provided the 100%  electric taxi bus line ferrying employees to and from the mine, and a mixture of local companies provide essential services such as engineering consulting and design services. These include Spintecnologies Engineering Services, GHH CHILE SPA, ARCADIS CHILE S.P.A.and CEMOSA.
The Future
In the short term, the company aims to have 10% female staff by the end of 2021, by which time it plans to produce 150 thousand tonnes daily.  Rodrigo Andrades, Codelco;s Mining Manager says of this aim: "Our 2021 aspiration is in line with what our general manager entrusted to us to reach 500 thousand metric tons of fine copper per year. To achieve this, we must aim for the processing of 150 thousand tons of material per day, which we should achieve in the second semester "
In the mid- to long-term, automation appears to be one of the critical success factors for El Teniente and the other mines in Codelco's portfolio. This will help El Tenient on two levels - both in driving down operational costs, and in improving efficiency at the mine. Chile has long recognised the importance of copper to the country's ongoing success. All anyone has to do is to follow the progress at El Teniente to see that this is the case.