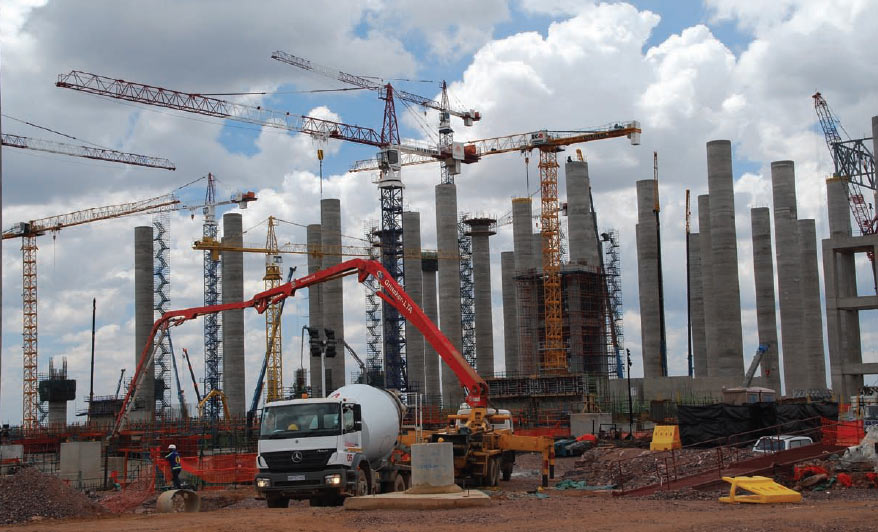 Three years ago, construction commenced on a new coal-fired power station in South Africa's Limpopo Province, near the town of Lephalale, close to the border with Botswana. Named Medupi—which means 'rain that soaks parched lands, giving economic relief'—the plant will consist of six 800 megawatt units which will come online progressively, with a completion date of 2015. The position of the new plant has been carefully chosen—just a few kilometres from the Exxaro coal mine and close to the Matimba power station, it will be assured of a ready supply of fuel from the extensive but largely unexploited Waterberg coal fields.
Medupi has the distinction of being the first new coal-fired power station to be built by the state-owned South African power generation company, Eskom, for some 20 years. And it is also the first in a programme of power plant construction aimed at increasing the company's generation capacity by over 16,000 megawatts, ensuring it will be able to satisfy the nation's increasingly voracious appetite for electricity.
Costing some R125.5 billion, Medupi will incorporate the very latest technologies. Its supercritical boilers will operate at higher temperatures and pressures than traditional boilers. "This will give us significantly higher efficiencies," explains project manager Roman Crookes. "And by burning less coal per megawatt, we will also be emitting less CO2 and other gases into the atmosphere."
The station will utilise direct dry cooling technology which releases virtually no cooling water into the atmosphere. This is of particular importance at Medupi because, as its name suggests, it is located in a water scarce region of the country. Eskom has also committed to flue gas desulphurisation (FGD) as a retrofit immediately on completion of the present construction programme.
Preparation for the construction project has involved considerable investment in the road infrastructure. Internationally sourced plant and equipment, sourced from global technology suppliers such as Alstom and Hitachi, will be shipped to South Africa, offloaded at the port of Richard's Bay over 700 kilometres away and then transported by road through the provinces of KwaZulu Natal, Mpumalanga and Limpopo. A number of the largest loads will be routed through Swaziland as well, in order to bypass areas of road reconstruction in South Africa. Locally manufactured and sourced plant and equipment will be brought in by these roads as well. "The roads through these provinces were reviewed some time ago by my team," Crookes says. "The roads through KwaZulu Natal and Mpumalanga are in the process of being upgraded to withstand the heavy haulage; however, as you get closer to our site the road options diminish to just two or three roads and they all need upgrading." 
When the construction programme reaches its height, Crookes estimates there will be in excess of 200 standard sized trucks arriving at the site each day, while some of the heavy equipment will require large transporters that will occupy the entire width of the road. The size and scale of this logistics operation is likely to present the Limpopo road agencies with a considerable challenge: how to upgrade the roads without halting access to the site. Crookes and his team are currently working with the agencies to find solutions.
Several things are being done differently on this project in a bid to prevent costly delays. Rather than rely on contractors to provide housing for the construction workers, Eskom has invested three quarters of a billion rand in building a construction village to house 6,000 construction workers, and has built a further 900 new houses in the town at an investment cost of some R1 billion. By the third quarter of this year, it is estimated that over 10,000 people may be working on site, and the company has taken on the responsibility of providing food for them. "We estimate providing approximately 20,000 meal packs a day—I liken this to feeding a small army. The logistics involved in this alone are huge," Crookes says.
There are currently 8,000 people on site, and the construction work has been divided into 38 contracts, which is project managed by Eskom in partnership with Parsons Brinckerhoff. Construction commenced in May 2007 with site terracing and it was in this very early stage of construction that one of the real challenges of the project surfaced. "During initial geotechnical surveys we discovered a fault line lying just to the north of the site. This fault had resulted in increased fracturing along rock on the site," Crookes explains. "As a result, we have had to lower the level of the power island by several metres, and that was a significant undertaking."
One of the interesting features of this project has been the effort Eskom has made to ensure the local community will benefit from the project. Not only is it providing construction jobs during the building phase, but it's also creating job opportunities and skills once the work is completed. For example, the company policy has been to employ an in-house team of approximately 600 to 700 people to run and maintain each power plant. "We intend to contract a lot of that work out, particularly the maintenance side of the business, which offers opportunities for local suppliers," Crookes says.
To support the local community, Eskom has developed the Medupi Legacy Programme, which has four elements. The first element is Enterprise Development, whereby the company identifies skilled and capable potential local contractors and provides them with the knowledge they need to set up their own businesses. "We have a contractors' academy starting next month," Crookes says. "And we're also going to select individuals from 28 businesses and send them to university, to gain some tertiary education that willassist them in kick-starting their businesses."
Focused procurement in Lephalale is the second element of the programme. "This is above and beyond the current national ASGISA (Accelerated Shared Growth Initiative in South Africa) requirements we have contracted with our contractors for," says Crookes. So far, the company has placed contracts worth over R70 million directly with local businesses. In addition, the R400 million contract to feed the workforce has gone to a joint venture that is 50 per cent owned by a consortium of local businesses. Moreover, the company is expecting its contractors to procure locally where they can.
Skills is another area of focus. Of the 8,000 workers currently on site, around 50 per cent come from within a 70 kilometre radius of the site. "We want to leave behind a skilled workforce that can be recruited and employed elsewhere," Crookes comments. This began with a significant investment in upgrading the Lephalale College, from where Eskom is working in conjunction with its contractors to utilise qualified welders, boiler makers and artisans. It is also looking to improve the primary and high school education in the town by bringing in qualified teachers, providing equipment and renovating facilities.
The final element in the programme is Corporate Social Investment, which includes upgrading and equipping the town's clinics and hospitals, as well as repairing and upgrading the town's sewage system and potable water treatment plants.
Once construction work has concluded in 2015, Eskom will not only have boosted the power generation capacity by 4,800 megawatts using the latest power generation technology; it will also have played a significant part in strengthening the local community and boosting job prospects for a considerable section of the population.
Editorial research by Sam Howard