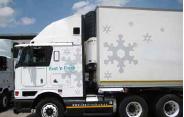 Fast 'n Fresh Transport Services transports today the perishable goods South Africans will buy tomorrow. Managing director Gavin Wilson tells John O'Hanlon how lateral thinking and innovation has helped the company keep its lead in the fast moving consumer goods logistics sector.
Fast 'n Fresh is a wholly owned subsidiary of the Imperial Group of companies, the holding company being listed on the Johannesburg Stock Exchange. An operating company within the Consumer Products division of Imperial Logistics, Fast 'n Fresh has its headquarters in Cape Town. It services the entire country from there and from a large and very modern distribution and fleet maintenance facility that was commissioned in Centurion, Gauteng, early in 2007, as well as a smaller depot in Durban.
Gavin Wilson has been leading the company for 10 years, having joined at the crucial moment in its history when it won a contract to supply fast moving consumer goods (FMCG)—mainly food but including some textiles—to South Africa's leading retail chain, Woolworths. Over the years this has developed into a key relationship: the original five-year agreement was renegotiated in 2006, and discussions are underway to extend it further. "We had to change our entire company mindset to comply with their very stringent service-level agreement," Wilson says. "Woolworths has the country's most efficient and cost-effective retailsupply chain—and we play a large role in that."
As well as benefiting this key partnership, Fast 'n Fresh's 24/7 culture plays an important part in the relationships it has developed with some of South Africa's most demanding food manufacturing companies, from Famous Brands, with its large range of fastfood outlets, to Nestlé ice cream, Nature's Choice, Tiger Brands and The Real Beverage Company.
To keep all these customers happy, Fast 'n Fresh currently has a fleet of 245 trucks and refrigerated trailers. Of the mixed fleet, the majority of the trucks are Mercedes-Benz products because of their reliability and environment-friendly attributes. "Most operators in this country have just about reached the Euro 3 standard for diesel emissions," Wilson explains. "But we have taken a bold step. In an agreement reached with Woolworths and Mercedes-Benz we are importing more technically advanced and environmentally-friendly Euro 5 vehicles from Germany this year, way ahead of all our competition."
The first batch will arrive in July/August. In addition to significantly lower emissions, the Euro 5 engines will also give better fuel consumption. Fast 'n Fresh has been driving a policy of environmental responsibility for some time, Wilson adds. For the last two years it has been operating its fleet on a five per cent biodiesel blend—the maximum currently allowed by the vehicle manufacturers. Now it is turning its attention to its trailers, by commissioning four ecoFridge refrigerated trailers.
The Ukraine-manufactured refrigeration units are nitrogen powered and completely harmless to the environment. They will be emission free, silent running, virtually maintenance free and up to 30 per cent less expensive to operate than competing systems. Once again, Fast 'n Fresh is the first to introduce these to the roads of South Africa, and the benefits will be apparent to the customers as well as to the operator.
It's an important part of Fast 'n Fresh's strategy to operate round the clock, says Wilson, and to encourage its customers to accept deliveries at night as well as during the day. "By travelling at night when the roads are less congested we can stick more closely to our schedules and gain better fuel efficiency, as well as reduced emissions. But many of Woolworths' stores are in residential areas, so noise reduction is an important issue. You can kill the truck engine while you unload, but the refrigeration unit has to go on running: so these completely silent units make out-of-hours delivery much more acceptable."
While flexible working hours make sense commercially, many companies still have a five-day week, nine-to-five mindset, so Fast 'n Fresh is endeavouring to convert its customers to the undoubted benefits of change. "Our culture is to take advantage of every opportunity. We incentivise customers to also operate this way." Fast 'n Fresh will help with offloading, for example, and now 80 per cent of its business is on a 24/7 basis. This means optimal utilisation of assets and improved productivity for both parties: from the customers' point of view, it enables them to carry less inventory and at the same time carry a wider range of products and so improve sales and customer retention. Everybody wins.
Still, operating like this comes with some challenges. It's not easy to get drivers to work the unsociable hours; and it is unfair to expect them to get to work or back home again when public transport is not readily available. Fast 'n Fresh's solution in Gauteng—its busiest area with 215 Woolworths stores—is to outsource driver transportation to a BEE (black economic empowerment) company. "Whatever the time, we collect our drivers from their homes and take them back at shift change. They don't get excessively tired and they don't lose time. The customers benefit from a much more reliable service."
Any modern logistics company needs a fit-for-purpose transport management system (TMS) to manage driver and asset scheduling and utilisation, payroll and the like. Fast 'n Fresh has its own IT department which developed the bespoke system it uses. At its core is the transport operations and planning module; and it also has a maintenance module for all the trucks and trailers. "Now we are developing software tools to give us dynamic scheduling capabilities: while we would normally plan seven days in advance, updating that every 24 hours, there are situations where things change and the need arises to urgently create a dynamic schedule for just one day.In addition, we are developing software to plan tactically by simulating different scenarios."
All this management information helps Fast 'n Fresh's efficiency and also benefits the customers, Wilson emphasises. "We use it to provide customers with management information about movement of their stock, and trends."
"I would attribute our overall and financial success over the years, with double-digit growth year-on-year, to our excellent team of people," Wilson asserts. Fast 'n Fresh believes its investment in training is money well spent and is very proud of its 'Mini MBA' management development programme—classroom training linked to projects across the company's disciplines. The trainees, as a result, are better equipped and more knowledgeable in managing the company's strategies.
"If you have happy staff, you have happy customers," he concludes.