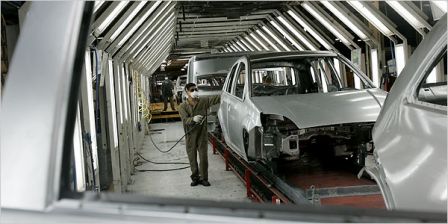 The Dearborn, Michigan-based automaker will manufacture Focus cars for domestic and export markets at the factory, which is due to open in 2012. The plant in Rayong province, 200 kilometres east of Bangkok, will have an initial capacity of 150,000 vehicles a year.
Some 85 percent of the Thai-based Focus output will be exported, mostly to other south-east Asian nations and to Australia.
The plant will be built on land owned by Hemaraj Land & Development, Thailand's biggest industrial developer by market value. The facility will cover about 70 acres and will be close to the existing Auto Alliance plant.
Around 2,200 jobs will be created at Ford and a further 8,800 among its suppliers as a result of the new factory.
Ford said in a statement that Thailand's top class automotive, logistics and export infrastructure was a factor in its decision to build the new plant. "This investment underscores our long term commitment to Thailand, and its role as a global production and export hub for Ford," commented Joe Hinrichs, president of Ford's Asia and Africa business.
Ford and its Japanese partner Mazda have already invested around $1.5 billion in pickup truck and passenger car factories in Thailand. The venture, Auto Alliance (Thailand) Co., last year opened a $500 million passenger car plant, its second facility in the country.
Thailand already exports more pickup trucks than any other country in the world and produces more than any other outside the US.
Rivals Toyota, Honda and General Motors have also built plants in Thailand. With a domestic population of 67 million, the country is south-east Asia's second-biggest economy and boasts attractive tax incentives. It is thought that automakers may produce a record 1.6 million vehicles in Thailand this year—60 percent more than in 2009—thanks to rising demand.
Car production in Thailand doubled to 620,116 vehicles in the first five months of this year thanks to rising domestic sales as a result of low borrowing costs. The global recovery from economic crisis also boosted overseas shipments.
Next week, Ford is expected to unveil its plans for increasing production capacity at a plant in South Africa, enabling the company to export more Ford Ranger trucks to Europe and other markets.
The investments come on the back of Ford's strong earnings in the first quarter of this year, when it reported $2 billion in net income.