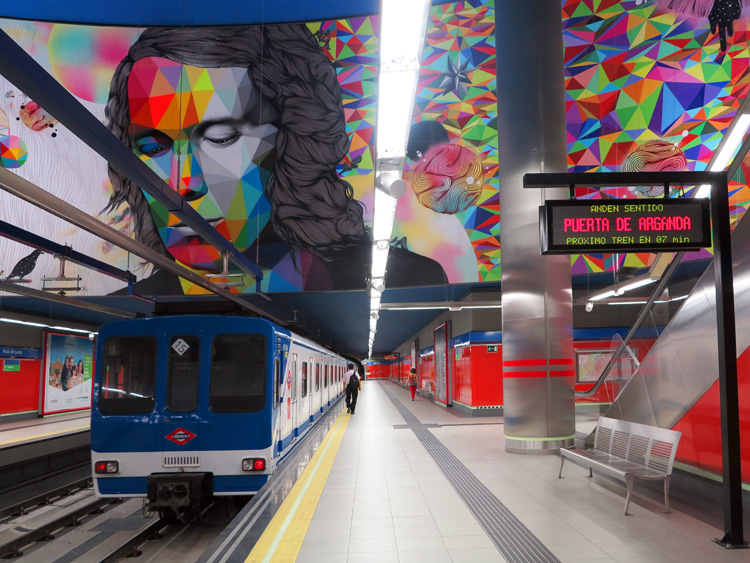 It's nearly impossible to imagine the impact that Metro Madrid had on residents of Spain's capital city when it first arrived one hundred years ago in 1919. The city's overground tram system had been in operation for nearly 50 years, having opened in 1872, but the metro was truly a game-changer. The route between the stations Sol and Cuatro Caminos on tram had previously taken more than half an hour; now it is a 10-minute journey.
From then until now, Metro Madrid has grown in line with the city. From one short line in its year  of construction to a total of 13 (and one branch line) today. Whereas in 1919, the world was about to be transformed by the automobile (less than 5,000 cars were sold in Spain in 1919, compared to over 1.5 million in 2018), in 2019 we may be reaching the end of cares as we know them. Not so for the metro, this becomes increasingly important and relevant. In this article, we look at some of the highlights of Metro Madrid's history that brought it to 100 years old, and one of the world's largest and most well-regarded metro underground systems.
The World's First Electric Underground System
Metro Madrid was first conceived in the second decade of the 20th century, at a very challenging time across Europe.  Spain was able to grow its trade links with many countries and invested its resources in public projects, the most significant of these projects being Metro Madrid. In September 1915, a royal decree was signed by King Alfonso XIII for beginning work on an underground system for Madrid.
The metro was funded through a combination of corporate funds (50%), the public (40%) and the Spanish royal family (10%). Its first line, which was just under three and a half kilometres and eight different stops, was delivered on time and on budget in October 1919 - a truly remarkable turnaround time for such an ambitious project. On its delivery, the Spanish king said it was "a miracle." Evidently, public enthusiasm reflected that of the king. In the metro's first month, an average of over 40,000 people used it every day. 
An inevitable consequence of the metro's popularity was that new lines quickly followed. Within two years, line 1 had been extended and joined by line 2. By 1936, a third line had been added and a fourth came in 1944. In fact, extension and maintenance on the Metro Madrid was practically a constant throughout the 20th century. This is underlined by the fact that by the end of the 1970s, there were already 10 separate lines in the system. One of the drivers of this was an explosion in Madrid's urban population from around 1.5 million in 1960 to over 3 million 1980 - faster growth than any European capital city.

Expansion, Improvement and Modernization
The transition of the company to a public enterprise in 1990 signaled no reduction in ambition for Metro Madrid. New works included extensive expansion of lines 1, 4, 7 and 11. At the beginning of the 21st century, an unprecedented 50 kilometers of track were added. Importantly, this included a link to Madrid's Barajas Airport, and an important transport link to the 50 million people that pass through it every year, many of them destined for Madrid city Centre. Between 1996 and 2011, the length of the metro doubled to a total of 294 kilometers of route on 12 lines with just under 300 stations.
These statistics meant that Madrid Metro joined the ranks of the largest metro systems (measured by line length and station numbers) in the world, pushing it to sixth - and currently, eighth - largest system in the world. It's also the third largest in Europe, coming in just behind London and Moscow, but still larger than that of Paris, despite being Madrid being a much smaller city in terms of area and population. It's also important to note that size isn't a vanity metric - it's used by some analysts as a measure of quality of life: In the context of line length of line per capita, which is a proxy for the accessibility and quality of transport in modern cities.
Continuous expansion was possible through a love for the metro among Madrileños (as the citizens of Madrid are known) which goes right back to 1919. This means that there are seldom any objections when the metro wants to expand in an area, unlike other cities, where objections from various stakeholders can delay projects by years. It's also a testament to the quality of partner and contractor that Metro Madrid has worked with, ranging from Arcelormittal España, S.A. to Construcciones Auxiliar de Ferrocarriles, S.A. (CAF) and Acciona Construcción, S. A., all of whom are quick to put plans into action once the green light is achieved.
One hundred years after the inauguration of the first metro in Madrid, the system's statistics speak for themselves; 293 kilometers of line, 522 elevators, 1,698 escalators and 301 stations. About 25% of the local population uses the system, traveling an average distance of 9.5 kilometers. By any measure, the system has made an extraordinary difference to the city it serves in its first century. 
Sustainability
As mentioned above, Metro Madrid was the world's first fully electric metro system, so in a way, it can be said that sustainability is in the company's DNA. This is exemplified by the fact that it produces an in-depth sustainability report every year, based on the UN's SDGs (Sustainable Development Goals). Its objectives include being transparent, providing employment opportunities in the community (for example, through the Women in Transport initiative), Improving awareness around sustainability and building social inclusion - for which it has a well-established program called La Linea Social, the Social Line. It's interesting, for example, how the metro is often mentioned in various publications as having more elevators than any other metro system in the world. While this is treated by some as a quirk, in fact it can be seen as a commitment to improving accessibility for the old and immobile.
On the environmental side, it could be said that the metro's mere existence is a contribution to the environment. However, it further commits to improving its waste disposal methods, using renewable materials in the delivery of its stations and various other plans to reduce the emissions. As an example, the many elevators mentioned in the previous paragraph - mostly provided by partner firm Kone Kone Elevadores, S.A.are the most efficient elevators on the market, ensuring the minimum energy input to deliver the service.
Naturally, safety is a core component of the sustainability practices of metro systems and Metro Madrid prides itself on its record in this regard. It leverages the resources of various partner firms to deliver on its service promise. This goes for whether the safety in question is getting passengers from A to B with minimum fuss (where its partnership with SGS Tecnos, S. A. ensures there are no glitches in the system) or safety in and around the metro system, where it is assisted by local firms such as Ombuds Compañía de Seguridad, S.A. and Segurisa, Serv. Int. de Seguridad, S.A.
Its commitment to community involvement can also be seen in the effort to ensure that each metro station goes above and beyond a simple utilitarian transport hub. For example, Carpetana station features archeological deposits which go right back to the foundation of Madrid; Gaya station has a permanent exhibit of over 60 Francisco Goya paintings, one of Madrid's most beloved artists; finally, other stations such as Paco de Lucía, Hortaleza "Phortaleza" and Argüelles give prominence to the works of local artists through murals and other artworks. It's a rare week in Madrid, where passengers aren't greeted by a group of school children being brought by their teachers to some of these exhibits - not something that can be said of many metro systems.
Innovation
There are metro systems which are old and give the feeling of being old by virtue of the fact that they've never had the opportunity to modernize. This is simply not the case with Metro Madrid. The station Principe Pío on Line 10 is a case in point. Although it's one of the oldest train stations in Madrid, it feels entirely modern, through blending new architecture with the old and even housing one of Madrid's most popular shopping malls. This is indicative of how, the metro keeps moving - not just in a literal sense - but a metaphorical sense, too.
Looking at the metrics described in the sections above, it's not difficult to see why Metro Madrid is seen as a benchmark in innovation. For example, when more recently built metro systems like those of Lima, Istanbul and Santiago de Chile were being planned, they all looked to Metro Madrid as their development template. This spirit of innovation in turn might have led to the International Association of Public Transport (UTIP) opening a Innovation and Training Centre in April 2019. Metro Madrid also keeps ahead of the posse through working closely with consulting firm Accenture, which has a specialty in transport innovation research.
Continuing its commitment to innovation, in 2018, Metro Madrid began a comprehensive digital transformation plan, by opening a Station 4.0 technological Centre. The aim of this Centre, located at Canillejas, is to research and develop new commercial products before they are released to the general public. It focus on three areas:  information for the user, safety and station remote control (the staff are able to control the facilities of a station using an electronic device). It also recently patented a new technology which will significantly speed up the ability of passengers to buy tickets and access transport with less friction.
The Future
If 100 years of Metro Madrid teaches us anything, it's that it will continue to improve, innovate and expand. If this is to become the century of sustainability that we all hope it will, transport systems like Metro Madrid are more crucial than ever. The recently opened R&D lab will probably contribute not just to Metro Madrid but to metro systems everywhere. And with the increased data being generated through its partnerships with other partner firms like Indra Sistemas, S.A., it can make even more intelligent transport systems for its clients than already exist. In summary then, the future of Metro Madrid, looks bigger, better and more intelligent. Plenty to look forward to for the Madrileños.