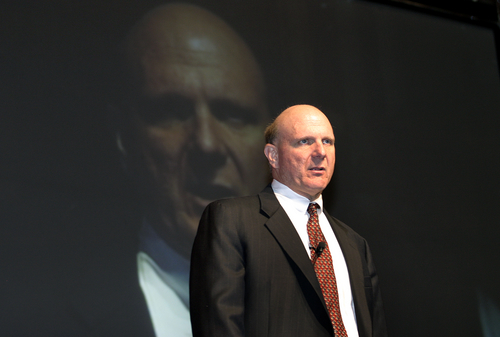 Net income for the technology giant came in at $6.56 billion for the October-to-December period, up from the $6.38 billion posted a year earlier. Earnings for the firm were boosted by sales of the new Xbox One console and its range of Surface tablets, as well as strong demand from businesses for its cloud computing services. Sales of the firm's cloud programs, such as Office 365 and Azure, more than doubled in the December quarter from a year earlier, while sales of its Surface tablets doubled from the previous quarter.
The results come at the beginning of a year of change for Microsoft what with CEO Steve Ballmer due to step down from his post. Mr Ballmer has spent 33 years with the company, succeeding its founder Bill Gates as chief executive in 2000.
While there have been concerns for some time now over what condition he would leave the company in, analysts have responded to its latest earnings report by saying that its better-than-expected numbers will allow Mr Ballmer to exit Microsoft on a positive note.