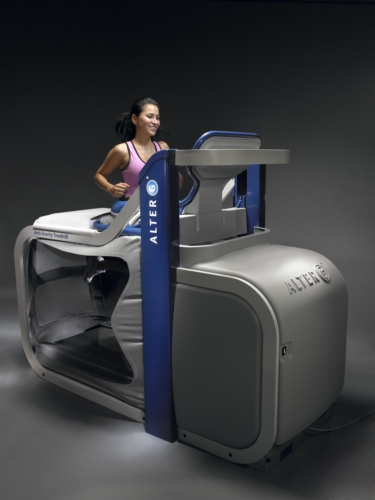 The AlterG Anti-Gravity Treadmill has been on trial in the Regional Trauma Unit at the NHS Royal Victoria Hospital in Belfast, Northern Ireland for the past three months. During that time over two hundred patients have benefited from the unique 'anti-gravity' technology.
The technology was originally developed at NASA and tested at Nike's Oregon Research Project by America's top distance runners. The AlterG Anti-Gravity Treadmill uses 'differential air pressure' that can 'un-weight' up to 80 percent of a person's body weight, allowing for stable support while rehabilitating from injury.
As Doctor Louis O'Connor, clinical lead physiotherapist for the Regional Trauma Unit at the NHS Royal Victoria Hospital says: "We 've had the AlterG Treadmill on loan, in our Fracture Rehabilitation Gym. The majority of patients have come from a trauma and orthopaedic background and with a significant amount of lower limb fractures, so from ankle injuries to knee injuries, to hip injuries to pelvic injuries.
"There have been also a number of patients with neurological weakness, patients who have had strokes; patients who have had head injuries and medical issues. So there has been close to nearly two hundred patients who have trialled the AlterG during the three-month period that it's been here."
The AlterG Anti-Gravity Treadmill works by filling a sealed chamber with air to offset a percentage of the weight of the person using it. It has two main functions: functional rehabilitation, promoting normal gait patterns whilst maintaining comfortable weight-bearing therapy. This allows people who have sustained injury, joint replacement or neurological conditions to regain function.
AlterG has built a reputation in the UK sports sector, having sold treadmills into nineteen out of the twenty Premiership football clubs, as well many leading Premiership rugby clubs. Other UK customers include leading health & leisure club operators, private hospital groups, military rehabilitation units, sport physiotherapists, personal trainers and sports coaches.