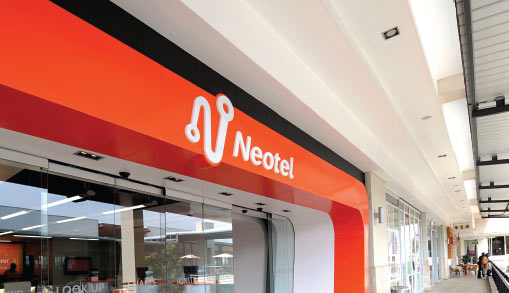 Dr Angus Hay, head of Technology with Neotel, South Africa's first converged communications network operator, talks to Jayne Flannery about the golden thread of converged connectivity that runs through the company's service offering.
Neotel's head of Technology Dr Angus Hay sometimes likes to use the tagline "South Africa's first converged communications network operator" to describe the company, which was launched in 2006. 
"It is important that we define ourselves carefully," he states. "We are an infrastructure based provider with a national network, but the real differentiator is our focus on delivering national and international services over fibre. At present we are the only IP player that is infrastructure based and making a direct fibre connection to customers, offering voice, corporate data and internet through a single connection. We may have a strong focus on IP for our services, but we go far beyond the internet."
So Neotel provides everything from a telephone handset at home, to state-of-the-art data warehousing and transmission for some of Southern Africa's largest companies. Other services include virtual private networks, hosting and satellite services. The company holds various telecommunications licenses as well as the Electronic Communication Network Service License.
As a relative newcomer to South Africa's telecommunications market, Neotel is unburdened by the outdated legacy technology that characterises older market players. Then there is the powerful advantage derived through a close relationship with India's globally renowned Tata Group, which is Neotel's largest shareholder with a 56 per cent holding. Tata Group is highly diversified, but as part of its communications portfolio, it is one of the world's leading contenders in submarine fibre networks. Tata Communications is also a Tier One internet services provider operating on a global platform and carries the largest number of voice minutes of any international wholesale voice carrier.  
"We benefit enormously from Tata Communications' global communications network which in itself has a unique capability. Not only can we leverage a very powerful shareholder, but we can also integrate into its global network," says Hay.
The majority of Neotel's revenue comes from corporate enterprise and wholesale services to other carriers, but the company also serves consumers and small businesses directly. The current infrastructure extends to a national optical fibre network that measures more than 10,000 kilometres, with a further 4,000 kilometres in major metropolitan centres.
When it comes to state-of-the-art, metro ethernet services, Neotel is a leading provider and has the highest speed and performance service in the South African market, offering speeds of one gigabit per second which is on a par with the fastest services to be found anywhere in the world.It was also the first provider of metro ethernet in the market. "We run a DWDM optical transmission backbone," Hay explains. "On that backbone, we then have multiple circuits and offer an IP network on one side and synchronised digital transmission services on the other. We aim to provide as many corporate services as possible via fibre in preference to old-fashioned technologies. We make no use of copper fibre, DSL, or any of the older voice technologies. Neotel places tremendous emphasis on delivery via optical fibres."  
For corporate clients, there is also the additional value of Neotels's substantial data hosting capability. One data centre in Johannesburg is already live and another one is due to go live very soon in Cape Town. "It will give us a very substantial hosting capability that is connected not only to national networks, but also internationally," he adds. 
Drilling further down the customer base, some use is made of wireless platforms. The aim is to use a blend of technologies in line with the nature of demand, but Hay emphasises that Neotel would never want to be viewed purely as a mobile operator or restricted to any one activity. "The golden thread to all our services is the mix of services we offer down to our smallest customers who can take advantage of both high speed internet and voice services," he says.
Hay wants Neotel to be seen as a company that challenges the established order and overturns the status quo. "We offer amazing data services, but we also offer tremendous savings and value for money in our voice services. We are not a mobile operator, but we can still offer the cheapest calls to mobile phones, for example. Previously there was limited competition in the voice market which meant high prices. Now that is no longer the case and we are very aggressively reducing prices."
Meanwhile, Neotel is consolidating its first mover advantage. A new optical fibre loop is under construction as the company launches a fibre based broadband business direct to the building for corporate customers. "This will change the paradigm for broadband in South Africa," he states. "At present no such service exists in South Africa but we firmly believe that fibre based broadband services must become the norm in future."
Hay explains that as well as pioneering a new optical fibre infrastructure, Neotel was also the first telecommunications company to break the monopoly on South Africa's submarine cable network. It is still the only player connected to all three existing submarine cable networks, as well as those that are planned in the future.
Neotel has invested R80 million into the Eastern Africa Submarine Cable System (EASSy) consortium—the cable goes live around August this year. Then in 2011, the West African Cable System (WACS) network goes live. The addition of EASSy in particular will significantly boost international bandwidth capacity and redundancy and increase internet connectivity competition in South Africa. "When we have access to five cables, we will look much more like Western Europe; and it will change the way South Africa integrates into the global internet," he comments. 
At present, Neotel is licensed only in South Africa and Hay does not envisage taking out further national licenses in the foreseeable future. However, he is committed to seeing Neotel leverage its optical fibre backbone to gain market share as a cross-border services provider within the wider SADC market.
"Our target market is very much Southern Africa, not South Africa; and we already have a number of very large clients in other countries using our services. It is because we have taken such an active stance to connect to all the available networks that so many companies want to work with us," he concludes.
Editorial research by Robert Hodgson