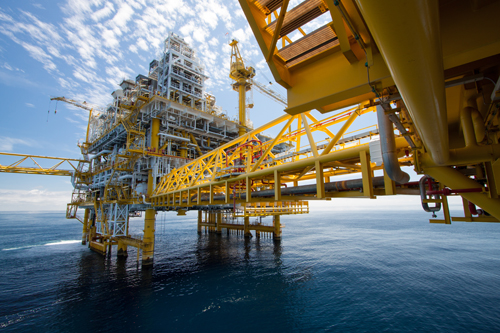 One of the select few oil companies in the world to operate through the length and breadth of the industry, from exploration and distribution through to the commercialization of the end products, Petroleos Mexicanos, or PEMEX as it is better known, is Mexico's biggest enterprise, the largest taxpayer in the country and one of Latin America's largest companies.
Created in 1938 through the nationalization of petroleum and the expunging of all private foreign and domestic companies at the time, PEMEX today boasts a total asset worth of $415.75 billion, making it the world's second largest non-publicly listed company by total market value. In recent years the company's crude oil production levels have remained stable with it producing 2.548 million barrels per day in 2012, as well as just over six million cubic feet of natural gas.
PEMEX's mission is to maximize the value of Mexico's oil assets and hydrocarbons, meeting the domestic demand for products through reliable, quality, safe and cost effective service. In doing so it aims to be recognized by the Mexican population as a socially responsible organization striving to permanently increase the value of its assets, while remaining responsive, transparent and innovation in its operations and long term strategy.
In order to achieve its aims PEMEX relies upon the expertise of its various subsidiaries and affiliated companies, PEMEX Exploration and Production, PEMEX Refining, PEMEX Gas and Basic Petrochemicals , PEMEX Petrochemicals and PMI Comercio Internacional. PEMEX Exploration and Production is the body tasked with maximizing the long term economic value of Mexico's oil and natural gas reserves. Its main activities include exploration, transportation, storage and the marketing of terminals. The basic functions of PEMEX Refining on the other hand include industrial refining processes, the processing of petroleum and petroleum products, distribution, storage and first-hand sales.
Pemex Gas and Basic Petrochemicals (Pemex Gas) is the subsidiary of PEMEX responsible for the processing, transportation and marketing of natural gas, liquid hydrocarbons and basic petrochemicals such as ethane, natural gasoline and sulphur. Meanwhile, PEMEX Petrochemicals' main activities stem from the non-basic petrochemical processes derived from the primary processing of natural gas, methane, ethane, propane and gasoline. Last, but by no means least, PMI is the commercial arm of PEMEX on the international stage. With operations throughout the world PMI handles the imports and exports of crude oil to and from PEMEX's operations.
As Mexico's largest enterprise PEMEX carries with it a huge amount of responsibility when it comes to social and sustainable development, and when it comes to leveraging its petroleum based operations to help improve the living conditions of the country's population. As such PEMEX is a strong supporter and promoter of regional development initiatives, seeking at all times to harmonize its own growth with that of the areas in which it operates.
Such an attitude also extends to the company's commitment towards developing itself in a sustainable, environmentally conscious manner. PEMEX considers itself to be among the most proactive of companies in the oil industry when it comes to conservation and ecosystem management, compensation and reclamation. Meanwhile, across its vast operations one will find a shared desire to ensure it succeeds in achieving increasingly efficient use of energy and water.
Today PEMEX finds itself one year into its "Business Plan for Petroleos Mexicanos and Subsidiary Entities 2013-2017". The plan in question has been laid out to plot the course of the company over the coming years so that if stays in line with its mandate to create value and achieve operational and financial sustainability in the long term.
In putting the plan together a total of 15 objectives were identified and grouped into four separate lines of action, those being growth, operational efficiency, corporate responsibility and management modernization. The objectives include increasing inventory revenues through new discoveries and reclassification, the increased production of hydrocarbons, increasing efficiency levels above international standards in gas usage and production costs, and achieving operating performance levels about the industry average when it comes to processing. Other continuously evolving long term aims include strengthening customer orientation, developing human resources, supporting growth and business improvement through the development of technology and maximizing the value of international opportunities.
This year the company plans to invest approximately $27.7 billion across its operations, the most in its history. The vast majority of this, 85 percent to be exact, will be put towards crude oil exploration and production. According to the company its projected investment for this year will be 6.5 percent greater than the amount it invested last year and a massive 154.1 percent greater than the investment made a decade ago.
Approximately $3.4 billion of this total investment fund will be used to build four new ultra-low sulphur diesel plants and modernize a further 14. The new plants will be built at three different existing refineries, Madero in the north-eastern state of Tamaulipas, Minatitlan in the Gulf coast state of Veracruz, and Salamanca in the central state of Guanajuato.
Four other plants at the Salina Cruz refinery in the southern state of Oaxaca and the Tula facility in the central state of Hidalgo will undergo a thorough modernization process, while the remaining ten will undergo a less extensive renovation. The diesel project, which will take an estimated 45 months to complete and employ best industry practices, is to be coordinated by a specialized team from the company's refining unit, Pemex Refining, and an external oversight body.
Written by Will Daynes, research by Abi Abagun