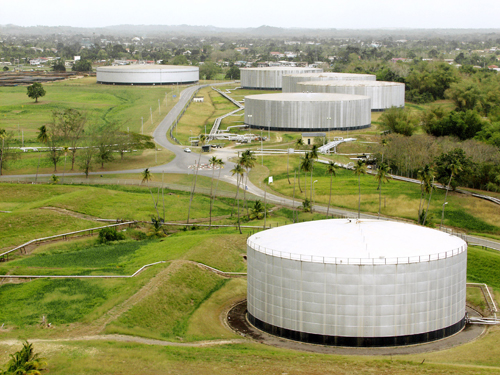 Last year we published an in-depth report on the Caribbean's leading O&G company, looking at Petrotrin's business models, vision, people strategy and environmental aspirations. There can be no doubt that this is a company that is pivotal to the development of the nation and indeed the region as a whole. Petrotrin is the state-owned integrated oil and gas company of Trinidad and Tobago engaged in the full range of petroleum operations including the exploration, development and production of hydrocarbons and the manufacturing and marketing of petroleum products. In other words it is active from wellhead to consumer, from upstream to downstream O&G activities as well as being an influential participant in Trinidad and Tobago's economic and political life, supplying the country's domestic needs as well as exporting half of its production to the benefit of the country's balance of payments.
This company was incorporated on January 21, 1993 to consolidate and operate the petroleum producing, refining and marketing assets of State-owned enterprises: Trinidad and Tobago Oil Company Limited (Trintoc) and Trinidad and Tobago Petroleum Company Limited (Trintopec). In 2000, it acquired the assets of Texaco Inc in the joint venture Trinmar Limited, making that entity a part of its Exploration and Production operations.
As a state enterprise, Petrotrin is under the direct control of the Minister of Finance. It directly employs 5,500 people, and incorporates at least 700 smaller local companies in its supply chain, supporting nearly one in seven of the islands' population of 1.3 million. The company produces a little under 45,000 barrels per day (bpd) of crude oil, making it the largest crude oil producer in Trinidad and Tobago, and 180 million cubic feet of gas.
Its crude feeds the company's Pointe-à-Pierre refinery which has the capacity to process around 170,000 bpd, making products for a variety of local, regional and international markets from fuel oil to aviation fuels. The refinery as it stands today is the result of continuous upgrading since a major $355 million investment programme carried out in 2000. All this, though, is eclipsed by a $1.2 billion upgrade project currently being completed. In its thrust to improve its international marketability, Petrotrin recently engaged in a Clean Fuels Program at Pointe-à-Pierre, which involves the Gasoline Optimisation Program (GOP) and the Ultra Low Sulphur Diesel (ULSD) projects. Between them these projects will help to ensure a full conversion capability of 168,000 bpd, enable the company to produce cleaner and more environmentally friendly gasoline and diesel to both regional and international markets and will impact positively on the company's profitability and viability well into the future. As Hemraj Ramdath, at that time Petrotrin's VP of Strategy and Business Development, told us last year: "We had to change our production processes to get better, cleaner fuels that meet new environmental targets."
The work at the refinery is aimed at helping the company to shift its emphasis from lower value, high volume products such as fuel oil to higher margin products like aviation fuel and low-sulphur diesel. The object of the exercise is to get a better return on the products, a higher margin and a chance to be competitive in high spec markets. The refinery upgrade will also have to address the lower grade fuel oil market, which since Petrotrin sells around 50,000 barrels a day is an important part of the mix. Further investment will be needed to utilise that fuel oil better and convert it into higher value product in an increasingly competitive market. As the country's energy minister Kevin Ramnarine put it in April, "Petrotrin's refinery will be challenged and its ability to survive will depend heavily on increasing the quantity of equity crude that it runs, leveraging on location to grow volumes in existing premium markets and capture new premium markets, aggressive cost management and increased operations efficiency, and implementation of a bottom of the barrel solution to convert fuel oil into higher value products, and thereby increase the value of the fuel oil."
Basically, Trinidad and Tobago needs more oil, and that means increased exploration activity on the part of Petrotrin and its partners. The company is carrying out an intensive programme of 3D seismological surveying and interpretation which should produce good results and help achieve a modest though significant increase in the medium term, maybe boosting oil production to 65,000 bpd by the end of this decade. However Petrotrin plans, as part of its 2014 - 2018 Strategic Plan, to invest $11.3 billion over the next four years to increase its oil production in an attempt to improve its overall profitability. The investment represents 71 percent of the company's $16 billion capital expenditure budget for the period. Trinidad and Tobago is still importing 73 percent of its crude requirements at world market prices – both the company and the country would benefit immeasurably by shifting that balance. As Ramnarine said: "I don't think the average man on the street is aware that our refinery has a capacity of 165,000 barrels of oil per day, of which we supply 45,000 barrels or 27 percent."
With the refinery upgrade almost complete the priority is for new discoveries and the application of enhanced oil recovery techniques to mature oil fields. Oil production has suffered from decades of low investment and this is related to the availability of land-based acreage to the private sector. The government's 2013 bid round addressed this, laying the foundation for new oil and gas discoveries on land in the coming years. Among the operators that were awarded a total of twelve wells, with associated seismic operations, were Range Resources, Primera Oil and Gas and Lease Operators Ltd.
As part of our last report we highlighted Petrotrin's social, environmental and economic programmes, which are something of a benchmark for the business community in the Caribbean and the O&G industry internationally. Not for nothing is the company's slogan "Energy Based: People Powered". It is pleasing to be able to report that this activity and ethos is still alive and well, with the company supporting a huge range of sporting activities as well as health initiatives typified by its hosting of a foot health conference. The conference held in the capital Port of Spain in February focused on the problems faced by diabetics.
However a really imaginative and long-term commitment to CSR activities is demonstrated in the annual Calypso competitions throughout the nation's prisons and detention facilities. Petrotrin is the major sponsor of the annual Inmates Calypso Competition held in the eight prisons and centres, which the company has been sponsoring for the past 24 years. Contestants sing compositions from soca, calypso and chutney genres. Most performances portrayed positive messages highlighting issues of crime, drugs, child abuse, love and peace, and received a spirited response from specially invited guests! The programme has been the opportunity for many inmates to develop musical composition, staging and, performance skills while still in prison, a very positive contribution to their rehabilitation.
Written by John O'Hanlon, research by Robert Hodgson