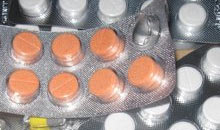 Sanofi-Aventis said that buying Canderm will allow it to consolidate its dermatology products under the Canderm umbrella to create a Canadian leader in its field and to double its Canadian healthcare sales.
 Founded in 1972, Canderm, which is based in the Montreal borough of St. Laurent, had 2009 sales of $24 million. It holds about 10 percent of the non-prescription anti-ageing skincare market in Canada.
The company's product range includes cosmeceuticals and dermatological products, injectable dermal fillers and over-the-counter products.
 Hugh O'Neill, president and CEO of Sanofi-Aventis Canada, said: "The acquisition of the business of Canderm fits perfectly with our strategy of becoming a diversified health care company and is yet another important step in our strategy to build a sustainable long-term business model.
"It also offers new opportunities, as we plan to consolidate our dermatology portfolio under the Canderm umbrella to create a Canadian leader in medical dermatology."
Barry Vogel, president of Canderm, added: "We're proud to be part of the next chapter in the history of a successful family-grown company. I am excited to work with the Sanofi-Aventis team to capture the significant growth opportunities this combination will create."
He concluded: "Our competitiveness in the consumer health care market will be further strengthened by our new home within the Sanofi-Aventis Group."
The deal is part of Sanofi-Aventis's global strategy to expand its consumer healthcare business and follows its $1.9 billion acquisition of Chattem Inc. last December. That deal created the fifth largest consumer goods company in the world by revenues, as well as giving Sanofi-Aventis increased leverage in the US market.
Last month the company announced its purchase of Polish dermocosmetics and pharmaceuticals manufacturer, Nepentes, for €1.5 million (US$1.8 million).
Sanofi-Aventis is a leading global pharmaceutical company with world headquarters in France. Sanofi-Aventis Canada is based in Laval, Quebec, with a vaccines company Sanofi Pasteur based in Toronto, Ontario. Together the two companies employ more than 2,000 people across Canada.
The two units had a combined research and development investment of $181.6 million in 2009.
The Canderm business will continue to operate from St. Laurent, the company said.