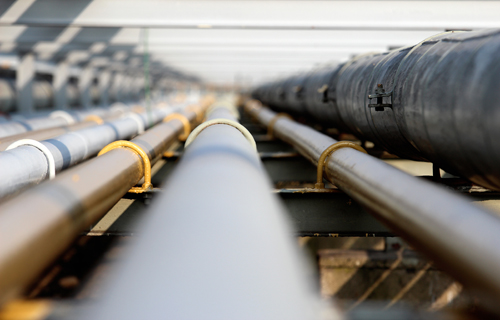 An indigenous Nigerian oil and gas exploration, development, production and distribution company with assets and interests centred on two core areas in the northwest and southeast of the Niger Delta, Seven Energy's vision is to solidify itself as the leading supplier of gas to the domestic market for power generation and industrial consumption.
Headquartered in Lagos and in London, England, the company has an upstream reserves and resources base of more than 350 MMboe, midstream processing and distributing capacity of 200 MMcfpd, and long-term gas sales agreements in place to supply over one trillion cubic feet of gas to its domestic market.
Seven Energy's business model is designed to capture the full value chain from upstream appraisal, development and production, to ownership of processing and distribution infrastructure and marketing to end users. This model is supported by the company's experienced management team, high standards of corporate governance and social responsibility, and is underpinned by a robust capital structure.
The company's strategy has been to acquire controlling interests in low cost, undeveloped gas fields with clear near-term monetisation opportunities, while at the same time working to secure long-term offtake agreements with credit worthy customers, and to build and operate processing and distribution infrastructure in strategic locations.
To date, Seven Energy has progressed towards achieving these objectives through the acquisition of substantial interests in the undeveloped Uquo and Stubb Creek Fields. Production from these fields will be processed and transported to market through processing facilities and pipelines that are owned and controlled by Seven Energy. In addition, Seven Energy's Strategic Alliance Agreement with NPDC has provided access to mature producing oil and gas fields in OMLs 4, 38 and 41 with substantial upside potential.
Seven Energy's portfolio of oil and gas assets and interests are known to be relatively low geologic risk fields with significant resource potential. In the northwest Niger Delta, Seven Energy has entered into a Strategic Alliance Agreement with NPDC in respect of OMLs 4, 38 and 41, and also has an interest in the Matsogo Field. OMLs 4, 38 and 41 comprise five producing fields. In 2012, the average gross production from OMLs 4, 38 and 41 was 33,400 bopd. A successful well work over and drilling programme that is ongoing on the fields, as well as the inclusion of the Okporhuru field which came on stream in May 2013, added 4,000 bopd of production.
A substantial development programme is ongoing across the area with some ten new wells being drilled and six existing wells being re-entered during 2013. The early success of this programme has reaffirmed both the effectiveness of the work programme itself and the quality of the reservoirs with the operator aiming for production of 100,000 bopd by 2016.
Meanwhile, in the south east Niger Delta, Seven Energy has interests in the Uquo Field and the Stubb Creek Field. The Uquo Field was first discovered by Shell in 1958, and in the time since five wells have been drilled, all of which have encountered hydrocarbons, with the most recent well having been drilled in 2008. In 2010, the Uquo-3 and Uquo-2 wells were re-entered, tested and confirmed to have very good reservoir characteristics with high porosity and permeability. In 2013, the Uquo-4 well was re-entered and re-completed and also confirmed the excellent characteristics of the reservoir.
When it comes to Seven Energy's midstream activities, responsibilities in this field fall to its gas marketing, processing and distribution business Accugas. The Accugas business model has two core components, the first being the processing and distribution of gas from the upstream activities of its affiliates, and the other being the processing, distributing and marketing gas for upstream partners and third parties.
With spare capacity built into its processing and distribution infrastructure, Accugas is capable of providing a long-term supply of gas to additional offtake entities for power generation and lower cost fuel for local industry. This is leading to an influx of inward investment opportunities for gas-based enterprises in the south east Niger Delta and Accugas is working closely with those partners to help them realise their projects.
Nigeria continues to possess huge economic potential, which is trapped in its vast gas resources. Nevertheless, domestic utilisation of this gas remains low, with the Federal Ministry of Petroleum Resources estimating that in 2011 it only made up twelve percent of the country's total energy usage. It is however Seven Energy's belief that we are now on the cusp of seeing Nigerian gas demand experience unprecedented growth.
With this in mind, the company has not only made considerable efforts to expand its assets and operations, but also to ensure that corporate responsibility remains a primary focus for Seven Energy. The company's commitment to corporate responsibility can be categorised into six areas, which are considered of equal importance to its operations in Nigeria. These areas are stakeholder relations, Nigeria content, its workforce, security, health and safety, and the environment.
It is the desire of the company to deliver value to Nigeria by being a local partner, committed to significantly increase hitherto unharnessed gas supply to the power sector, which curbs wastage and reduces negative impact on the environment, whilst creating economic benefits for all stakeholders.
Written by Will Daynes, research by Stuart Platt