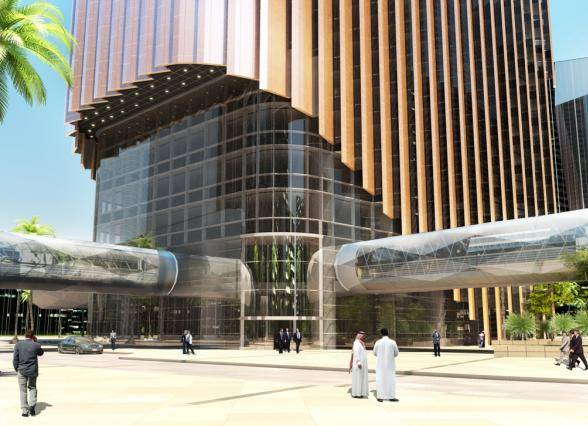 Otis Elevator Company Saudi Arabia has won six contracts to supply and install elevators and escalators to different buildings in the King Abdullah Financial District in Riyadh, Saudi Arabia.
The contract is to supply and install 263 elevators, including 10 double-deck elevators, and 90 escalators.
Otis will supply two of the tallest structures in the District, the KAFD World Trade Centre and the Gulf Cooperation Council (GCC) Bank Headquarters. Otis will install 25 elevators and eight escalators in the KAFD World Trade Centre and 30 elevators and four escalators in the GCC Bank Headquarters.
Double-deck elevators will be installed in both buildings. Depending on the building, double-deck elevators can save up to 40 per cent of the space required by traditional elevators while increasing transportation capacity by up to 30 per cent. Double-deck elevators also enable building developers to create taller structures with a more limited footprint at ground level.
At 300 metres tall, the KAFD World Trade Centre will include four amenity levels centered on the double-deck elevators. Completion is scheduled for late 2012. 
At the GCC Bank Headquarters, three sky-lobbies, accessed by Otis double-deck elevators, will ensure amenity floors can be reached from any of the tower's 53 stories.
Commenting, president of Otis Pedro Baranda said: "With these wins, Otis builds upon a heritage of leadership and innovation in Saudi Arabia. We are honoured to be a part of these structures and the world's newest financial center and look forward to a continued partnership with the Middle East's premier financial district."
The King Abdullah Financial District is designed to be the world's first newly developed major financial district of the 21st century, and is the most recent stage of Saudi Arabia's financial modernization programme.
Otis Elevator Company Saudi Arabia is part of Otis Elevator Company, the world's largest manufacturer and maintainer of people-moving products including elevators, escalators and moving walkways. Headquartered in Farmington, Connecticut, US, Otis employs 60,000 people, offers products and services in more than 200 countries and territories and maintains over 1.8 million elevators and escalators worldwide.