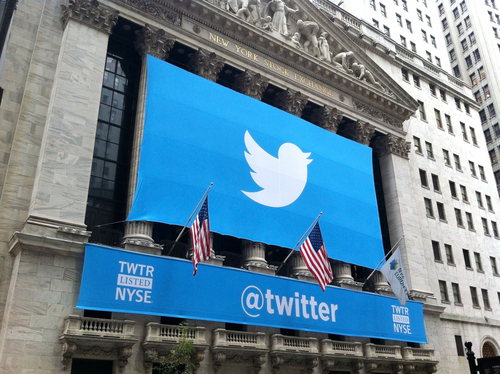 Having started the day priced at $26 each, Twitter's share closed at $44.90, giving the microblogging site a value of just over $31 billion.
With more than 13 million shares traded in the first hour after the New York Stock Exchange (NYSE) opened alone, it was far and away the biggest technology listing since that of Facebook in 2012. Twitter's choice of exchange ahead of the technology-rich Nasdaq exchange proved somewhat surprising, however as a way of avoiding the technical glitches and delays that Facebook's IPO launch experienced it clearly worked.
Twitter is selling 70 million shares, which will raise more than $1.82 billion. The company has 232 million active users who, according to its IPO documents, send 500 million tweets a day. Nevertheless the fact remains that the company has not yet made a profit, therefore its financials have been under greater scrutiny since it announced its plan to float. It lost $69 million in the first six months of 2013 on revenues of $254 million.
About 85 percent of revenues come from advertising on its site, and more than 75 percent of Twitter users access the site from their mobile phone. It is this that has investors excited by Twitter's potential for growth.
"Investors see social media and mobile as sweet spots and it is therefore no surprise that Twitter's IPO created so much excitement and was oversubscribed," said Eden Zoller of consulting firm Ovum. "What Twitter needs to do now is step up and deliver on the expectations that are fuelling its valuation, and show that it has what it takes to provide a sustainable business model".