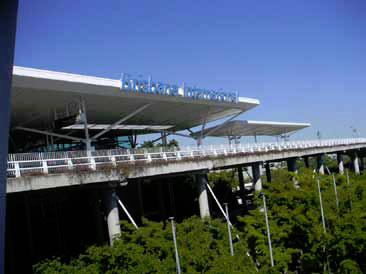 Brisbane tuff is only one hurdle in the construction of Australia's largest-ever road project, but the Airport Link will eliminate the congestion that frustrates the citizens of Queensland's capital, and they won't be disrupted because most of it is underground, as John O'Hanlon learns from project director Gordon Ralph.
The new Brisbane Airport Link went through a lot of controversy before construction started in August 2008. However, this 7.8-kilometer toll road—connecting the Clem 7 Tunnel, Inner City Bypass and local road network at Bowen Hills to the northern arterial roads and the east-west arterial leading to the airport—will be a big improvement in the lives of the city's 1.2 million inhabitants. They are used to congestion, and traffic is predicted to triple in the next 17 years. Airport Link will be the first major motorway linking Brisbane city to the northern suburbs and airport precinct, avoiding up to 18 sets of lights. Electronic tolling will make the journey faster, less congested and safer, with less stopping and starting.
Work on Airport Link is scheduled to be completed by June 2010. The last job that project director Gordon Ralph oversaw was Melbourne's 39-km EastLink, then Australia's largest road project, costing A$2.5 billion. That project opened five months ahead of schedule in June 2008, just in time for Ralph to relocate to Brisbane and take up the reins of the A$4.2 billion Airport Link in August.
Both were projects won by Thiess John Holland (TJH). Thiess and John Holland are both major construction companies within the Leighton Group. Normally, says Ralph, they are fierce competitors in the market, but when really big and complex projects come along, they have the ability to form a joint venture and bid as a unit. "We decided to form a consortium to bid this project two and a half years ago," says Ralph, explaining its rather involved history. "In fact, there are three contracts under the Airport Link umbrella: the A$3.4 billion Airport Link itself is a build-own-operate project where we design, construct, finance, own and then run the project for a concession period of 35 years."
Another part is the A$444 million Northern Busway, a two-lane, two-way road for buses only, connecting the Royal Brisbane & Women's Hospital to Kedron via the Lutwyche Road and Gympie Road corridor. Then there's a third part called the Airport Roundabout Upgrade and Flyover worth about A$272 million.
Airport Link is privately financed, Ralph explains; the other two contracts are publicly financed by two different government departments of the State of Queensland. The A$3.4 billion PF component was raised by the public float of a company called BrisConnections, which is TJH's client. "Our completion date is June 30, 2012, and though we hope to beat that date, just at this moment I'd be happy if we can come within a month of it."
When you add up the northbound and southbound carriageways and various ramps, Airport Link has a total of 15 kilometers of tunnel to take it under the densely populated residential and industrial areas of North Brisbane. Of that, 12 kilometers are excavated by various mining techniques, and the remaining three are "cut and cover," which hardly needs explaining. In the process, 2.7 million cubic meters of rock, clay and sand are being extracted and carted away by a subcontractor to various locations around the city.
So complex is the project—and such its scale—that the 50/50 joint venture that is TJH has divided it up for operational purposes into a series of "mini-contracts" ranging from A$100 million to A$400 million in value. For example, to cut the four linear kilometers of tunnel at the eastern end of the 5.1-kilometer underground section, TJH obtained the two largest tunnel-boring machines (TBMs) ever brought into Australia. These are supplied by the German manufacturer Herrenknecht under an A$90 million order; they are EPB-type machines that are particularly good for boring tunnels through unstable or wet ground safely and quickly.
The TBMs will be ideal for the predominantly soft ground sections of the project. To the west and south the ground is very different and includes sections of Brisbane tuff, a very hard rock indeed. "As it goes to the north and east, the ground changes to areas where the rock is quite soft," says Ralph. "There we use techniques akin to theNew Austrian Tunnelling method [NATM], which uses the geological stress of the surrounding rock mass to stabilize the tunnel." These rock sections are being excavated by a fleet of 16 tracked Roadheader machines that rely on a boom-mounted cutting head.
As of November 2009 Airport Link is about 30 percent complete in terms of cost, says Ralph. "But 15 months into the project the work is still ramping up. By the end of October we had done about A$1.23 billion worth of work. Turnover in October was just over A$100 million; by the end of March next year it will be over A$130 million, then rise to A$150 million a month." The joint venture works like an autonomous company, with its own finance, procurement, environmental and community relations departments, he adds.
He has more than 720 direct staff, 380 design engineers and around 900 on the workforce, including subcontractors. The total manpower is brought up to around 2,150 by the 135 people currently employed by an alliance of TJH with United Group, which will carry out the A$620 million civil, electrical and mechanical works—not so much a subcontractor, Ralph says, as a sub-joint venture.
That's just one of a number of unusual arrangements. Another is the establishment of a series of feeder plants close to the project. Rather than obtaining precast sections and steel reinforcement from a supplier, it made economic sense to set up dedicated production units. The first of these, 20 kilometers north of the city, will manufacture up to 19,000 precast concrete products, including bridge deck units and architectural features. A second facility will make the 20,000 segment linings for the TBM tunnels, and a third is being set up to produce sections for the flyover bridge at the Airport Roundabout.
One further factory has been established to the east of Brisbane to fabricate steel reinforcement for the concrete structures. "We wouldn't normally want to source them that way, but at the time we made the decision last year, processed reinforcing was at a very high price in Australia, and it was cheaper to make our own from steel bar we import."
The biggest engineering challenge along the way has been presented by the geology of the center portions of the tunnel. Unlike the Brisbane tuff, the softer rock was unpredictable, Ralph says, and needed temporary supports that weren't in the plan and generally slowed progress. He has just started to sink a 42-meter-deep, 15-meter-diameter access shaft in that area to allow an alternative and additional access for tunnel excavation with three of the Roadheaders to tackle the excavation from the shaft.
Once Airport Link is open it will quickly become a part of daily life for the citizens of Brisbane, and they will forget the disruption. They will have at least a couple of decades to learn to love it.