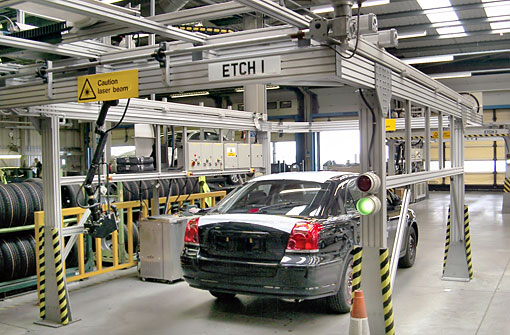 10. Kia: reliability score 81.0 per cent
Kia Motors is South Korea's second largest automobile manufacturer, having sold over 1.6 million cars in 2009.
Founded in June 1944 and headquartered in Seoul, the company is 38.67 per cent owned by the Hyundai Kia Automotive Group. North American and European arms are operated by Kia Motors America and Kia Motors Europe respectively.
For the first time, Kia posted KRW10 trillion in revenue for the first half of this fiscal year.
The company produces over 1.5 million vehicles a year and sells them in 172 countries around the world.
9. Mitsubishi: reliability score 81.2 per cent
Founded in April 1970, Mitsubishi Motors is the sixth largest automaker in Japan and the 17th largest in the world by global vehicle production. The company had consolidated net sales of JPY403.7 billion in the first quarter of fiscal 2010 ending June 30—a 56 per cent increase over the same period last fiscal year.
With car manufacturing facilities in seven facilities across five countries, the company sells its products in more than 160 countries.
Headquartered in Minato, Tokyo, the company was formed from the automotive division of Mitsubishi Heavy Industries.
8. Hyundai: reliability score 81.6 per cent
A division of the Hyundai Kia Automotive Group, Hyundai Motor Company is the world's largest automaker by profit, the world's fourth largest automaker by units sold and the world's fastest growing automaker.
Headquartered in Seoul, South Korea, Hyundai operates the world's largest integrated automobile manufacturing facility in Ulsan, which is capable of producing 1.6 million units annually.
Hyundai vehicles are sold in 193 countries through some 6,000 dealerships and showrooms worldwide.
The company sold 1,764,254 units worldwide in the first half of this fiscal year, a 27 per cent increase from a year earlier. Net profit more than doubled to KRW2.52 trillion in the first six months of the year from KRW1.04 trillion a year earlier. Sales increased 27.4 per cent to KRW18 trillion from KRW14.1 trillion a year earlier, while operating profit rose 93.1 per cent to KRW1.57 trillion.
7. Subaru: reliability score 81.7 per cent
Subaru is the automobile manufacturing division and brand name of Japanese transportation conglomerate Fuji Heavy Industries (FHI).
Subaru is internationally known for its use of boxer engines in most of its vehicles above 1500cc, as well as its use of the all-wheel-drive drivetrain layout, first introduced in 1972, that became standard equipment for mid-size and smaller cars in most international markets as of 1996.
The company offers many turbocharged versions of its passenger cars, such as the Impreza WRX.
FHI, the parent company of Subaru, is currently in a partial partnership with Toyota Motor Corporation, which owns 75.0 per cent of FHI.
Subaru is the Japanese name for the Pleiades star cluster, which forms the basis for the Subaru logo and alludes to the six companies that merged to create FHI.
6. Suzuki: reliability score 82.0 per cent
Suzuki Motor Corporation is a Japanese multinational corporation headquartered in Hamamatsu, Japan, that specialises in manufacturing compact automobiles, a full range of motorcycles, all-terrain vehicles (ATVs), outboard marine engines, wheelchairs and a variety of other small internal combustion engines.
Suzuki is the ninth largest automobile manufacturer in the world by production volume, with 35 main production facilities in 23 countries and 133 distributors in 192 countries.
According to statistics from the Japan Automobile Manufacturers Association (JAMA), Suzuki is Japan's second-largest manufacturer of small cars and trucks.
5. Lexus: reliability score 83.0 per cent
Lexus is the luxury vehicle division of Japanese automaker Toyota Motor Corporation. First introduced in 1989 in the United States, Lexus is now sold globally and has become Japan's largest-selling make of luxury cars.
As of 2009, Lexus vehicles are officially marketed in over 70 countries and territories worldwide. Lexus has ranked among the top 10 Japanese global brands in market value. The division's world headquarters are located in Toyota, Aichi, Japan, with operational centres in Brussels, Belgium and the US.
At the 2010 Geneva Motor Show, Lexus introduced the CT 200h, a compact four-door hybrid hatchback. The CT 200h is scheduled to go on sale in Europe in the latter half of 2010, with exports to follow in the US and other regions worldwide.
The Lexus line-up includes five sedans—namely the compact IS and HS models; mid-size ES and GS models; and the full-size LS flagship, along with two convertibles, the IS C and SC. Three SUVs are produced—the crossover RX, the mid-size GX and the full-size LX.
Hybrid models include the CT hatchback, HS sedan and variants of the GS, LS, and RX. The F marque line produces a variant of the IS sedan and the LFA supercar.
4. Mazda: reliability score 83.7 per cent
A Japanese automotive manufacturer based in Fuchū, Aki District, Hiroshima Prefecture, Japan, Mazda produced almost 1.3 million vehicles for global sales in 2007. Nearly one million of these were produced in the company's Japanese plants, with the remainder coming from a variety of other plants worldwide.
The company was founded in January 1920. In the first quarter of this year it had sales of JPY578 billion—up 35 per cent from the previous year.
3. Toyota: reliability score 84.6 per cent
A multinational corporation headquartered in Japan, Toyota Motor Corporation (TMC) is the world's largest automobile maker by sales and production.
The company was founded by Kiichiro Toyoda in 1937. TMC is part of the Toyota Group, one of the largest conglomerates in the world.
Headquartered in Toyota City, Aichi and in Tokyo, TMC posted sales for the year ending March 2010 of JPY18.95 trillion.
2. Honda: reliability score 85.3 per cent
Japan's Honda is the world's largest manufacturer of motorcycles and surpassed Nissan in 2001 to become the second-largest Japanese automobile manufacturer.
Headquartered in Minato, Tokyo,the company is the sixth largest automobile manufacturer in the world.
Established in September 1948, Honda posted consolidated net sales and other operating revenue for the fiscal first quarter ended June 30, 2010 of JPY2.3 trillion—an increase of 17.9 per cent on the same period last year.
1. Daihatsu: reliability score 86.8 per cent
A Japanese manufacturer well known for its smaller models and off-road vehicles, Daihatsu's headquarters are located in Ikeda, Osaka Prefecture.
Established in March 1907, the company posted domestic sales of 635,444 units and exports of 106,660 units for the year ending March 31 2009.
The company is 51.2 per cent owned by Toyota.