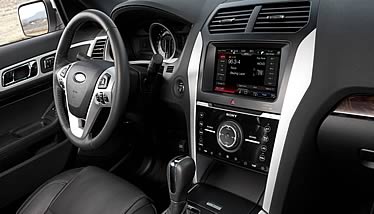 The past decade has been revolutionary for much of our society, but few sectors have seen as much change since 2000 as the auto industry.
Ten years ago, automakers were touting the number of cupholders in the cabin and the increased off-road capabilities of family haulers. Today, these same companies are racing to offer increasingly hands-free mobile communication, eye-popping fuel economy and technologies aimed at helping drivers avoid accidents.
"Cars have become more like brains on wheels," said Sheryl Connelly, Ford's global trends manager. "Consumers today want to stay connected and they want the drive to be an experience, especially since the amount of time Americans spend in the car has nearly doubled in the last ten years."
Many of the changes in automobiles have been driven by the way people use mobile devices and the Internet to consume information, communicate with others and even engage in commerce.
As the calendar flips to 2011, and automakers kick off a new chapter of innovation at the North American International Auto Show, here are Ford's Top Ten ways the industry has changed since 2000.
Infotainment:
Vehicle options ten years ago, such as in-dash compact disc players and speed control systems, are now standard features. Consumers' desire to have constant access to information helped spawn technologies such as voice-activated controls, real-time traffic and Wi-Fi mobile hot spots now found on many 2011 Ford products.
Entertainment:
The days of packing a clumsy library of CDs or VHS movie tapes are gone. Today consumers have a wide variety of compact ways to be entertained while behind the wheel. A decade ago, for instance, satellite radio was not available in cars. Today, more than half of new passenger cars are equipped with the service, according to Ward's Auto.
Ford vehicles equipped with SYNC® can stream Internet radio like Pandora or can play music from USB plugged-in digital music players or memory sticks.
Taking out the guesswork:
Today's vehicles are equipped with new technologies that make driving easier, including self-parallel parking, rear back-up cameras and rain-sensing wipers. Terrain management, a new Ford feature available on the 2011 Explorer, lets the driver select the type of terrain the vehicle is driving through, such as sand, snow or pavement, and the vehicle then adjusts wheel spin, throttle inputs and other inputs accordingly.
Accident avoidance:
Automotive safety has also advanced dramatically. In 2000, the average car had at least two airbags. Today, most vehicles have at least four, with some models equipped with up to 10 airbags. The airbags themselves have also improved.
The biggest change, however, is in the area of accident avoidance. For example, Ford's new Curve Control, available on the 2011 Explorer, monitors a driver's speed entering fast, sharp corners then corrects the vehicle. Other examples from Ford include a collision warning system that detects moving vehicles ahead; Blind Spot Information System (BLIS®) that alerts the driver when approaching vehicles enter the system's defined blind spot zone; and cross-traffic alert to sense oncoming traffic when the driver is backing out of a parking spot.
Fuel economy:
In the early 2000s, bigger was better. Vehicles were large and powerful and boasted off-road capability rarely used by the average consumer who purchased them. Consumers wanted cars that could transport large amounts of cargo and lots of passengers.
Cars and the engines that power them are shrinking and have become more fuel efficient. According to Edmunds Best-Selling Vehicles, the most popular models in 2000 were trucks. That same report from 2009 shows small passenger cars topping the list.
According to the EPA, fuel economy between 2000 and 2010 improved for the industry from 19.8 mpg to 22.5 mpg – a 14 percent improvement. Increasing numbers of consumers are also choosing smaller, fuel-sipping four-cylinders.
The percentage of fuel-efficient four-cylinder engines increased from 31.7 percent to 48.4 percent between 2000 and 2010. For example, the four-cylinder version of the Ford Fusion, which attracted 55 percent of buyers in 2007, now accounts for more than 70 percent of sales.
Built-in navigation:
TripTik® gave way to MapQuest, which soon led to the first commercially available automotive navigation system in the late 1990s. According to Berg Insight Research, there are an estimated 150 million in-dash, aftermarket, compact personal and navigation-enabled mobile guidance devices used globally. Today, navigation systems are integrated into vehicles and are much more comprehensive.
Creature comforts:
Consumers today enjoy a more comfortable ride. Better interior materials, sleeker interior designs, heated and cooled seats that automatically adjust driver position, remote start and more storage capacity all offer more comfort and convenience.
Even a hands-free power liftgate that opens with the wave of a foot underneath the rear bumper can be found on Ford's new C-MAX.
Customization:
Ford has responded to the trend of an increased desire for personalization by adding features in its vehicles such as ambient lighting colors that can be changed to fit the driver's mood, driver's seats with customizable settings that adjust automatically with the push of a button, even decal kits for the new Fiesta.
Security:
Keyless remotes, alarms and warning systems, and anti-theft systems have come a long way toward making life on the go safer for many. For example, Ford and Lincoln vehicles come with technologies such as SYNC's 911 Assist™ and Vehicle Health Report, or MyKey®, which allows parents to restrict vehicle speeds when a teen driver is behind the wheel.
Intelligent Access with push-button start allows Ford or Lincoln drivers to start the engine by simply carrying the key fob as they approach and enter the vehicle.  
Paint colors:
Brighter, more vibrant paint colors are edging their way into consumers' hearts. Black and silver still top the list, but colors like Lime Squeeze found on the Ford Fiesta or Yellow Blaze found on the new Focus have become more popular. New paints mixed with glass or metal flecks have also changed the way cars look.
Next 10 years
The next decade will bring more revolutionary change for both the auto industry and American consumers. Look for higher gas prices, better lithium-ion batteries, alternative fuels, more advanced safety technologies and more connectivity such as vehicle-to-vehicle systems that will allow vehicles to "talk" to each other via wireless communications embedded into the car.  
"People are used to living with technology," said Connelly. "That's why companies always have to think ahead. Understanding what consumers want and need tomorrow – or even next year – isn't enough. We have to anticipate needs and desires farther out, ten years down the road and beyond so we can deliver vehicles that will truly fit our customers' lives."