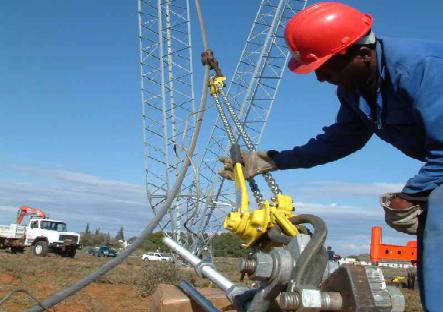 Barrie Badenhorst, general manager of Trans-Africa Projects, speaks to Jane Bordenave about the company's successes in the power industry across the African continent and beyond.
Consultancy firm to the power industry Trans-Africa Projects (TAP) was formed in 1995 as a joint venture between the South African power utility giant Eskom and the American company Fluor Daniel. It was originally founded for the sole purpose of executing the refurbishment and reconstruction of the ±533 kV HVDC transmission line from the Cahora Bassa dam in Mozambique to Pafuri at the South African border for Hidroelectrica de Cahora Bassa.
"The project was finished two years later and was a huge success," says Barrie Badenhorst, general manager at TAP. "We returned to Eskom and Fluor Daniel and at this point, seeing the results we had achieved on this project, the two decided to keep us in business and look for new projects." To this day, Fluor Daniel and Eskom remain the sole shareholders, each having a 50 per cent split of the company.
What makes TAP different to other project management and ECPM consultancies is the resources and expertise at its disposal. "With the 50/50 shareholder situation as it is, we have at our disposal a vast amount of technical and engineering resources from Eskom, and financial management and project controls on Fluor Daniel's side," says Badenhorst.
This situation means that TAP can offer clients a 'one-stop shop' for transmission and distribution services. It also allows the company to offer its customers fully customised designs, rather than taking a standardised approach. "The designs we do can be very detailed—even more so than normal, depending on our clients' needs," explains Badenhorst, "and with the full access we have to Eskom's mechanical and electrical testing facilities for lattice steel towers and conductor configuration, high voltage lines and transmission towers, we are able to enhance our design solutions and offer optimised designs specific to our clients' requirements. We also have access to a great arsenal of existing towers design which has been proven in the field. This kind of case-by-case research and development capacity is very unique in our business." When considering the fact that TAP's specialism is high and extra high voltage projects ranging from 132 kV to 765 kV, the benefits of this kind of facility become all the more clear.
Until recently, the company had not carried out any projects within South Africa and had done little work for Eskom. However, in 2003 when the capital expansion market picked up, it began working to support Eskom at a local level. "We were able to bring nearly ten years of competitive experience in the outside market to the table," says Badenhorst. "When Eskom needed help to grow projects, we cut back on our external marketing and brought ourselves back in house."
Nevertheless, the firm's main business focus currently and for the future is in overseas markets—it has already seen great successes in African countries such as Botswana, Namibia, Mozambique and Democratic Republic of Congo; as well as further afield in India, Australia, China, Indonesia and others. "We have created an international reputation for ourselves and this is something that we want to build on, not abandon," asserts Badenhorst.
One area that is of particular interest to the organisation is wind energy, which it first ventured into in 2009. "This is a growing market around the world, and one in which we want to increase our activities," he says. "We are currently carrying out studies in South Africa for several wind farms totalling 6,500 MW and we hope to be involved in more projects of this kind." In addition to this, the company also offers clients the most efficient models of energy transmission, using a probabilistic design approach for the various design components at the very earliest stages of a project. Taking this approach at the planning stages of the task, where the blueprint is based on the actual factors that will affect the final product once it is in place, has the additional benefit of reducing costs. It is another example of TAP's customised approach to commissions, rather than the 'off the peg' attitude taken by some competitors.
Another important factor setting TAP apart from competitors is its training schemes, which it offers not only to its own staff, but also to people from outside the company. It is so well regarded and offers training in such desirable skills that companies from all over Africa send their employees to attend—including Eskom itself. The courses on offer include planning, design and construction of overhead lines, substation engineering, operations and maintenance of lines and substations, site supervision for lines and substations, PLSCADD and PLSPOLE. "We consider our people to be our most valuable assets; and clearly with the kind of work we're doing, we need skilled people," says Badenhorst. "We run the courses two to three times a year and use them for our own staff as a continuous professional development and continuous skills development scheme, as well as inviting other outside utility companies to attend. These training sessions are very popular and we have had uptake from companies based in all the countries bordering South Africa."
TAP is fairly unique in having access to the resources, skills and expertise of its shareholders, while at the same time maintaining its autonomy. It has built a stand-alone reputation for skilled work that precedes it in most countries around the world, with potential clients approaching it for work on new projects, as well as the other way around. And it has gained a foothold in the green and renewable energy market as it is beginning to take off—another valuable string to its bow.
The company prides itself on offering its customers a comprehensive service—right down to engaging in the procurement aspect of a project if so desired. Firms like this are so few and far between that TAP has found that, having fully cornered its market, it is able to take advantage of opportunities around the world. As a growing company with an eye on emerging markets, TAP will certainly continue to provide the best in consulting and more to the power industry for a long time to come.