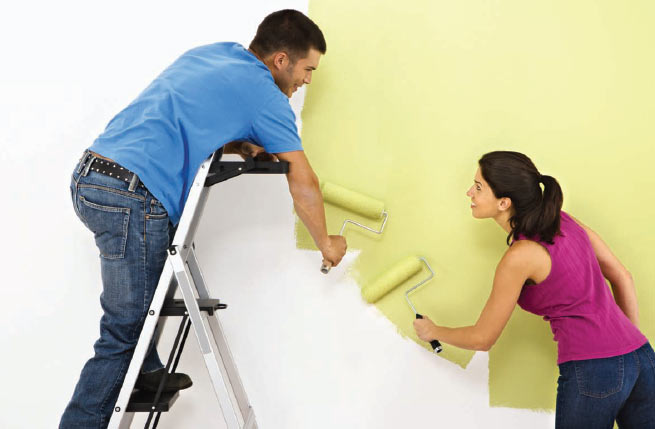 A mid-1960s radio series about a crime-fighting character called "Chickenman" spawned a popular catch-phrase: "He's everywhere! He's everywhere!" The next time you see a contractor's pickup truck or a service van from your local utility company driving through the neighborhood, take a look at the ladders strapped on top, and more often than not you'll see the familiar blue Werner Ladder logo on the side. In fact, if you could peer into the average household in the US and Canada, chances are you'd find a Werner kitchen ladder, step ladder, or extension ladder lurking somewhere. Werner is the gold standard of ladders, leaving its competitors to think, "They're everywhere! They're everywhere!"
In 1922, Richard D. Werner started the R.D. Werner Company as a small business selling metal moldings for floors, carpets and walls. Probably the farthest thing from his mind was the notion that his company would someday become the world's largest manufacturer and distributor of aluminum, fiberglass and wood ladders, as well as scaffolding, staging and related climbing products. All this from a company that in 1935 introduced as its first product a patented specialized metal decorative trim molding called Chromtrim that was used for dressing up the raw edges of kitchen sinks, cabinets, walls and stair treads.
Chromtrim quickly became known in the marketplace for its rugged wear, strength and durability, with the company enjoying great success until the start of World War II, when the government placed a restriction on metals, mostly brass and aluminum, to help with the war effort. The company began experimenting in the burgeoning field of plastic extrusion, which led to a contract with the US Navy to produce extruded plastic inhibitor strips for rockets. During the 1940s and early 1950s Werner became a respected leader in the plastic extrusion field, producing a full line of plastic trim, sink frames and other plastic shapes and accessories that were sold nationwide in both the US and Canada.
The company began to purchase hydraulic extrusion machines in the late 1940s, after war restrictions were lifted, for extruding its highly profitable Chromtrimline and for custom-designed extrusions, becoming one of the first companies to manufacture semi-fabricated aluminum components for its customers. Werner began to search for new products to develop to utilize its enormous aluminum extrusion capacity, which led to its entrance into the climbing products industry in 1950.
Werner quickly and aggressively introduced new products to the climbing market. Its aluminum ladders were almost instantly recognized for their high-quality and ruggedness in the field. With a long list of patents and innovative ideas, Werner became the world leader in climbing products and supplies. The company left the plastic extrusion business in 1952 to concentrate solely on extruded aluminum products, introducing aluminum staging in 1953 and aluminum scaffolding in 1957.
Werner invented the groundbreaking ALFLO Twist-Proof rung joint, which solved many of the safety and structural problems of aluminum extension ladders in 1954. The rungs on most of Werner's ladders are D-shaped, with the flat side of the D positioned upward to form the ladder's rung step. This substantially increases the load strength and rigidity of the ladder while at the same time creating a rung that is locked in place and impervious to twisting or becoming loose and offering superior gripping power for safety.
In 1963 the company started manufacturing fiberglass ladders, with a special emphasis on the development of fiberglass pultrusion technology. Pultrusionis a continuous process of the manufacturing of composite materials with constant cross-section, where reinforced fibers are pulled through a resin, followed by a separate preforming system to prepare it for insertion into a heated die, causing the resin to undergo polymerization, a process in which a collection of small molecules, known as monomers, react chemically to produce vast chain-like networks called polymers. At least 100 combined monomer molecules are needed to produce products that have certain unique properties such as elasticity, tensile strength, and the ability to produce fibers. Many resin types may be used in pultrusion, including polyester, polyurethane, vinyl ester and epoxy.
The 1960s saw Werner begin to develop a national field-warehousing program in order to more efficiently distribute its climbing products, playing a key role in getting its products under the feet of customers sooner and more efficiently than anyone else in the industry. In 1970 the company built new headquarters in Greenville, Pennsylvania.
To expand its product offering, Werner acquired three independent wood ladder manufacturers in the 1980s, building a state-of-the-art wood ladder plant in Carrollton, Kentucky, and in 1996 the company consolidated its wood manufacturing operations there under one roof.
The company is presently led by COO Eddie Ignacio, who oversees 1,800 employees that help generate over $400 million dollars in annual revenue. While at General Electric, Ignacio embraced the six sigma business management methodology, and with its implementation, he has produced positive results for the company in a short period of time. Six sigma was pioneered by Motorola USA in 1981 and has been adopted in many sectors of industry, though not without controversy.
Ignacio has made dramatic inroads by cutting costs and improving production to upward of 20,000 ladders produced daily. Customers enjoy quick turnaround time, with orders being placed and products custom-built and shipped to the purchaser within five days, and only three or four days for scaffolding.
Werner has expanded into other markets under Ignacio's leadership, including Mexico and Europe. The company has a revenue goal of $700 million by fourth quarter 2011, with its sights set on $1 billion by 2013. Ignacio stresses that the focus is not only to reach and exceed financial goals but to sustain that balance within the confines of the always-volatile commodities market.