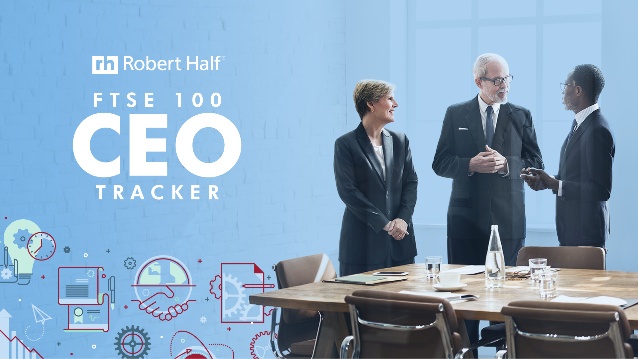 Proportion of FTSE 100 CEOs with a background in technology increases by 27%
Age, education and gender diversity remain stagnant
46% of today's FTSE 100 CEOs were promoted internally, up from 40% in 2018
London, 14 May 2019– Digital disruption has heightened the need for technological experience amongst leaders of the UK's biggest businesses, yet broader boardroom diversity is failing to progress, according to new data from specialist recruitment firm, Robert Half UK.
According to the results of the annual Robert Half FTSE 100 CEO Tracker, the proportion of FTSE 100 CEOs with a background in technology has increased by 27% in the last year, with 14% of CEOs now having a background in the sector. This includes 30% of all new CEOs appointed in the last year. In contrast the number of FTSE leaders with retail and hospitality experience is in decline, from 21% in 2016 to 15% in 2019. Of the new CEOs appointed this year, just one (10%) had a background in retail and hospitality.
Additionally, financial experience has seen a resurgence amongst the UK's FTSE leaders, with the number of CEOs with a financial background increasing from 40% in 2018 to over half (52%) in 2019. While finance remains the most common route to the top, this reverses a declining trend, from 55% in 2016 to 43% in 2017.
However, despite a shift in the skillsets of today's FTSE leaders to navigate the changing business landscape, diversity among CEOs remains mostly unchanged. The average age for a FTSE CEO is 55; unchanged from the previous two years, while 18% are Oxbridge educated, unchanged from 2018 and increasing from 16% in 2017. Furthermore, despite numerous initiatives to improve gender representation in the boardroom, the number of female CEOs has decreased from 7% in 2018 to 6%.
Individual commitments to workplace diversity and equal opportunities become even more significant when considering that nearly half of current CEOs (46%) were appointed as a result of internal promotion, compared to 30% in 2016. Of the latest CEOs to join the FTSE 100 in the last year, 70% were internal promotions.
Charlie Grubb, UK Managing Director, Robert Half Executive Search commented:"Today's CEOs require a changing blend of skills and experience to successfully lead their businesses into the future, with backgrounds in technology and finance equipping an increasing number with the ability to do so. This is a trend that is increasingly becoming a focus for executive and senior leadership hires within a business as well – especially when coupled with invaluable softer skills such as communication, adaptability and resilience.
"The research also highlights the importance of encouraging diversity at all levels of an organisation. A broad range of views, experience and backgrounds will not only benefit the business today, but also bolster its overall talent pipeline and pool for future leaders. While this process will take time to filter up to the top of FTSE firms, businesses need to make this a priority to deliver on their long-term diversity goals."
– ENDS –