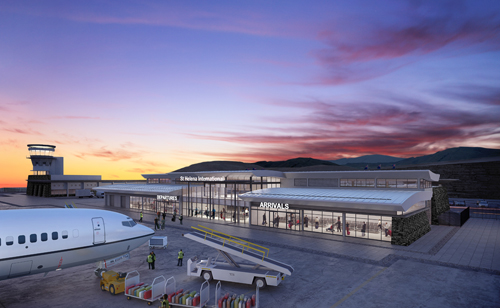 When we last featured Basil Read within this magazine in October 2012, much of our focus was on the group's ongoing work on the St Helena airport project. Said article went into great depth regarding the efforts of the group to deliver the British Overseas Territory with its own international airport, and it soon became clear, to this writer at least, that this project would not only go on to be hugely significant for St Helena but for a group that was already able to boast an impressive track record.
Sure enough, within two months of our article on Basil Read going live a number of other industry watchers were queuing up to heap praise on the group and its efforts. One such watcher was Construction World, which proudly presented Basil Read with its prestigious Project of the Year award for the St Helena airport undertaking.
Among the factors taken into account by the judges, who were unanimous in their decision to present Basil Read with the award, were the island's remoteness, the limited skills availability and the infrastructure capacity needed to complete a construction project of this magnitude. Basil Read had to effectively develop a new supply chain from the African mainland. This involved the chartering of a specialist vessel, constructing of berthing and unloading facilities, setting up fuel storage, constructing temporary accommodation for the workforce, setting up communication links, securing and transporting plant and personnel.
The St Helena airport project is today in its fourth year of development. Phase I, which commenced in December 2011, is well advanced with a number of permanent works ongoing or near completion. This include a 14 kilometre access road from Rupert's Bay to the airport site, a 750 metre long concrete culvert and attenuation dam, a 1,950 metre long concrete runway complete with aprons and taxiways, a bulk fuel installation to hold six million litres of fuel, and a 2,500 square metre terminal building. Phase I is expected to be completed in full by February 2016, at which time Phase II will commence, which entails the operation of the airport for a minimum period of ten years.
Notwithstanding the ongoing success of its St Helena airport project, Basil Read is about a lot more than just a single project. Indeed, as readers of the past article will no doubt be aware, the group engages in a plethora of activities through its various subsidiaries. These include civil engineering projects, road construction, building, integrated housing developments, property development, bitumen distribution, opencast mining and engineering design, procurement and construction management, as well as related services throughout Africa and other emerging markets.
Looking at the overall performance of the group, specifically during the course of 2013, one is able to get a better picture of how the owners, board of directors and management have been able to steer a multi-faceted business through what remain uncertain times.
For the South African trading environment especially, conditions over the last year have continued to be subdued and rather difficult due to several internal factors such as labour unrest and the slow roll out of large scale projects. Even in the face of these conditions, Basil Read was able to usher in a return to profitability during the last financial year thanks to a renewed focus on its core operations and a period of consolidation. The result of this was an improvement in its order book by 22 percent to R12.5 billion, an increase in revenues by 15 percent to R6.3 billion and a reduction in debt by 52 percent to R426.4 million. The reduction in the level of debt is particularly significant as it helped to strengthen Basil Read's balance sheet and provides a solid base to support future growth.
If we deconstruct the four main areas of Basil Read's business, namely construction, mining, developments and engineering, we are able to see the individual ways that the group has managed to offset negative factors in its local market of South Africa with work elsewhere.
For example, within its construction business Basil Read has taken the initiative by shifting its focus to other parts of Africa where the need for quality construction groups is high. With secured contracts in Botswana, Namibia and Mozambique and offices established in Zambia, the group is actively tendering for projects in Africa, where there are a number of public and private work opportunities.
Meanwhile, tenders submitted in the first two months of 2014 exceed R10 billion, of which R1 billion has been awarded. The first project awarded to Basil Read Civils by Eskom is a contract for further work to be carried out at the Medupi Power Station Project. The contract to be executed over twenty months is for Phases I and II of the excess coal stock yard. The project comprises 965,000 cubic metres of bulk earthworks, 437,000 cubic metres of layer works, 1.1 million square metres of geosynthetic installation and will require 23,000 tonnes of bentonite.
The second project awarded to Basil Read Roads by the South African National Road Agency SOC Limited (SANRAL), is the N8 Kloofeind Haldon contract in the Free State. The project commenced on 7 March, 2014 and involves the rehabilitation of the N8, section 10 from Kloofeind to Holdon Road Interchange. The project duration is twenty months and includes pavement strengthening with road widening and drainage improvements.
Similarly, Basil Read Mining is also capitalising on business outside of its home market in order to offset a depressed environment. Already active in Botswana and Namibia, 2013 saw the division secure a five year contract in the latter country at the Tschudi Copper Project, operated by Weatherly International plc. With this project, much of the 2014 financial year will be spent in the start-up phase, with production commencing towards the end of the year. All drill and blast work relating to this contract is to be completed by Basil Read's Blasting & Excavating subsidiary.
Basil Read Mining is investigating opportunities in carefully selected markets across Africa. There is a caveat to possible expansion, considering the significant capital expenditure required, and the division is therefore simultaneously investigating alternative financing arrangements. Nevertheless, in terms of both expansion and financing, an established track record in South Africa will stand the division in good stead.
For its part, Basil Read Developments continues to entrench its reputation for developing sustainable communities, with a number of landmark developments over the past year. This division is well positioned in the social and gap housing sector where government expenditure over the next few years is expected to increase significantly. It has also extended its urban management experience to provide expert services and capacity-building functions in this area.
Given the significant potential for integrated residential developments in the low/middle-income category, both in South Africa and across the continent, the division is exploring a range of opportunities across the continent.
Though it may be the smallest of Basil Read's divisions, it has the largest impact with a total economic impact of over R60 billion during construction, creating over 116,000 employment opportunities. For the group, this division is strategically significant, given its focus on sustainable development and the secondary work it creates for group companies.
Basil Read Developments continues to focus on its large-scale integrated housing developments, namely those occurring in Savanna City, Malibongwe Ridge and Cosmo City. The combined value of construction work that will be realised over the life of these projects exceeds R4.5 billion.
Finally, Basil Read Matomo, the group's engineering, procurement and construction (EPC) company is rapidly being recognised as a quality EPC service provider in sub-Saharan Africa, particularly in the mining and energy industries. Across Africa the EPC model is increasingly becoming the preferred option for clients, which offers significant growth opportunities for Basil Read Matomo going forward.
The 2013 financial year was very much one of consolidation and stabilisation for Basil Read. With significant prospects, a strong order book and stable balance sheet and a proven ability to expand across the continent of Africa it is understandable that the group is very optimistic about what 2014 and beyond holds for it.
Written by Will Daynes, research by Jeff Abbott