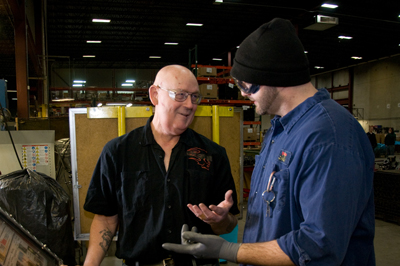 Engaged employees stay with companies for a long time. They are part of the company team, company culture, and company value. Creating company engagement drives employee retention. Retaining great employees keeps hiring and training costs low. Retaining employees can only be achieved with consistent and effective employee communication.
This is not a tautology. Each element will be examined independently, yet engagement, retention, and communication are not mutually exclusive. All three conditions are required to produce the best working environment, the best relationships between management, labor, vendors, suppliers, and customers.
This article will expressly consider how employee engagement, retention, and communication are most profoundly impacting the manufacturing and industrial sectors today.
Former Campbell's Soup CEO, Doug Conant, once said, "To win in the marketplace you must first win in the workplace."
Kevin Kruse, a contributor to Forbes magazine, concluded that engaged employees leads to higher service, quality, and productivity, which leads to…higher customer satisfaction, which leads to… increased sales (repeat business and referrals), which leads to…higher levels of profit, which leads to… higher shareholder returns.
Workforce magazine cited a manager of organizational effectiveness and employee engagement at a Fortune 100 company who suggested, "The typical organization today views talent management as three building blocks: attract, develop, and retain. These are solid building blocks. The challenge is that these blocks won't stick together unless there is mortar. And that mortar is employee engagement. A robust, world-class talent management process has to put the mortar between those three key building blocks."
Quantitative research reinforces the relationship among customers, employees, and the bottom line. The two-decade classic 1994 Harvard Business Review article, "Putting the Service Profit Chain to Work" established relationships among profitability, customer loyalty, employee satisfaction, and productivity. The decade old article from Journal of Applied Psychology, "Which Comes First: Employee Attitudes or Organizational Financial and Market Performance?" found consistent and significant positive relationships over time between overall job satisfaction and financial and market performance (as well as reciprocal relationships).
These data, while still applicable are pre-technology when most plant floor workers are inundated with text messages, emails, and have been conditioned to 145 character tweets. How information is translated to create employee engagement on the manufacturing workforce has changed and continues to change at a very rapid pace.
Gallup Consulting proved the critical role of employee engagement (when the Q12™ Meta-Analysis hypothesis was tested). The theory was postulated and confirmed that business-unit-level employee engagement has positive average correlations with the business-unit outcomes of customer loyalty, productivity, and profitability; research demonstrated negative correlations with employee turnover, employee safety incidents (accidents), absenteeism, and shrinkage (theft).
Employee Engagement Drives Plant Floor Safety
On the plant floors of manufacturing, distribution centers, and warehouses are some of the most dangerous locations for employees; yet the Gallup research reports that work floor accidents in manufacturing improve 62% when employees are fully engaged.
The Society of Human Resource Management (SHRM) reported other safety benefits resulting from high levels of employee engagement, "Disengaged employees are five times more likely to have an accident than fully engaged employees are, and a whopping seven times more likely to have a lost-time accident."
Engaged Employees Reduce Absenteeism
According to the Journal of Occupational Psychology, job satisfaction plays a big role in how a given employee feels about getting to work each and every day, even when they feel ill or disinclined. The cost is absenteeism is rarely calculated in OEE (overall equipment effectiveness), which measures the degree to which a piece of manufacturing equipment is performing to capacity. If that machine has optimal production capacity of 100 units per hour, anything less is lost, wasted, or unproductive. All the solutions, technology, data metrics, do not calculate absenteeism as a rationale for a plant floor idle machine. A multi-million dollar machine is measured on speed to ROI (return on investment), yet when a second and third shift employee calls in sick that ROI suddenly takes weeks, months, and even years longer to recoup the capital equipment purchase. The operations managers understand the pain point; cost of a day's absenteeism may be more than a day's wage of a single employee. Lost production time, missed delivery dates to customers, over-time to offset absentees cannot be overlooked. Absenteeism is a message to management – healthy communication is lacking.
Automation is often touted as the primary driver of productivity improvement. PDP (People Driven Performance) Solutions suggests that employee engagement is a better benchmark for productivity. Louise Dickmeyer, PDP Solutions' President, suggested, "Engaged employees produce quality products causing a direct impact on manufacturers' bottom line. Increased employee engagement can be evaluated by the attention paid to customers, product quality, colleagues, and employer's interests. Engaged employees are healthier, take fewer sick days, arrive for work on time more often, spend less time looking at the clock, and focus more on work excellence."
In the manufacturing environment, plant floor workers who enjoy work are more likely to recommend the place of employment to friends, get more work done on any given day, and are more likely to remain long-term loyal employees. Manufacturing workers with a positive attitude are less likely to gossip.
Just as engagement is contagious, so is disengagement, especially when managers get disengaged. Recent data revealed that manufacturing employees reporting to a disengaged manager are four times more likely to be disengaged than if working for an engaged manager. When an employee is kept in the dark about a manufacturing organization (current state, future state, and the big picture), they become more isolated, less enthusiastic about work and the employer.
People Driven Performance Leads to Employee Engagement
Dickmeyer insisted, "When manufacturing and industrial employees know why their job exists, why products and services function in a certain way, and where they personally fit into the big picture at the place of employment, they simply do better work. The quality of everything they touch improves, and that directly affects the company's bottom line."
Bob Kelleher offered a video titled, "Employee Engagement, Who's Sinking Your Boat?" and there were powerful takeaways from the presentation, namely that employee engagement requires capturing employees' heads... and hearts, releasing 'discretionary effort,' the magic dust of high performance. He suggested that in doing so plant floor workers are 480% more motivated to succeed and 250% more likely to recommend improvements.
Employee Engagement Drives Employee Retention
The Manufacturing Institute recognized many U.S. manufacturers are regaining momentum, yet for years manufacturers have reported a significant gap between the skilled labor needed to keep growing businesses, and the skilled labor available. Deloitte Consulting LLP and the Manufacturing Institute have renewed the Skills Gap Study; the survey findings are remarkably consistent with previous Skills Gap studies, with 67% of respondents reporting a moderate to severe shortage of available, qualified workers and 56% anticipating the shortage to grow worse in the next three to five years. In addition, the survey indicates that 5% of current jobs at respondent manufacturers are unfilled due to a lack of qualified candidates. These results underscore the tenacity of a worsening talent shortage that threatens the future effectiveness of the U.S. manufacturing industry.
When asked to look ahead three to five years, respondents indicated that access to a highly skilled, flexible workforce, is the most important factor in effectiveness, ranked above factors such as new product innovation and increased market share by a margin of 20 percentage points.
Manufacturers are concerned about talent today and into the future. Manufacturers are having the hardest time filling skilled production jobs that fuel their ability to innovate and grow, even in the face of high unemployment. Efforts to develop the skills of current employees are falling, and technology advancement without a future workforce puts manufacturers at great risk.
The Manufacturing Institute detailed that the shortages in skilled production jobs – machinists, operators, craft workers, distributors, technicians, and more – are taking their toll on manufacturers' ability to expand operations, drive innovation, and improve productivity. Seventy-four percent of respondents indicated that workforce shortages or skills deficiencies in skilled production roles are having a significant impact on the ability to expand operations or improve productivity. Unfortunately, these jobs require the most training, and are traditionally among the hardest manufacturing jobs to find existing talent to fill.
While recognizing the importance of recruiting and developing talent, many manufacturers depend on outdated approaches for finding the right people, developing their employees' skills, and improving performance. At a time when finding the right talent for the job has become so difficult, the spotlight shines even more brightly on recruitment and development efforts. After all, if manufacturers cannot bring in talent with the skills needed, steps can be taken to expand the skills based on the existing workforce.
Harold L. Sirkin is a Chicago-based senior partner of The Boston Consulting Group (BCG), a professor at Northwestern University's Kellogg School of Management, noted in BusinessWeek, "The average age of a highly skilled U.S. manufacturing worker is 56. Now is the time to train the next generation. With all the unemployed and underemployed college graduates now living in their parents' basements, we'd be foolish not to recognize this as a tremendous talent asset. We need to recruit them and train them to create the skilled workforce U.S. manufacturing will need as the baby boomers retire."
Sirkin offers the notion that retention requires a shift, "Maybe U.S. factories will have to change a bit to accommodate their interests: lattes, rather than lunch pails. But that's not a bad thing." Dickmeyer at People Driven Performance suggested that employee retention is the measure of how long employees stay with a manufacturing or industrial company. Although personal reasons may inspire a skilled plant floor worker to depart his/her place of employment, most often these experienced company employees (often with a decade of dedicated service to a company) leave because they do not like where they are working. The cause might be colleagues, atmosphere, culture, compensation, the management, the boss, or any of the above. Employee engagement activities raise employee retention within an organization. Employees stay because they are more fully engaged and do better work. Dickmeyer noted, "A high level of employee engagement will always keep your staff on board for longer. And a high rate of employee engagement goes hand-in-hand with a robust employee communications solution. A high rate of employee retention has no downside. You get better work out of an employee and for longer, as well as save money on recruitment costs."
According to the Corporate Leadership Council, driving performance and retention through employee engagement can be easily verified by relating to the financial impact of employee retention and employee engagement. Some of the key findings cited include:
• 70% of companies say that retaining talent is their top HR challenge this year.
• 44% of employees in North America say they may or will leave their current organization within the next 12 months.
• Losing an employee can cost an organization up to 213% of the employee's equivalent annual salary.
• Engaged employees are 87% less likely to leave their organizations than disengaged employees are.
• Employees with lower engagement levels are four times more likely to leave their jobs than those who are highly engaged.
Dickmeyer suggested that companies perform a value stream map of the time, effort, and costs to replace a single plant floor worker. "The whole process of someone deciding they don't want to work for the company any longer, their departure, interviewing and hiring a replacement for the position, utilizes more company time and resources than most management team members ever considered. It is wasteful and as far away from a lean best-practice," argued Dickmeyer.
Employee Communication the Engine that Drives Employee Engagement and Retention
People Driven Performance (PDP) Solutions is a software development company providing an internal, innovative, and interactive communications system for manufacturing plant floor employees. A patented combination of software and touch-sensitive employee information kiosks bring vital and important information to the plant floor in a non-desk employee environment. As discussed earlier employee engagement results in quantifiable productivity improvement.
The impacts of improved internal communications, via interactive design, delivers an employee-centric engagement system driving improved employee retention, best-practice lean productivity, and increased bottom-line profitability.
Dickmeyer was adamant that the efficacy of employee communication has much to do with how the information is shared: "Unlike desktop solutions promising better engagement, communication tools must be uniquely suited to on-the-move plant floor production employees ensuring a simple and straightforward way to access key company metrics and other information. The result is full participation and understanding of the functions, status, and standing of the company. Employee communication ensures a personal responsibility for the well-being of management and colleagues with whom they work each day."
Just as plant floor employees may express fear or resistance when new automation equipment is brought onto the plant floor, senior management is equally challenged by dynamic, interesting, and frequent communication messaging. Just as management expects the employee to adapt to the technology changes, employees have the right and the need for effective communication.
Progressive manufacturers are usually lean, often ISO certified, best-practice oriented, utilizing Six Sigma or Theory of Constraints. These leading industrial organizations have workforces keenly aware that consistently poor communication costs money and devastates profits.
Employee engagement drives financial performance, and communication is the cornerstone of an engaged workforce. The challenge for businesses is to create an environment where employees understand why they do the work they do in order to commit to the company's direction, strategy, and goals. Leaders need to tell employees the plan and employees must be on board before committing to the results.
Dickmeyer urged, "All manufacturers must explore products and services enabling organizations to deliver timely, news, and real-time performance metrics to employees on the production floor. It requires a combination of SaaS software, variety of display options, and expert guidance to bring corporate communications to life…engaging employees, resulting in creating high-performance cultures."