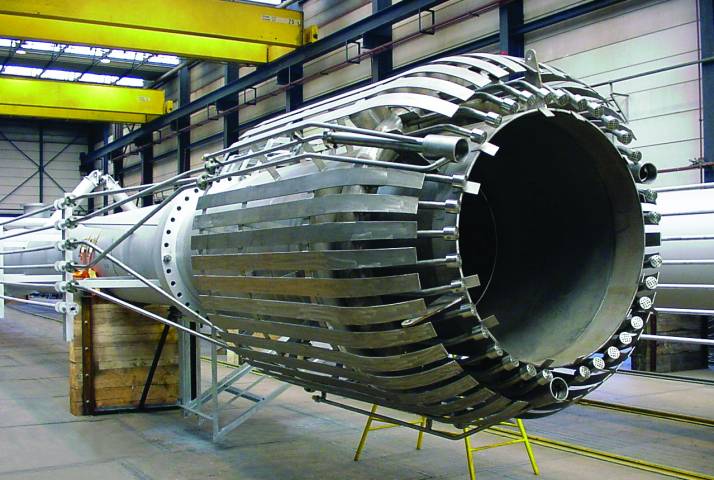 Process technology company Escher is building firm and long-standing relationships with the major oil and gas companies. Managing director Yvo Jansen talks to Andrew Pelis about the company's drive to innovate and expand into new markets.
As we switch on our showers and gas ovens, it is easy to forget the effort that goes into producing this vital resource. In recent years much has been made of the political issues regarding the transportation of gas via pipelines and across international borders. The once easily obtainable resources from the North Sea have been replaced by gas and oil fields in areas like Siberia and consequently, costs have increased. Escher Process Modules, a company established in the Netherlands, is always looking for new ways to find alternative resources in the deeper oceans.
"Escher is a leading global process technology house and as such, we are the designer, contractor and supplier of process modules, process package units and flare systems for the oil, gas and petrochemical industries," explains managing director Yvo Jansen. "The key challenge our customers face today is still the effort and cost of gas exploration and production. There is now a focus on exploration for gas as a standalone product—whereas before, gas would be found during oil exploration.
"At present we drill for gas in areas like Siberia in order to fulfil consumer needs and there is a tremendous drive for import," he continues. "However, we've seen the problems this can bring with costs and reliability. We need new ways to obtain gas in deeper sea which requires new technologies; and that is where Escher comes into the equation."
Innovation and evolution have been carried out by Escher since 1925 and recent activities have simply continued the tradition. Escher was founded by Anne Escher, nephew of the famous graphic artist MC Escher, who built mechanical gas furnaces for industrial bread baking. Before long the company started to supply steel products and began to specialise in electric arc welding—a skill that culminated in the production of the first electric-welded hanging bridge in The Hague.
In the 1940s the company had opened a new workshop in The Hague and begun to produce specialised equipment for the petrochemical industry and half a century later, in partnership with Seamore Oil & Gas Processing (Netherlands), started to engineer and contract on turnkey process plants designed for oil and gas treatment.
"Around that time the big petrochemical companies had set up in the vicinity of Rotterdam and we started to manufacture pressure vessels and heat exchange equipment and became renowned as a real fabrication workshop company," states Jansen. "Growth in the 1990s saw us acquire Seamore in 1997, adding gas dehydration and glycol regeneration technology to our range of services. Then we moved to Papendrecht and a site that gave us access to the open seas and bigger scope for a much bigger workshop."
As the company's capabilities expanded, so did its global reach; and in 2003, Escher was restructured to form Escher Process Equipment. Following the 2007 purchase of the business by consultancy and engineering firm Iv-Groep, a new management team came into the fold, including Yvo Jansen, to restructure and oversee the globalisation of the Escher brand name.
"Once the company had joined Iv-Groep of engineering expertise, the first focus was on investment in technology," Jansen states. "Escher already had a strong reputation worldwide with the major oil and gas companies but our task was to enable the transition from a fabricator of equipment to process technology house and to create an engineering and contracting company.
"We felt that to be the best, you have to talk to the oil and gas companies and the leading universities to discover who the best young engineering prospects are. We did this and brought new blood into our company to help establish our research and development for flare systems and process technology."
Jansen says that training is a continuous process at the company. "There is constant on-the-job training and we fly our people around the world to work with our clients and learn about their operational issues, whether that is a site in the Caspian Sea, Persian Gulf, onshore in The Netherlands or an offshore facility in the North Sea. The investment has paid off and since last year we have been the leader in the area of flares when it comes to technology," he continues.
Consequently, the company was selected by operating companies such as BP for its gas dehydration technology; and it has strong relationships with oil and gas companies around the world including Shell, Saudi Aramco, Qatar Petroleum, Kuwait Oil and Petronas.
The last of those names suggests a strategic reason behind Escher's opening of a subsidiary in Kuala Lumpur, Malaysia, earlier this year. "We also needed a focus on the Middle East and Far East to develop local know-how to a higher level. We can undertake basic engineering and technology in The Netherlands but we want a closer relationship with our clients in that part of the world.
"We have fifteen engineers there and our aim is to strengthen that office over the coming months; the cost will be absorbed within Iv-Groep and we are confident that we will see a return on that investment by the end of this year," Jansen explains.
With a commitment to R&D (last year the company spent in excess of 10 per cent of revenue), the danger is always that quality is lost at the production stage. However, Jansen dispels any fears, indicating that Escher sets targets that exceed ISO standards. "Quality to us is when you meet client satisfaction and we always measure our on-time delivery performance (which requires a focus on each engineering document) and we measure all of the changes on every engineering project. Safety of course is another area we measure (including in the design phase) and we also set quality control measurements."
Jansen is in no doubt that the future will continue to throw up new challenges. "Each project we work on is different, with different gas composition, and each facility needs a different safeguarding system. There are new requirements within the oil and gas industries, which are very focused on renewables and reducing emissions. These require adaptation of existing technologies so it is essential that we work with the end users to help achieve the best outcome for them.
"Clients have to understand that the cheapest and most efficient way to reduce cost does not always deliver the best solution from a total cost of ownership and sustainability point of view."
Given present-day market volatility, Jansen says Escher reviews its future almost every week but has three long-term strategies. "We must continue our internationalisation—next year we aim to enter the North and South American markets; our innovation must continue to evolve and to develop new ways to reduce emissions; and lastly, we want to increase the quality of the company." www.escher.nl