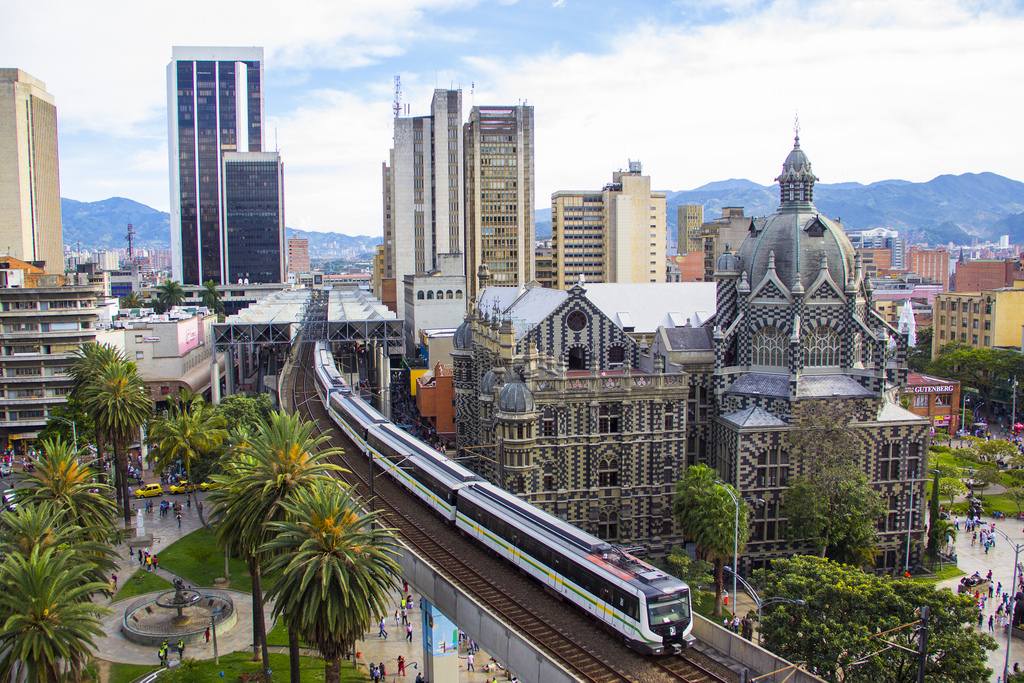 Medellin, Colombia's second city, has a lot to be proud of. As recently as 2013, the Urban Land Institute chose it as the world's most innovative city. It beat off 200 other cities to win the award in a contest that took into account eight separate criteria, ranging from infrastructure and education to livability and culture. Perhaps no institution in the city better exemplifies all four of these metrics better than its metro system - Metro Medellin.
In 2020, Metro Medellin will celebrate 25 years. Like all the best public investments, it has a symbiotic relationship with its city: It became successful because of the people, and the people became more successful because of it. We recently spoke with Andres Fernández, part of the Communication Team at Metro de Medellin about how its impact on one of the world's most innovative cities, and where it sees its future.
Origins
Mr. Fernández tells us: "Metro Medellín is a mass transit company that operates in Medellín and in the geographical area that is Medellín, which is the Aburrá Valley. The Aburrá Valley is also made up of Medellín and has nine other municipalities close to Medellín. The metro began commercial operations in 1995 on November 30, we've just turned 24 years of age, and we'll celebrate 25 years this coming year."
Having started with just two lines, the metro system quickly expanded, he says: "We added a few more lines which use different kinds of transport technology - most notably the cable car. Cable cars are usually used to transport tourists, but in 2004, we delivered the first cable car in the world that is used as a mass transit system. You may ask why! Well, Medellín is a city that is located in a narrow valley, like a canyon, and we needed what we call a 'social innovation' to connect people living there to the city."
As Mr. Fernández points out, reimagining what is essentially a tourist vehicle as a mode of mass transportation is an innovation in itself. The city already has five, and is in the process of finishing the construction of its sixth line. To this, it also added three BRT (Bus Rapid Transit) lines, which run the length of the city - one with exclusive access, and two more which share lanes with buses. Also there is a tram line.
As recently as the end of November 2019, it began running its first electric buses in the city - another new milestone for Metro Medellin, ensuring that Metro Medellin now has a metro system, trams, cable cars and buses. "We're proud of this multi-mobility and bringing all of them together is what we aim for," he says.

Impact on the City
The many international awards that Medellin has won over the past 15 years - the latest of which was the Lee Kuan Yew World City Prize in 2016 - all underline the impact that Metro Medellin has made on the city. Mr. Fernández says: "Yes, it's an issue that we promoted even before starting commercial operations back in 1995, and it's what we call 'Metro culture'".
Metro Medellin envisions Metro culture as a new positive relationship between them and the city through various initiatives and strategies. Mr. Fernández expands on this: "For example, with the community we have citizenship training programs in citizenship for children and for young people, called "Metro friends" and "school of leaders". We also promote our users access to art and culture and have 5 libraries within the system stations that we call ' Bibliometro'".
He continues: "We also have a program called "rolling words" where there are some mailboxes situated in our stations where people can take a book, and return it after they've read it, so that another person can read it. And we have two small rooms to make art exhibitions in two of our stations. So,  rather than a means of transportation we try to see it not simply as a transport company we see ourselves as generating quality of life, and all our initiatives reflect that."
But the biggest impact of all has unquestionably been socioeconomic: "our cable cars reach the poorest neighbourhoods of Medellin, located on hillsides, where there was little or no formal transportation before the arrival of the cable cars. The cable car made them less marginalized, and gave them a new incentive to look for work in the city, by providing them with a fast and economic means to reach the centre. This was as true for workers as it was for students in those areas and made a huge contribution to the local economy."

Partners and Suppliers
Mr. Mira is keen to emphasize the important role that partners and suppliers continue to play in the success of the Medellin Metro. What's notable, from a positive point of view, is how many of the firms that contribute are Colombian. One could forgive Metro Medellin for working with large international firms - as is typical in projects like these - but Siemens Mobility is the only foreign player among its primary partners and suppliers.
Of the local firms, Itag Servicios Topograficos has been instrumental at the metro's route planning stage, as have a series of architectural and engineering consulting firms such as Integral S.A. Ingenieros Consultores, Estructurar and Daimco SAS. Systeca, Union Electrica and Ivegas have all played a role in the more technical functions of each station, from closing platform doors to platform signalling. Finally, Telval is the construction firm behind many of the stations, and CAF was recently hired to undertake a refurbishment of old carriages in the company's rolling stock.
Sustainability
These days, a city doesn't pick up global awards unless it's sustainable, and Metro Medellin certainly contributes in that regard. As Mr. Fernández emphasis: "our metro is electric, our cable cars are electric, most of our buses are electric (some run on gas) and the tram is electric. We have a great advantage in that energy matrix in Colombia is very clean, with most of its energy being hydroelectric."
In 2018, Metro Medellin transported an estimated 300 million passengers. Mr. Fernandez says: "If we hadn't mobilized those passengers, we've calculated that an extra 675,000 tons of CO2 would have been emitted into the atmosphere. That's not to mention other pollutants such as PM 2.5, which is particularly dangerous in a canyon with its specific climatic conditions." Clearly, the metro system's impact on the poorest suburbs of Medellin hasn't just been socioeconomic.
Future Plans
There's plenty of work underway at Metro Medellin. As Mr. Fernández points out: "we have a master plan, called "trust in the future" and projects the growth of the company to 2030. The plan takes in five separate components, including the expansion of the metro, which defines 16 new lines to be built, the rollout of more electric buses, the "multi-purpose railway corridor" which will revive one of the train lines that used to operate in the valley of Aburrá, a national rollout of a train system that crosses the country, and finally, a management plan to bring it all together."
Closing in on its 25th anniversary, we asked Mr. Fernández how it was going to commemorate the milestone. The answer arrives quickly and is unequivocal: "We're going to be the most daring, dynamic and human company in the development of mobility solutions and in the transformation of sustainable territories in Latin America, guaranteeing financial, social and environmental sustainability. That is our goal for 2020." It seems like very little can stop it from achieving that goal.