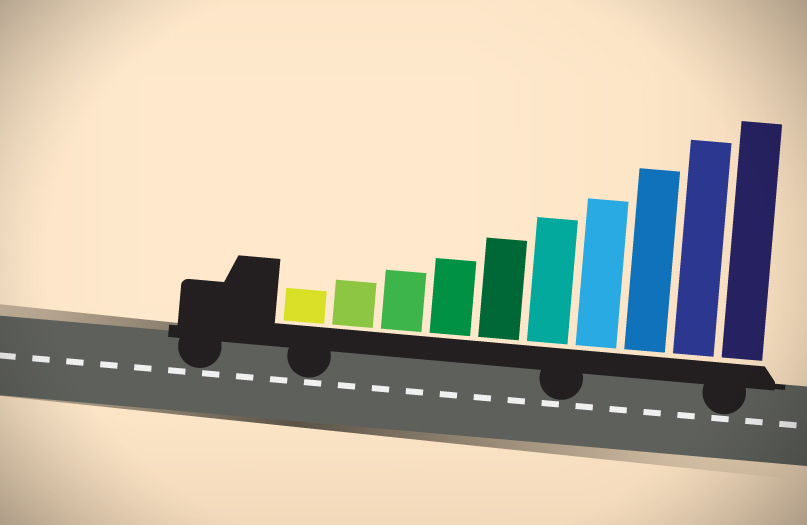 Against a background of rising fuel prices, restricted budgets, a changing regulatory landscape and spiralling customer expectations, field service businesses have endured a tumultuous environment over the last few years. The ability to meet customer demands and achieve cost goals has become a more difficult balance, leading many struggling to achieve more with less in the battle to deliver field service excellence.
Trimble recently carried out an independent study entitled, The Road Ahead: The Future of Field Service Delivery among directors and senior managers operating large field-based work forces in the UK, and found that businesses are struggling to fully deliver on their vision for field service excellence due to economic restraints putting pressure on internal resources; just 48 per cent of respondents were on target to achieving their annual business goals.
Field service management systems have come to the fore as enablers to help streamline business processes to improve workforce productivity and customer satisfaction, without the need to increase the size of a field-based workforce. However, there is often a lack of understanding of the capabilities and huge cost savings these technologies can deliver. According to AberdeenGroup surveys, investment in field service management tools provides far reaching benefits including:
• 32% improvement in fleet utilisation
• 31% reduction in daily mileage
• 25% reduction in idle times
• 22% reduction in fuel consumption
• 21% reduction in vehicle and operating costs
• 11% increase in service revenue
• 9% improvement in workforce productivity
Tackling the budget black cloud
The availability of budget emerged as being a major barrier to achieving field service excellence for around one quarter of the Road Ahead report respondents: 27 percent said the board is fully committed, but lack of budget meant they could not follow through on their planned vision; while a small minority (11 percent) felt that the board only paid lip service to field operations. Indeed, only 18 percent of those surveyed currently possess fully automated scheduling, dispatch and mobility tools. The majority are operating partly-manual, partly-automated systems, integrating a diverse mix of often incompatible legacy systems.
However, by producing a detailed business case, it is feasible to demonstrate that investing more now can significantly reduce costs in the long run. Field Service Management solutions including the likes of Fleet Management and Work Management technologies have emerged as being powerful management tools and provide new levels of field service and vehicle fleet performance. Interestingly, those field service organisations that operate fleet management, for example, say they recoup the benefits, with a more efficient workforce, reduced insurance costs and improved working practices, all factors which can lead to a rapid ROI. Given that doing more with less is a concern for 60 percent of respondents, investment in such technologies is recommended in order to improve efficiency in a short timescale.
The capabilities of modern field service management solutions can improve a company's productivity and level of service by enabling every aspect of a mobile operation to be identified, measured, and analysed. Efficiency can be increased by completing more tasks per day with the same workforce and a boost in customer satisfaction and retention can be achieved through greater appointment flexibility. The technology also helps boost customer satisfaction by enabling better communication, answering more customer service calls per day and mitigating return visits by getting the right worker to the right job at the right time.
In addition, the information provided by the fleet management technology typically includes the vehicle location, speed and time, but also may include work order information, driver behaviour and vehicle diagnostics data such as mpg, fuel use or vehicle faults.
As a result of the insight delivered, businesses can start to reduce direct expenses such as fuel costs by optimising route planning, improving operational efficiencies and driving revenue generation through top quality customer service and maximum flexibility. With the knowledge of where resources are, their status and time on site, businesses can make the real-time decisions required to keep their operations running as smoothly and as cost effectively as possible.
Minimise the impact of fuel price hikes
The Road Ahead report revealed that rising fuel prices have become the number one concern in meeting field service priorities, and as vehicle utilisation is a daily necessity for field services, it is a major contributor to budgetary concerns.
However, although fuel costs may be beyond the control of fleet managers, consumption is not. Once deployed, fleet management technology can decrease a business's fuel costs by reducing unauthorised vehicle use, curbing excessive speeding as well as lowering vehicle idling times by 50-90 per cent. By improving vehicle maintenance scheduling and monitoring a vehicle's performance fleet management solutions can also help businesses reduce the amount of fuel used by their fleet, and increase the amount of time vehicles are in productive use. This increased asset utilisation reduces vehicle component wear and tear, which lowers the risk of mechanical failure, increasing a company's profits further.
However, it is worth noting that fuel utilisation can vary significantly between drivers due to driving style and also the health of the vehicle. You cannot manage what you cannot measure. It is for this reason that fuel data use per individual vehicle can be of significant value to managers, rather than the overall fuel use of a fleet.
Simple policies to improve driver efficiency can also play an important role in containing fuel costs. This could be as 'low tech' as introducing 'how is my driving?' stickers which are proven to improve safe driving (and therefore fuel consumption), or look at a driver training programme that teaches more efficient driving. Small changes in driver behaviour, vehicle condition and intelligent routing all make a significant difference to fuel use and can be controllable through driver education, better work scheduling and regular maintenance, servicing and even tyre pressure checks to minimise fuel wastage.
The Energy Saving Trust (EST), for example, provides training for fleet drivers through its Smarter Driving training programme that focuses on more fuel efficient driving which goes hand-in-hand with safer driving. However good drivers may think they are, the practical vehicle-based course shows drivers what is possible and how differently an individual can actually drive. The course, which has trained over 30,000 fleet drivers, is about changing driver behaviour through showing people how to think differently and increase their awareness on the road. The course typically shows a 15 percent improvement in fuel saving.
Address customer service priorities while boosting productivity
Trimble's Road Ahead report revealed that, above all, achieving customer satisfaction is the number one priority for field services and 60 percent felt that this will need to be achieved with fewer resources. The vast majority of respondents (80 percent) find that customers are more demanding than five years ago, and in terms of deliverables, meeting those challenging consumer expectations is an area businesses must concentrate on to truly excel.
Effective delivery is critical to a positive service experience. Tardy arrivals, missing deliveries and the inability to specify a time and date for arrival are the key contributors which have left consumers feeling let down by field service deliveries. It is no longer acceptable to say anytime during the day and a staggering 81 percent of respondents placed a high priority on offering acceptable appointment slots, as they recognise the busy consumers of today want more certainty from their suppliers.
Building a relationship with a customer, making a promise and delivering on it will allow for a happier customer base but achieving this can exponentially affect costs in terms of resource allocation, something many businesses are struggling to control. Managers can tackle this by optimising scheduling to ensure customers are offered acceptable appointment slots, which are met and attended to by qualified and prepared staff.
Recent consumer research commissioned by Trimble found that customers are willing to pay for next day delivery, allowing organisations to charge a premium price for a premium service, as well as improving workforce utilisation and avoiding the financial and environmental costs of repeat appointments.
Ultimately, getting it right the first time round will utilise your resources in the most efficient way whilst keeping the customer happy and brand reputation intact.