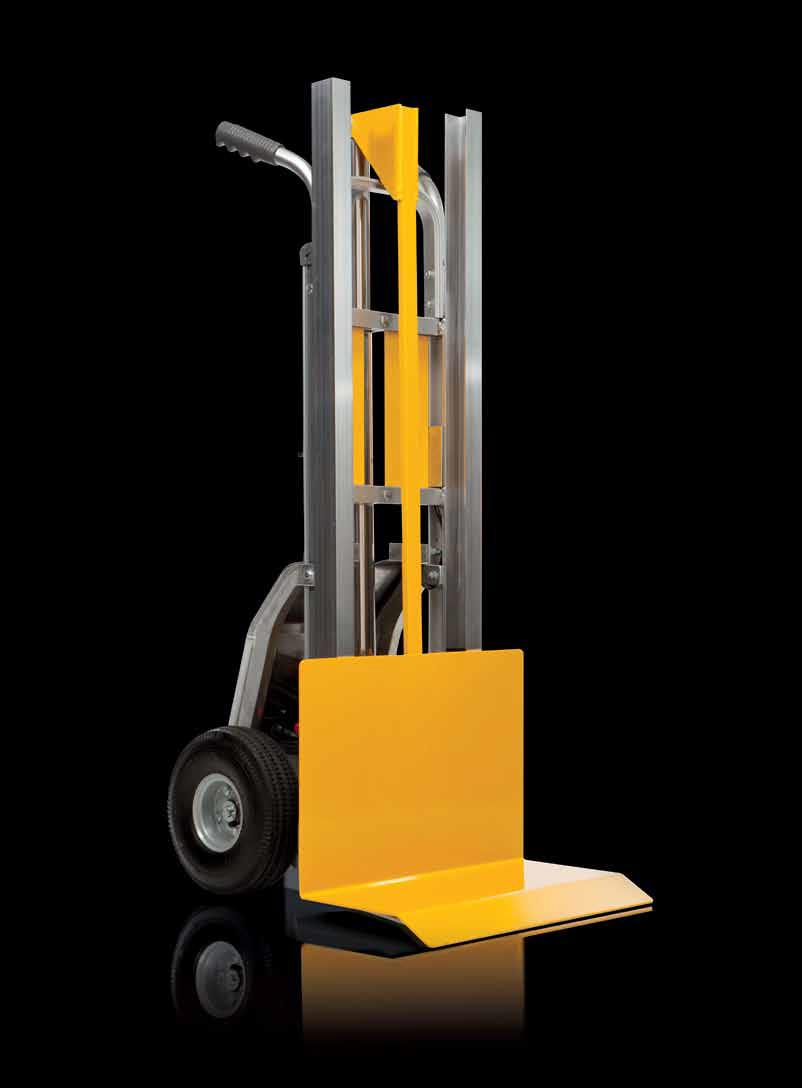 Thomas R. Cutler makes the case for electric hand trucks, which pay for themselves in saving lost work time and compensation claims.
The back is the most injury-prone part of the body. Almost everyone will suffer back pain at some time in his or her life, yet preventing back injury is much easier than healing a back injury.
Studies show that back injuries are the cause of many lost work days. Each year hospitals admit over 200,000 people for back injuries. Back problems can result in pain, lost work time, lost productivity, increased workers' compensation claims and costs, and very costly litigation.
A recent case study of the beverage industry by a leading ergonomic consultant studied injury risk factors for hand truck operators and prevention protocols. There are obvious parallel implications for any business or industry that utilizes manual hand trucks.
The study was prompted by significant musculoskeletal stress injuries – particularly back injuries – reported by delivery workers. The data also reflects that similar injury rates are common in any environment where materials are constantly loaded and unloaded and where hand trucks are used to maneuver and transport materials. Affected businesses include delivery firms, moving companies, shipping operations, loading docks, groceries, retail and big box stores, warehouses, fulfillment centers, storage facilities, auto service centers, manufacturing plants and supply centers.
The study found that maintenance and weight distribution issues resulted in the greatest number of operator injuries. The highest risk of potential injury was attributed to several factors including unequal weight distribution of product cases, which increased back compressive force during lifting, increasing the risk of back injury.
According to Aaron Lamb, inventor of Lift'n Buddy, "Electric hand trucks can uniquely allow a single operator to easily transport and maneuver maximum loads without risk of injury. Adjustable handholds, adjustable speed controls, adjustable beds, scissors lifts, powered platforms and other ergonomic features allow loads to be handled at optimal levels to significantly reduce the risk of musculoskeletal injury."
Workforce health and safety data clearly shows that repetitive lifting, lowering, and moving injuries cost North American businesses millions of dollars each year. ErgoWeb research concluded that automating those potentially dangerous tasks significantly reduces the potential for injuries and costly downtime. 
Hand trucks, two-wheelers, and lifting devices, have changed little in the past hundred years. Lamb now believes his company has the cost-effective revolutionary mobile lifting device that combines the best of a standard two-wheeler's durability and functionality, with automatic lifting and lowering capabilities. Heavy-duty hand trucks of the past caused more than one-third of all material handling injuries, whether used in deliveries, moving product in a warehouse, or on the manufacturing plant floor.
Recent Chicago Workers' compensation settlements and verdicts demonstrate how costly it is for a company to put employees at risk using standard two wheel hand trucks. One verdict was $1,078.00 per week for life, an arbitration award for a supervisor who suffered a nerve injury with surgery. Found to be permanently and totally disabled for life with a projected total payout of well in excess of $1,000,000.00 based on life expectancy. Another verdict was a $400.13 per week for life arbitration award for a delivery driver who suffered from a low back injury. The projected total payout is in excess of $500,000.00. There are tens of thousands of cases of this nature including a $255,000 (between lump sum and present cash value of annuity) for a union laborer with multiple surgeries and a $225,000.00 verdict for a warehouse worker with an operated back.
The avoidance of just one injury litigation by use of electric hand trucks justifies the expense over the manual truck, which is so prone to causal back injury.
Ergologistics manufactures innovative products for the health and welfare of material handling workers. Lift'n Buddy is designed and distributed by Ergologistics, LLC; manufacturing in Fargo, North Dakota, the company is a proud member of MHIA (Material Handling Industry of America) as well as the National Safety Council.
Risk reduction is achieved through a repeatable process focused on operational risk and how to make worker jobs safer. Simple challenges from overexertion, slips, trips or falls, are reduced by using simple and cost-effective electric hand trucks or dollies.
Lamb shared that Lift'n Buddy was designed with proper ergonomics and safety in mind for any person and any moving and lifting job. "These mobile lifting devices, fabricated of durable, lightweight, extruded aluminum, help companies avoid the financial exposure of employee injury, litigation, and worker's compensation claims."
The UCLA Environment Health and Safety published a Safe Lifting and Back Injury Prevention Training Guide that suggested the first assessment in a hand truck load should be whether the lift load can be safely handled by one person or is it a two-person lift? Lamb suggested that many lifting jobs of 200-plus pounds would require two people with a standard dolly or lift-truck. The electric lift truck allows one person to handle the same job, increasing productivity without increasing injury risks.
These electric hand trucks are ergonomically safe and environmentally friendly since the electric hand trucks require no oil, gas, hydraulic fluid, or maintenance of any kind. Completely electric and geared for life, even the battery is 100 percent recyclable. Electric hand trucks are an insurance policy that ensures the safety of workers and mitigates the financial exposure to employers from Workers Comp claims, lost productivity, and possible litigation.
Thomas R. Cutler is the President & CEO of Fort Lauderdale, Florida-based, TR Cutler, Inc, (www.trcutlerinc.com). Cutler is a member of the Society of Professional Journalists, Online News Association, American Society of Business Publication Editors, Committee of Concerned Journalists, as well as author of more than 500 feature articles annually. Cutler can be contacted at trcutler@trcutlerinc.com or 888-902-0300.