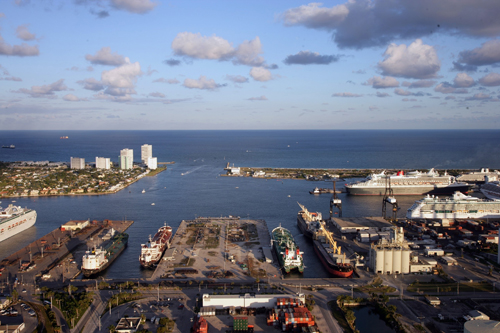 Though the name suggests otherwise, Port Everglades does not actually form part of the Florida Everglades, rather is it located on the south-eastern coast of the Florida peninsula within the cities of Fort Lauderdale, Hollywood and Dania Beach. Situated in close proximity to the Atlantic Ocean shipping lanes, the Florida East Coast railway, the state's highway system and the Fort Lauderdale-Hollywood International Airport, it serves all of South Florida from Miami to Palm Beach and Orlando.
Dubbed South Florida's "powerhouse port", Port Everglades is one of the most diverse seaports in the United States, among the most active containerized cargo ports in the United States and South Florida's main seaport for petroleum products such as gasoline and jet fuel, and among the top three cruise ports in the world.
Port Everglades leverages its world-recognized South Florida facilities and innovative leadership to drive the region's economic vitality and provide the highest levels of service, safety, environmental stewardship and community accountability. The total value of economic activity at the port is approximately $26 billion, while more than 201,000 jobs in Florida are impacted by it, including 11,700 individuals who work for the companies that provide it with direct services.
Port Everglades has rapidly established itself as Florida leading seaport for containerized cargo. Situated within the epicentre of a region that thrives on trade and tourism, it is the perfect hub and point of entry for companies that conduct business in Central and South America, the Caribbean, Europe, and the Far East.
Every year more than 5.2 million tonnes of containerized cargo moves through Port Everglades and it is the port's position that nobody moves said cargo in and out faster. The reason for this is that the port is part of a thriving global transportation network, while an aggressive expansion of its facilities through a multi-million dollar capital improvements programme has also been key to recent growth. This programme has to date resulted in the port adding new and expanded marine cargo terminals, become the first in the nation to have an ELMO system installed and achieving 99 percent uptime on its gantry cranes.
Ships and cargo are not Port Everglades only source of business however. Covering a jurisdictional area of some 2,190 acres the port also boasts office space, real estate, warehousing, a foreign-trade zone and more than 25,000 lineal feet of docks. Also, and in addition to major cruise lines, cargo and petroleum companies, other ancillary industries including security companies, import and export companies, food suppliers and steamship agents continue to benefit from the port's success.
Behind the growth of Port Everglades is what it refers to as its 20-year Master Plan, one that it updates every two years. The plan calls for on-going capital improvements that ultimately benefit the port's customers in the cruise, cargo and petroleum industries, while 2014's update re-emphasises its determination to plot a course for expanding and enhancing existing facilities in a manner that is economical and efficient, as well as environmentally responsible.
The most recent update to the Master Plan identifies a number of key parameters of port development. These include have the ability to berth fully laden Post-Panamax vessels carrying up to 7,000 twenty-foot equivalent container units, being able to support more and longer cargo berths with appropriate cranes, cruise berths able to handle 1,100-foot ships and larger cruise terminals as well as the reconfiguration of slips to enhance efficiency and safety, upland improvements to terminals and intermodal access, and the adding of a new berth for a crushed rock/aggregate ships.
Port Everglades recognizes the impact the port has, not only on its tenants and users, but also on the surrounding communities. Addressing and resolving issues and concerns throughout the planning process have fostered an effective working relationship and consensus between the various stakeholders' interests. It also recognises that the Master Plan is a living document and will continue to be updated accordingly in the future.
In the meantime Port Everglades is embarking on three critical expansion projects that are projected to create as many as 7,000 new jobs regionally and support some 135,000 jobs state-wide over the next 15 years. These key expansion projects are expected to be completed over the next six years and will add up to five berths, widen and deepen the channel to 50 feet and bring freight rail into the Port.
Written by Will Daynes, research by David Brogan