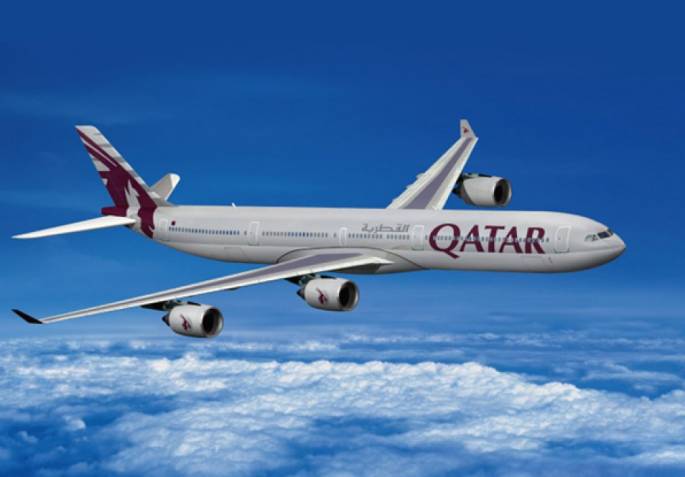 Qatar Airways has placed an order with European aircraft manufacturer Airbus for 88 narrow and wide body aircraft at the Dubai Air Show.
The agreement is for 50 of Airbus' new generation A320neo (new engine option) airplanes with a further 30 on option, together with five additional A380s super jumbos and three on option.
The five new A380s will double the number of the airline's super jumbos already in the delivery pipeline, taking firm orders up to 10 aircraft. Deliveries are due to begin in 2013.
The A320neo aircraft are designed to operate quieter with lower operating costs, fly further and carry heavier payloads with fewer emissions than current single aisle aircraft, the airline said. The A320neo single aisle jet will be fitted with engines which Airbus estimates will offer 15 per cent fuel savings, and emit 3,600 tonnes less carbon dioxide per aircraft every year.
The airline's existing Airbus fleet is made up of 74 aircraft comprising A340s, A330s, A300 freighters and A320 aircraft. Aside from the A380s and A320 aircraft pending delivery, Qatar Airways is the world's largest customer of 80 of the new generation A350s.
Commenting, Qatar Airways' chief executive officer Akbar Al Baker said: "The A320neo promises to be a great aircraft which is why we have chosen it to form the backbone of our future single aisle expansion.
"Together with our previous orders for the A350 extra wide body aircraft and new orders for additional A380s, we are continuing to invest in an integrated family of the world's most modern and fuel efficient aircraft."
Airbus' chief operating officer (Customers), John Leahy, added: "Qatar Airways supported the development of the Airbus A320neo very early on. It is with great pride that we are announcing this large order today, including additional Airbus A380s. We have built up a strong relationship with our friends at Qatar Airways over the years, and today this partnership is stronger than ever."
Qatar Airways operates a fleet of 102 Airbus and Boeing aircraft to 109 business and leisure destinations across Europe, the Middle East, Africa, Asia Pacific, North America and South America.
In 2011, the airline's expansion programme has so far seen the launch of flights to 14 destinations—Bucharest (Romania), Budapest (Hungary), Brussels (Belgium), Stuttgart (Germany), Aleppo (Syria), Shiraz (Iran), Venice (Italy), Montreal (Canada), Medina (Saudi Arabia), Kolkata (India), Sofia (Bulgaria), Oslo (Norway), Benghazi (Libya) and Entebbe (Uganda).
By 2013, Qatar Airways plans to serve over 120 destinations worldwide with a fleet of more than 120 aircraft.