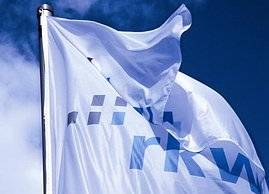 German manufacturing group RKW has started production at its first plant in Egypt, it has been announced.
The new plant, RKW Egypt, was built in less than 16 months and will be officially inaugurated on Thursday.
RKW invested more than $30 million in the manufacturing building, warehouse and administrative offices on 20,000 square metres of land in 6th October City, 35 kilometres south-west of Cairo.
The manufacturing facility includes a state-of-the-art embossing calender and an extrusion line. German specialists are currently training local workers and preparing the start of series production. The plant will initially employ approximately 40 people.
RKW manufactures high-quality polyethylene and polypropylene films, nonwovens and nets. It employs over 2,800 people at 21 locations and generated sales of around $1.1 billion in the fiscal year 2011.
RKW's new plant is sited near to Procter & Gamble's Egyptian diaper manufacturing plant. The two companies have partnered strategically in the purchase of films and nonwoven products for diaper manufacturing.
RKW said its investment in the new plant in Egypt localises material supply for Procter & Gamble, reducing the carbon footprint of diaper materials and developing the local Egyptian economy.