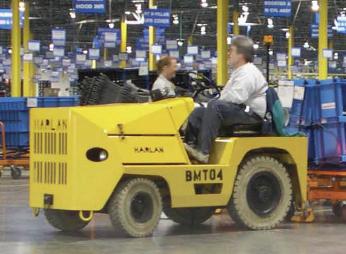 When implementing a lean programme, business leaders should not overlook the significant role that an organised and streamlined workplace could play in its success. Chris Hargreaves, sales manager at storage manufacturer Lista, outlines the various ways in which this can be achieved.
The Markit/CIPS manufacturing Purchasing Managers' Index (PMI) indicated that UK manufacturing maintained its recent record pace of growth in February, by posting 59 points. Anything above 50 is regarded as expansion.
The report showed that the employment component of the index hit a record peak in February, but the cost of raw materials is also surging. With this in mind, it's important that companies move away from the short term tactics they adopted to survive the economic downturn and revert to long term strategies to maintain growth. 'Lean manufacturing' is one such strategy that, during the past 30 years, has proven its ability to help companies find a balance between being efficient and effective. It's a strategy that can promote long term growth.    
Lean manufacturing is a phrase with a number of different names, such as lean production and agile manufacturing. However, all these variants were born of a Toyota Production System created and perfected by the Toyota Motor Co of Japan. Regardless of what term is used, all variants essentially share the same goal—to eliminate waste in all aspects of the manufacturing process.
This is analysed by addressing seven issues common to the manufacturing process, which lead to wastage and lost profits:
Transport: are products being moved between facilities that are not actually required to perform the processing?
Inventory: are all components and finished products not being processed?
Motion: are people or equipment moving or walking around the production facilities more than is required to do the job?
Waiting: is there an excessive waiting time for the next production step?
Over production: is there production ahead of demand?
Over processing: are poor tools or product design creating unnecessary activity?
Defects: is there effort involved in inspecting for and fixing defects?
If the answer is affirmative to any of the above issues, then some form of lean manufacturing should be introduced to address them.
The following nine principles are generally accepted to be representative core elements of all lean manufacturing programmes:
Lean equipment
Elimination of waste
Flexibility
Visual factories
Error proofing
Point of use storage
Set up reduction/quick changeover
Organisation
Just-in-time production
These lean principles can be applied across all sectors and help maintain growth within the manufacturing industry.
A particularly effective measure is by improving grass roots productivity. Streamlining processes, aka implementing the first stages of lean manufacturing in order to get products out to market more efficiently, is key if an industry is to continue to compete with global competitors in a tough market. Typically, if you quarter your lead time, then productivity will double.
A startling figure which proves this theory is the contrast between Toyota and rival car manufacturers GM and Ford. In 1998, it took Ford and GM 50 per cent more hours to make a car than Toyota—and the difference was so great that GM did not make a profit on any of its cars.
The BBC* stated that a key reason why Toyota overtook GM as the dominant car firm is its highly efficient production system. For example, one of Toyota's lean manufacturing methods is to group its workers on the assembly line in teams, and give them individual responsibility to correct mistakes before the cars reach the end of the line.
Simple but efficient measures can therefore be implemented across any manufacturing process to increase productivity—such as standardising processes across operations and maximising workspace by improving basic organisation. Making your workspace work for your business is vital to meeting deadlines and increasing the speed of productivity.
Even in today's automated environment, skilled workers are and will continue to dominate the shop floor, from material preparation through to product shipment. People and the work they perform at workstations will continue to be critical in a wide variety of manufacturing operations. When selecting workstations for lean manufacturing environments, the entire use cycle should be considered.
One of the core industries which relies on lean manufacturing (and identified as vital to spearheading an economic recovery) is the food and drink manufacturing sector. This is due to the simple fact that no matter what the market conditions, consumers will always require food and drink and should therefore provide a strong backbone to the manufacturing industry.
By increasing floor space, the food and drink sector can maximise its productivity and ultimately improve organisation. Creating more space can be achieved by reviewing storage facilities, which will allow companies to improve organisation of consignment stock for example; and clearer labelling, by installing drawer storage systems. Any newly freed up workspace ultimately means more room for stock; alternatively, the available space can be rented to create another revenue stream. Practical improvements to a manufacturing process will therefore reap long term benefits and stand the business in good stead during the economic recovery.
Workstations are an important consideration when implementing lean manufacturing processes. They should be thought of as production equipment and not as furniture. The term 'lean equipment' is an umbrella term that may be applied to equipment that enables things like quick changeovers and minimal maintenance. To determine how a workstation may be considered lean, evaluate it in terms of both these categories: how quickly can changeovers be accomplished? How easily can an operator make an error when setting up or using the workstation? These factors should be considered when choosing or upgrading a workstation.
Organisation of a work area for the maximum possible efficiency is also a key consideration, as it is essential for controlling the manufacturing process and monitoring time spent. For example, tools and materials should be arranged near to the operator and according to frequency of use, and returned to designated tool holders or storage areas.
Do not forget all the space surrounding a workstation—the ability to fully utilise the vertical space available at the workstation is critical to effective workplace organisation. This includes space above and below the work surface, which is often overlooked. For example, shelving installed below the work surface can be an excellent place for storage of tools, fixtures or materials that are rarely used. Using a wide range of storage options such as tool holders, material bins, drawer units, shelves in a variety of depths, will be better able to support workplace organisation. Orderliness results in minimum waste of human energy, while contributing to effective inventory management at the workstation.
However, one of the most important aspects of any implementation of new and leaner equipment is to ensure you remember the current buzz word—sustainability. It is more advantageous to invest in durable and high quality equipment than to go for a cheaper option, which may need replacing after several years. This reduces not only your costs, but your carbon footprint as well.
In conclusion, correct storage of production tools, choosing the right workstations and maximising the use of space are all crucial elements of a lean manufacturing system. Properly designed and configured, they can make a significant impact on reducing waste in all areas of manufacturing.
It is crucial however, that an entire business is accepting of any implementation of lean manufacturing. Full training must be given from the onset to ensure workers are clear on the new processes and strong leaders should be identified to oversee the transition. This will reassure employees who may be reluctant to relinquish the 'old way of doing things' and ensure a smoother transition while the inevitable learning curve takes place.
The long term benefits of lean manufacturing should far outweigh any initial time invested to put these processes in place and help businesses survive during these lean times. http://www.lista.co.uk/
*BBC News Online: http://news.bbc.co.uk/1/shared/spl/hi/guides/457000/457029/html/