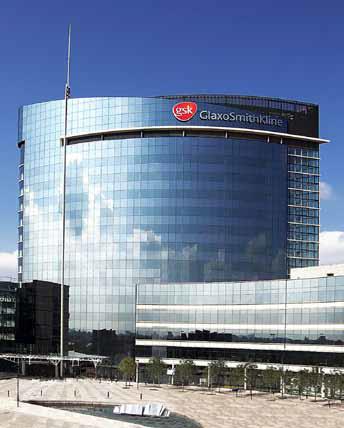 The 2011 Carbon Disclosure Project Global 500 report demonstrates that the world's largest companies are seeing a link between energy efficiency and profitability.
The 2011 edition of the annual Carbon Disclosure Project (CDP) Global 500[1] report, which examines carbon reduction activities at the world's largest public corporations, has found for the first time in the ten year history of the survey that the majority have climate change actions embedded as part of their business strategy. The report, written by global professional services firm PwC on behalf of CDP, attributes this to growing board-level awareness of the link between energy efficiency and increased profitability.
The report, entitled Accelerating low carbon growth, analyzed disclosures from 396 of the world's largest companies[2], revealing that 68 percent now have climate change at the heart of business strategies, compared with 48 percent in 2010. There was also a marked rise in the number of companies reporting reduced greenhouse gas emissions as a result of emissions reduction activities (45 percent, up from 19 percent in 2010).
A correlation was also established between higher stock market performance over time, and representation on CDP's Carbon Performance Leadership Index (CPLI) and the Carbon Disclosure Leadership Index (CDLI). Companies with a strategic focus on climate change provided investors with approximately double the average total return of the Global 500 from January 2005 to May 2011.
"The improved financial performance of companies with high carbon performance is a clear indicator that it makes good business sense to manage and reduce carbon emissions," said Paul Simpson, CEO of the Carbon Disclosure Project. "This is a win-win for business – the short ROIs many emissions reducing activities have, can help increase profitability. Companies yet to take action on climate change will have to work hard to remain competitive as we head towards an increasingly resource constrained, low carbon economy."
Historical financial performance is being exposed by climate change as an outdated model to assess long term business profitability and growth, when you consider the much wider range of financial and non-financial risks associated with business today," addedAlan McGill, partner, sustainability and climate change, PwC. "Today's investors have different information needs, which are leading to tougher verification regimes, more emphasis on executive and staffing responsibilities and incentives, and much more unforgiving examinations of the contribution of business to society. We are accelerating towards newer reporting models that better balance financial and non-financial performance."
Rising oil prices, energy supply risks and growing recognition of the commercial returns on investments in emissions reduction activities contributed to the growth in importance of climate change as a boardroom issue. Overhalf (59 percent) of reported emissions reduction activities delivered payback in three years or less according to company submissions. These include energy efficiency projects (building fabric, building services and processes), low carbon energy installations and staff behavioral change. Employee incentives to reduce emissions are now offered by 65 percent of companies, compared with 49 percent in 2010.
"We believe that the external costs of greenhouse gas emissions will become internalized into company cash flows and profitability," saidSteve Waygood, head of sustainability research & engagement at the asset manager Aviva Investors. "Managing greenhouse gas emissions is therefore essential to delivering sustainable shareholder returns. There still remains huge potential in companies for achieving cost effective emissions reductions. This is why we are founding signatories to the Carbon Action initiative."
The Carbon Performance Leadership Index and Carbon Disclosure Leadership Index are revised annually based on company submissions and present the leaders of the Global 500 in carbon performance and disclosure respectively. The top 10 best performing companies on both measures this year are:
USA:  Bank of America, Cisco Systems
Japan:  Honda Motor Company, Sony Corporation
Germany:  Bayer, BMW, SAP
United Kingdom:  Tesco
Netherlands:  Philips Electronics
Australia:  Westpac Banking Corporation
There are 14 new entrants to the 2011 Carbon Performance Leadership Index, which counts just 29 companies due to more demanding criteria applied by CDP. These are:
USA:  Air Products & Chemicals, Lockheed Martin, Morgan Stanley
Japan:  Honda Motor Company, Sony Corporation
Germany:   SAP
France:  AXA Group, Schneider Electric
Italy:  ENEL, FIAT
United Kingdom:  British American Tobacco, BG Group, Glaxo SmithKline
Switzerland:  Novartis
"We are honored by the inclusion of SAP in both the Carbon Performance Leadership Index and the Carbon Disclosure Leadership Index this year," said Peter Graf, chief sustainability officer, SAP. "We have not only helped our customers to reduce their energy use and related carbon emissions through our software, but also used it ourselves to avoid €185 million in cost as we reduced our footprint by 25 percent since 2007."
David North, global climate change champion at Tesco, commented: "At Tesco we are passionate about tackling climate change. We have been cutting emissions for years, and as a result have reduced our energy costs by more than £200 million annually – a win-win for business and the environment. We plan to be a zero-carbon business by 2050 and put a priority on reducing emissions in our supply chain and galvanizing consumers to lead a revolution in green consumption. We're delighted that this year's CDP results recognize our progress."
Other key findings from CDP's Global 500 report include:
74 percent of Global 500 respondents reported emissions reduction targets, up from 65 percent in 2010
 The overwhelming majority of respondents (93 percent) reported board or senior executive oversight for climate change (up from 85 percent in 2010) demonstrating the importance of climate change as a management issue
Over 30 new companies targeted by CDP's Carbon Action request have now set reduction targets, implying growing recognition by companies of the commercial benefits of emissions target setting
Utilities is the sector with the best average climate change performance
Telecommunications is the only sector not represented in the CPLI this year; a surprising finding given expectation that this sector will support emissions reduction activities
The energy sector lags other sectors with the lowest proportion of companies setting targets (55 percent) and under-representation in both the CDLI and CPLI
Just 37 percent of respondents currently verify their emissions to acceptable standards, despite the importance of providing investors with validated climate data.
The Global 500 report was launched in September at the CDP Global Forum, an international gathering of business, financial and political leaders driving discourse and sharing transformative best practice for forging sustainable, profitable, business growth.
*          *          *
The Carbon Disclosure Project (CDP) is an independent not-for-profit organization holding the largest database of primary corporate climate change and water information in the world. Some 3,000 organizations across the world's largest economies now measure and disclose their greenhouse gas emissions, water usage and assessment of climate change and water risk and opportunity through CDP, in order to set reduction targets and make performance improvements. For more information visit www.cdproject.net.
Full copies of the Global 500 report 2011 are available at https://www.cdproject.net/en-US/Pages/global500.aspx.

[1]The Global 500 are the largest companies by market capitalization included in the FTSE Global Equity Index Series
[2]404 companies, representing 81% of the Global 500, responded to the 2011 request for information but, due to late submissions, the report contains analysis of 396 responses