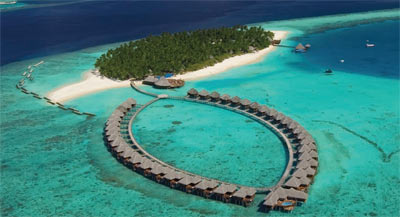 Vilu Reef Beach & Spa Resort in the Maldives has received numerous awards and accolades for its performance. Operations manager Ali Yoosuf talks to Gay Sutton about the secrets of its success
Paradise. Few places on earth more truly deserve that description than the Maldives. Lying in the Indian Ocean just north of the equator and some 700 kilometres south-west of Sri Lanka, the Maldives enjoys an enviable tropical climate with daytime temperatures of 30oC throughout the year. Said to be the lowest lying nation on earth, it comprises a double chain of 26 exquisite coral atolls spread over a massive area of 90,000 square kilometres.
Some 128 kilometres south of the Maldives' capital of Male lies Nilandhe Atoll, a ring of serene reefs and islands one of which, Meedhuffushi Island, is exclusively occupied by the holiday resort of Vilu ReefBeach & Spa Resort. Owned by local hotelier Ahmed Siyam Mohamed, the resort was opened in October 1998 and developed to a single vision and theme. It is the first resort within the Sun Hotels & Resorts Pvt Ltd group, which currently owns four properties in the Maldives.
"At conception, our chairman chose to keep the island as natural as possible," explains operations manager Ali Yoosuf. "The island is quiet and calm—most of our guests come because it is peaceful and beautiful."
You won't find any glamorous marble, glitzy Hollywood-style fittings or frenetic tour guides at Vilu Reef. The atmosphere is relaxed, stress free and above all, natural. "If you look at our main bar, for example, we have no tiles on the floor, we have sand," Yoosuf says. "So you can put your feet down into the sand. And we believe this is a unique concept."
The resort's architecture combines natural materials with natural shapes and forms. The roofs of the beach fronted villas, for example, are constructed to resemble the famous nautilus shell. The style is pure simplicity, and yet there are all the hallmarks of luxury: excellent food and drink is provided through a range of restaurants and bars; a variety of sporting activities are offered along with pampering at the health spa; relaxing boat trips and tours are available every day of the year; and there are evening entertainments for those who are interested. For those who are not, there is an abundance of peace and tranquillity.
It is a holiday concept that works extremely well from the business perspective. The resort has consistently been averaging an annual occupancy of some 85 per cent, and this achievement has earned it the accolade of being the best occupancy-maintained resort in the Maldives for several years running.
"We also have a large number of repeat clients," Yoosuf continues. "On average more than 15 per cent of our clients have been here more than once, and some have returned to us more than 12 times." These repeat clients are treated as very special at Vilu Reef—on arrival they are made to feel doubly welcome with a floral garland and a special dinner on the beach; and for clients returning more than five times, there are complimentary trips and tours.
Visitors generally arrive by seaplane, taking a 35 minute flight from the capital of Male—a trip that sets the scene for the holiday to follow. For as far as the eye can see, there are small palm-covered islands with white sandy beaches and gorgeous coral reefs—and all of this is set into the jewel-like turquoise and pale blue expanse of the Indian Ocean. On landing, the welcome is typically warm and generous. Met by a team of smiling staff, visitors are greeted to the accompaniment of live Boduberu drumming and taken to the Nautilus Bar for check-in.
Food is an important part of the holiday experience. The island's main restaurant also goes by the name Nautilus, but there are plenty of other venues for a meal. The Sunset Restaurant provides fresh fish and seafood along with Thai and Asian specialities, or there is a beach buffet each week. The resort's chefs also offer to provide catering for special events anywhere on the island.
The accommodation includes 60 Beach Villas set on the palm fringed white sandy beach with breathtaking views over the lagoon. There are 20 secluded Garden Villas located in the landscaped gardens, each with its own path to the beach. In addition, there are 35 Jacuzzi Water Villas which, as their name suggests, have been built over the gleaming blue waters boasting an open-air Jacuzzi on the sundeck, and five dedicated Honeymoon Villas.
Understandably, the island is very popular with honeymooners, who are welcomed and catered for in a very special way. Greeted with garlands on arrival, they later enjoy an intimate honeymoon dinner on the beach. Also available is 'Robinson Crusoe'—a private excursion exclusively designed for honeymooners. "We have a desert island about 40 minutes away by boat. It's small and beautiful, and our honeymoon couples can spend time alone there together as part of their celebrations."
One of the greatest attractions of the resort is the quality of the snorkelling and diving that can be found on the conveniently located house reef rich in exotic marine life, which extends for some 7.5 kilometres to the north-west of the island. Reef sharks, eagle rays, turtles and a wide variety of colourful small fish can all be seen in abundance. Snorkelling and diving trips are provided by boat, and strict safe practices are observed. There is a lifeguard and rescue boat continuously on duty, while one area of the reef is reserved purely for snorkelling. If visitors stray beyond this area, the lifeguards advise them to return to the safe area.
The sea plays a major part in many of the activities on offer at the resort. All manner of water sports can be found, from catamaran sailing to knee boarding, wind surfing and glass bottomed boat and banana boat rides. Island hopping trips to some of the local islands are provided, along with night fishing and big game fishing.
For those who prefer less strenuous activities, the island's Sun Spa offers many kinds of holistic treatments, from massage, manicure and pedicure through to the Indian healing practices of Ayurveda. Finally, the evenings would not be complete for many without entertainment, and Vilu Reef offers anything from discos, karaoke and live bands through to cultural shows and the hugely popular crab races.
The list of accolades and awards the resort has received are too numerous to mention; but they include the Gulet Hotelo Award 2008 and the Thomas Cook Marque of Excellence Award 2008, both of which were based on the votes and comments of satisfied customers. 
None of this could have been achieved without highly capable and dedicated staff. While a number of international staff are employed at Vilu Reef, over 50 per cent of its employees are multilingual Maldivians. "Our staff speak a number of languages: German, English, Italian, French, Japanese. And this helps to make our guests comfortable and happy." Training is also an ongoing process, and Yoosuf is a believer in continuously refreshing skills. "Our heads of department are very experienced people and provide training for their staff, but we also bring in outside trainers for each of our departments."
With highly trained staff on hand and a sensitive eye for design, it is clear that Vilu Reef will continue to be carefully aligned with the highly successful founding ethos of providing a tranquil and peaceful environment that is close to nature.