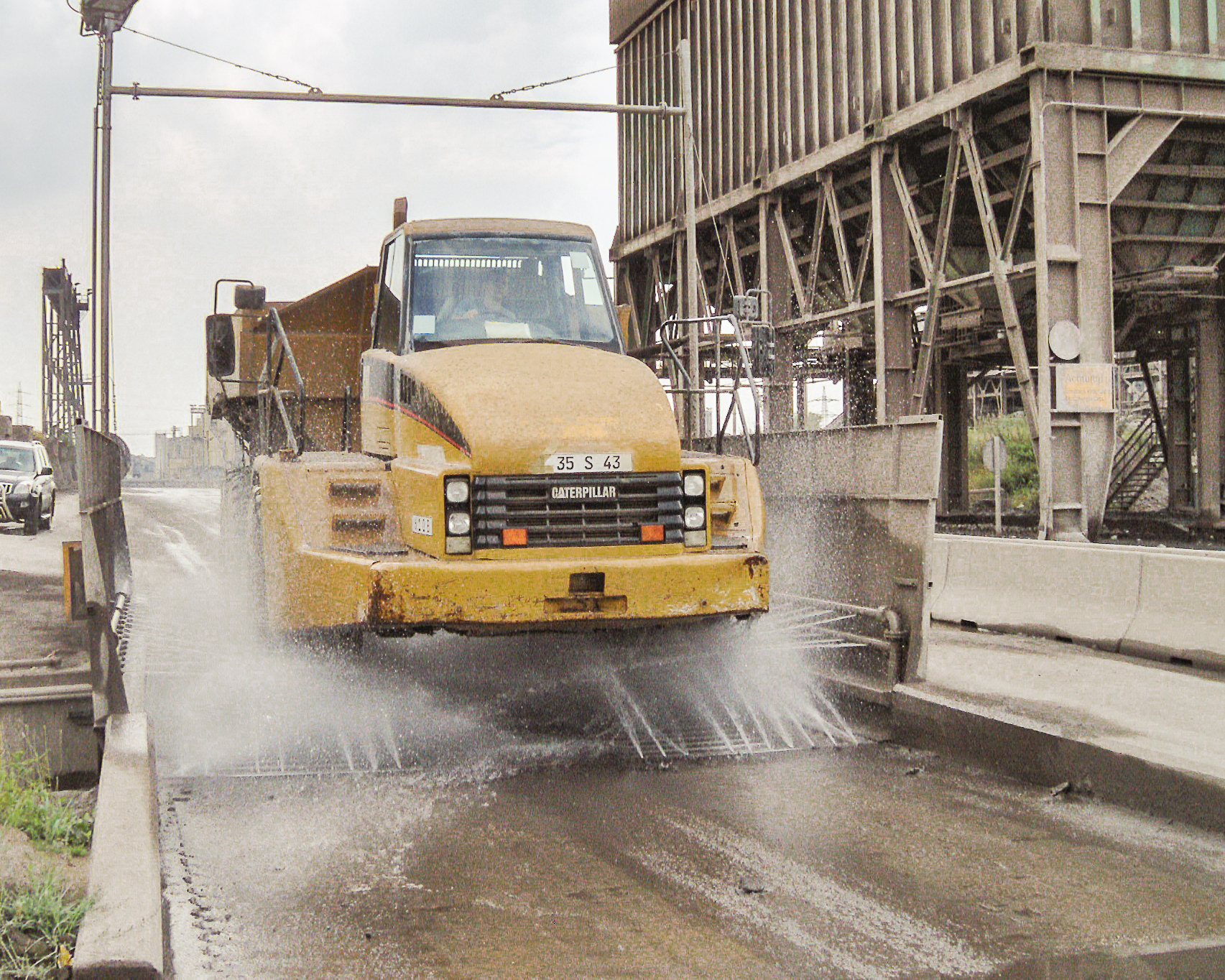 Whenever contaminated trucks from construction sites, mines, harbours, landfills, dumpsites or industrial areas drive out directly onto the public roads, the MobyDick Wheel Washing Systems can prevent dangerous contamination from getting onto the roads and highways. As a further positive effect, pollution of the air with dust around the areas is also reduced considerably.
Steel plants also have a big problem with wheel-borne muck. For this reason, in past years, the Swiss manufacturer FRUTIGER has successfully increased production of its Wheel Washing Systems for customers including ThyssenKrupp, Tata Steel and ArcelorMittal.
As an example, a few months ago, a MobyDick Quick System was installed at the site of Tata Steel Port Talbot, Wales. The UK Environment Agency had identified significant levels of PM-10 (particulate matter) there, caused by the large number of trucks moving between dirty areas and roads. To handle the large trucks and all other vehicles, some of which were five metres wide and weighed in at over 100 tons, a special wheel washing system was needed. After an on-site inspection by an experienced local MobyDick Specialist, FRUTIGER engineers developed and manufactured a tailored solution for the customer.
In response to the difficult site conditions, a fully-galvanized, tailor-made wheel washing system, with six washing pumps and over 10,000 litres of washing power per minute was needed to ultimately solve the problem. Because of the sustainable MobyDick water recycling technology, most of the wash water can be recycled through the system to be reused again and again. Since the installation, the streets and the air are much cleaner around the area, and the wheel washing system has also helped to keep the truck weighbridges clean, resulting in lower maintenance costs. Tata Steel project manager Neil Dummer was pleased with the level of quality and service received, and noted, "After a detailed tender process, we selected FRUTIGER as our supplier based on their expertise and technology, which solved our problem."
it's not only trucks and dump trucks that produce dust. Handling huge amounts of slag in steel mills, pile-up the dumpsites, and the influence of local wind turbulences cause a general dust cloud above the entire plant which can become a serious environmental and political problem. For this reason, FRUTIGER also offers, together with its Belgian partner Savic Engineering, a wide range of MobyDick dust control cannons and complete dust control concepts for the steel, mining, bulk handling, recycling and construction industry.