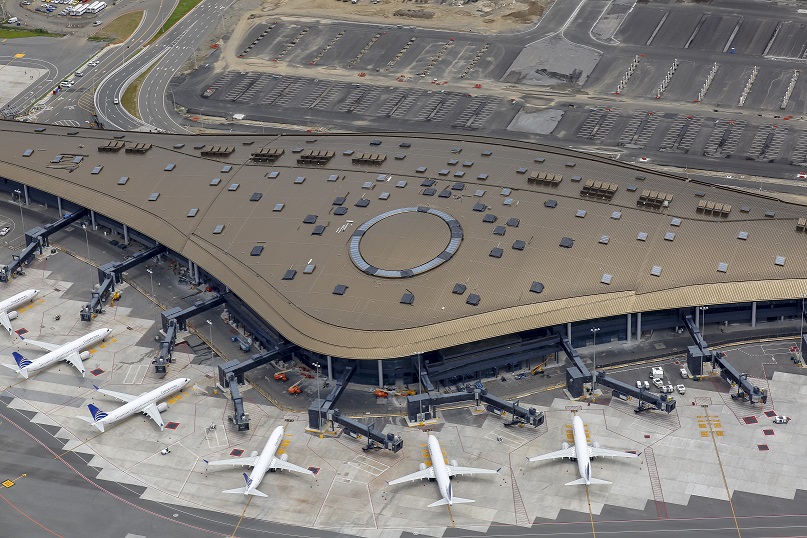 Perhaps no country in the world has taken advantage of its geographical location, as well as Panama in Central America. No one else can provide such rapid and relatively unhindered access between two major oceans and Panama has taken advantage of this to a remarkable extent to effectively become for the world in the 21st century what the Silk Road was several centuries earlier.
Thanks to the work of Tocumen International Airport, the world's most famous sea route is now in the air. We recently spoke with the company's CEO, Raffoul Arab Pinzón, about the company's success story and its role in Panama leveraging its global reputation as a country at the center of global commerce. He told us about his history, his current operations, including the airport's second terminal, which will be delivered in 2020, a truly historic milestone for Tocumen.
Background
The history of Tucumen Airport begins with its inauguration in June 1947 by President Enrique Adolfo Jiménez Brin. This was followed in 1954 by the opening of the airport administration and the first terminal buildings. This first airport occupied an area of 7.2 kilometers strategically located just 20 kilometers outside Panama City. Today, the same airport is used as a cargo terminal.
Inevitably, in a short time, this was too small to meet demand. As Mr. Arab says: "Given Panama's history as a transit country favored by its geographical location, that terminal was too small for demand for air operations. Construction began in 1971, so the Tocumen River was diverted from its original course for the construction of the new terminal."
It continues: "The new terminal, also called Tocumen International Airport, was inaugurated on August 15, 1978 and the inaugural flight was on September 5 of the same year. Tocumen International Airport is one of the few in the region with two runways, as the runway of the previous terminal is permanently used by cargo planes and private flights or can be used as an alternative runway to the main runway at times demand."
Changes were also being made to management, allowing people in contact with airport operations to make decisions more efficiently. Previously, the airport administration was under the control of the Civil Aeronautics Directorate (now the Civil Aviation Authority). Starting on June 1, 2003, a new administrative organization was created, which allows the creation of a company called Tocumen S.A. International Airport that currently manages the airport.
Today, Tocumen Airport is one of the most important terminal areas in Latin America as evidenced by its growing number of passengers and the fact that it operates flights to and from more than 94 international destinations to cities in the Americas and Europe , covering much of Latin America. It is also Copa Airlines' main hub and Star Alliance hub for Latin America and the Caribbean.
This translates to an average of 45,432 passengers per day, including landings and transfers, amounting to 16.5 million in 2019. As the number of passengers continues to grow, so does the airport and the most visible signal of this growth will reach mid-2020 with the arrival of Terminal T2.
Terminal T2
Success has driven more success at the airport. As Mr Arab argues: "Tocumen International Airport has one of the highest growth rates in passenger demand in the region and Latin America; Therefore, it has been developing a Master Plan, which has a validity period from 2015 to 2035, which is updated and reviewed annually with major industry representatives."
The pinnacle of this master plan is Terminal T2, which will handle a total of 20 gates that must be 100% operational in the first half of 2020. As Mr Arab says, it will not only be a milestone for aviation in Panama, but also for airport architecture. It says: "T2 is a work of relevant architectural value bearing the seal of quality of the renowned British firm Foster and Partners. In addition to being a state of the art in terms of technology, it is also totally earthquake-proof."

He adds: "With Terminal 1 and 2 we will have 66 gates and 12 remote positions (4 in Terminal 1 and 8 in Terminal 2) and will cover an area of approximately 116 thousand m2 distributed in four levels. It measures 662 meters in length, with a building of 112 meters in length and reaches a height of 30 meters in some points." Most important for Tocumen, it will also increase its capacity to about 25 million passengers by 2025, which means the future growth of the airport with a world-class piece of architecture.
A Project for Panama
Of course, all of this is not just growth for the sake of the growth of the aviation industry. Tocumen's main role is not only to be a conduit for the growth of other countries, but rather for Panama itself. To begin with, its extension provided an important job to the region. Mr. Pinzón says: "The extension required some 6,500 professionals from different disciplines efficiently coordinated, resulting in one of the most modern terminals in the world."
Outside of this direct employment, there are other significant benefits, he notes: "According to the most recent study 'Economic Benefits of Air Transport in Panama' conducted by IATA, the aviation industry in Panama generates $7.3 billion every year, of which $2.2 billion corresponds to air transport revenue, with the remaining amount being the expenditure of foreign visitors to the country." In 2019, this accounted for 14.8% of Panama's GDP, generating 260,000 direct and indirect jobs.
Partners and suppliers
Successfully managing the flow of more than 16 million passengers each year, while delivering a new terminal, is no easy task. Tocumen has a select range of partners and suppliers that allow it to fulfill its promises, almost all of them are of Panamanian origin. These include Grupo Aluman, and SVF Panama, which participated in elements of the construction and engineering part of T2, joined by Brazilian firm Odebrecht and Spanish firm Sampol.
The considerable task of meeting the airport's telecommunications requirements is admirably managed by Telecom Group Inc., a US firm, while Inversiones Grupo Esrod S.A. provides ongoing assistance in the various aspects airport management technicians from security to airport signalling systems.
Panama in the skies
When talking about the future of Tocumen, one may also be talking about the future of Panama, so the fates of the two. With the arrival of T2 in 2020, Tocumen will firmly take its place among the best airports in the Americas - a milestone for the airport and the country to celebrate. As Mr. Pinzón says, "the growth of the airline industry in Panama has a hugely positive impact on the overall development of the country; With the launch of the airport complex, the trade, logistics, tourism and financial and business services centre will be enhanced